Nine Indians punched their way into the finals of their respective categories in the Golden Glove of Vojvodina, an international boxing tournament in Kikinda, Serbia.
Youth World Championships bronze winner Lalitha Prasad (49kg), 2012 Aglorav Cup silver medallist A Silambarasan (52kg), Neeraj Parashar (64kg) and Manish Solanki (69kg) were among four boys and five girls who power through to the title round of the 31st edition of the tournament last night.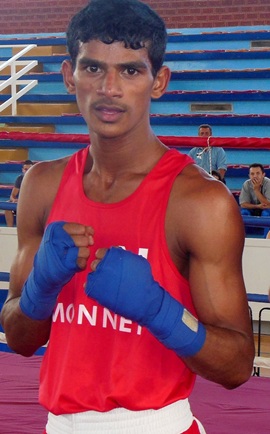 Seventeen-year-old Prasad, who bagged the light flyweight title at the 2012 Tammer International tournament in Finland, gave a brilliant account of his skills against Patrik Horvath of Hungary in what was a completely a one-sided affair.
The Hungarian was no match against the express pace of Prasad's punches. The Indian outpointed Patrik in a unanimous decision from the judges. He now faces Russian Perminov Ilia in the final.
Silambarasan got some stiff opposition from Mihaylov Dushko of Bulgaria. In the end though, the 17-year-old Indian emerged victorious on a spit decision to advance to the final round, where he will take on Scottish boxer Stephen Boyle.
Reigning national champion Neeraj Parashar defeated local boxer Mitrovic Slobodan with a spirited performance. His hard hitting three-punch combination proved too difficult for the Serbian to handle and the Indian won on a unanimous decision.
In the final, 17-year-old Prashar will lock horns with Samuel Ball also from Scotland. Manish Solanki blanked Jakub Korbel of the Czech Republic to make his way in to the finals.
He now takes on Stanojevic Lazar from Serbia.
The other Indian boxer in the semi-finals, 2011 Junior World Boxing Championship Naveen Kumar (56kg) lost out to Ukashir Farooq from Scotland after a hard fought contest. In spite of the technical soundness and the class displayed by Naveen along with a second round warning given to Ukashir (for lowering his head), the consistent pressing and determination of the Scotsman seemed to have outweighed the Indian.
Nonetheless, Naveen will return with a bronze medal from the tournament.
In the women's segment, 2012 Junior Women's Nationals bronze medal winner Rajesh Kumari (48kg) and former Junior National Champion Chanda Udanshive (51kg) advanced to the finals of their respective events. Kumari will lock horns with Poptoleva Valentina of Bulgaria, while Udanshive also faces a Bulgarian opponent, Buyuklieva Marina, in the fight for the gold.
Silver medal winner at the previous edition of the tournament, Marthamma Sattivada (64kg) also reaches the final round, where she faces Jelic Jelena from Serbia. Heavyweight boxers Diksha (91kg) and Pema Chotan ( 91kg) also made their place in the championship round and both will now square off against Kazakh boxers.
While Diksha takes on Rylina Anastasia, Pema will contest against Sadykova Umida.
But there was disappointment for AIBA Junior World Boxing Championship silver medallist Lalfakzuali, as she lost by a split decision to Kazakhstan boxer Akerke Nauryzbayeva in a closely fought semi-final encounter.