In yet another fascinating day of Indian Badminton League, Banga Beats thrashed Awadhe Warriors 4-1.
There were plenty of hopes from Warriors' PV Sindhu, but it turned out to be the biggest disappointment of the day, as she lost to Marin 21-16, 21-13 in straight sets.
Carolina, who is a quarter-finalist at the Worlds, played superbly and was aggressive at the net and was good with her deceptive drop-shots.
World No. 10 Sindhu's woes only compounded due to her unforced errors as Carolina hit winner after winner.
Hu Yun thwarted Chong Weng Fei's late fightback in the second game as Hu Yun won won the first men's singles game comprehensively.
The World No. 8 from Hong Kong stayed in control as Chong committed errors.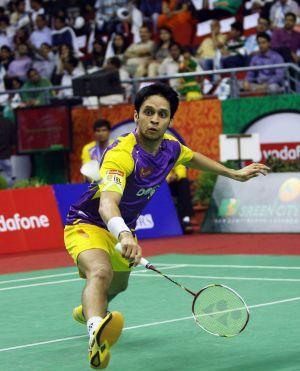 But Yun's unforced errors had him in trouble, which gave Chong a foot in the door.
The Malaysian had managed to open up a four points lead at 14-10, before Hun cameback to delight the crowd with outstanding rallies and smashes.
Locked at 20-20, the two were engaged in a gripping rally before Chong hit one long, which gave Yun the victory.
Mathias Boe and Markis Kido did manage to pull one back for Awadhe Warriors by beating Carsten Mogensen and Akshay Dewalkar 14-21,19-21.
But P Kashyap quashed any hopes of Awadhe's comeback by winning his singles encounter with K. Srikanth.
Kashyap managed to secure the all-important victory for his team, after being a game down to comeback and beat Srikanth 21-20, 11-21, 11-9.
Kashyap capitalised on the unforced Srikanth's unforced errors and exulted after unleashing a stunning smash to record his first win of the competition.
Carsten Mogensen and Carolina Marin wrapped up the final game by beating Markis Kido and K. Maneesha 20-21, 21-16, 11-8
Image: P Kashyap
Photograph: Indian Badminton League