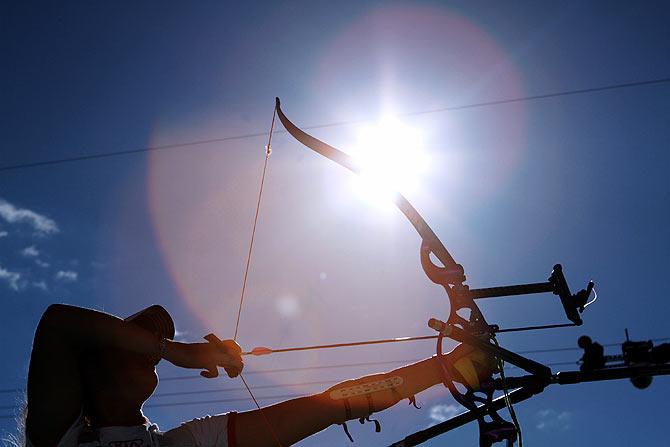 Image used for representational purposes. Photograph: Dean Alberga/World Archery Federation via Getty Images
The Archery Association of India (AAI) president VK Malhotra on Friday said India will strongly protest the denial of visas to 19 Indian archers who were scheduled to leave for the US tomorrow to participate in the World Youth Archery Championships in Yankton, South Dakota.
- Denied US visa, Indian archers withdraw from Youth C'ship
"We have already talked to the World Archery body and our Ministry of Sports, External Affairs Ministry has also written to the US embassy. We will strongly protest against it, have decided to withdraw our team," Malhotra told ANI.
"Whenever any country holds any international championship the first clause is that all member countries will have to be given visas," he added.
The AAI chief further said that the reason behind the denial of visas was very humiliating and disgusting.
"The reason they've cited is that you have not demonstrated that you have ties that will compel you to return to your country. Rejecting visas on this basis is very humiliating and disgusting, we will make a strong protest," he said.
The visa denial had sparked outrage with IOA vice-president Tarlochan Singh saying the US embassy should have encouraged the young archers to participate in the championship.