India's schedule for Tuesday, the fourth day of competition, at the Asian Games in Incheon.
CYCLING TRACK:
Deborah: Women's sprint qualifying (06:30 IST)
EQUESTRIAN:
Nadia Haridass and Shruti Vora: Women's individual dressage: (09:30 IST)
GYMNASTICS:
Ashish Kumar and P Rakesh Kumar: Men's individual all-round final (11:00 IST)
HOCKEY:
India vs Oman: Men's pool B (13:30 IST)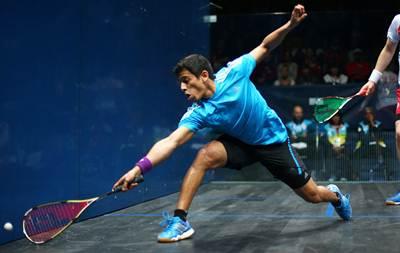 ROWING:
Swarn Singh: Men's individual repechage (06:50 IST)
Amanjeet Kaur, Sanjukta Dung Dung, N Lakshmi Devi and Navneet Kaur: Women's quadruple sculls repechage 1: (07:10 IST)
SEPAKTAKRAW:
Japan vs India: Men's preliminary Group A (05:30 IST)
Myanmar vs India: Women's preliminary Group B (11:00 IST)
SHOOTING:
Ravi Kumar, Sanjeev Rajput, Abhinav Bindra: Men's 10m air rifle qualification and team finals (05:30 IST)
Harpreet Singh, Gurpreet Singh, Pemba Tamang: Men's 25m rapid fire pistol qualification stage 1 (05:30 IST)
Seema Tomar, Shreyasi Singh, Shagun Chaudhary: Women's trap team finals (05:30 IST)
Seema Tomar, Shreyasi Singh, Shagun Chaudhary: Women's trap individual qualification (06:00 IST).
SQUASH:
Saurav Ghosal v Abdullah Al Muzayen: Men's final (09:30 IST)
India vs Jordan: Men's team Group B match (14:30 IST)
SWIMMING:
Anshul Kothari: (Men's 50m freestyle heat 4)
Sajan Prakash and Saurabh Sangvekar: Men's 400m freestyle heats
WEIGHTLIFTING:
Satish Kumar Sivalingam and K Ravi Kumar: Men's 77kg Group B (10:30 IST)
Punam Yadav: Women's 63kg Group A (12:30 IST).
WUSHU:
Yumnam Sanathoi Devi vs Zhang Luan (China): Women's Sanda 52kg semi-final.
Narender Grewal vs Jean Claude Saclag (Philippines): Men's Sanda 60kg semi-final.
Image: Saurav Ghosal