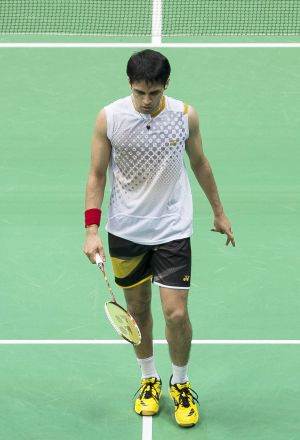 The Indian men's team salvaged some pride with a thrilling 3-2 victory over Germany in their inconsequential Group C match to end its campaign at the Thomas Cup badminton tournament on a positive note, at the Siri Fort Sports Complex, on Wednesday.
The Indian men had lost 1-4 to Malaysia and 2-3 to Korea in their last two matches which put paid to their quarter-final hopes.
After two defeats, K Srikanth gave India a good start, getting the better of Marc Zwiebler 21-18, 18-21, 21-18 in 56 minutes.
However, Michael Fuchs and Johannes Schoettler whipped India's doubles pair of Manu Attri and B Sumeeth Reddy 21-15, 21-6 as Germany drew parity at 1-1.
Captain Parupalli Kashyap played his heart out in the second singles but could not get past Dieter Domke. The German won 23-21, 14-21, 21-14 to give his team a 2-1 lead.
The doubles pair of Akshay Dewalkar and Pranaav Jerry Chopra then brought India back into the hunt with a thrilling 21-9, 17-21, 21-19 win over Peter Kaesbauer and Josche Zurwonne in the second doubles.
With India's fate hinging on the third singles, R M V Gurusaidutt beat Lucas Schmidt 14-21, 21-19, 21-19 in a come-from-behind high-octane match during which the noise made by the crowd hit a crescendo.
Guru produced a brilliant fightback in the second game after losing the first as he repaired a six-point deficit from 5-11 to first claw back at 18-18 and then wrest the lead with a smash. He finally roared back into the contest with a cross-court net dribble that found Lucas napping.
In the decider, Guru opened up a lead early on and maintained it, moving from 14-11 to 14-19.
Lucas breathed down his neck and made it 19-20, but with his return finding the net, Guru burst into celebration.
Earlier, Srikanth mixed his strokes, covered the court and varied the pace well to push Marc into committing errors.
The Indian fought back from 9-11 down at the interval to draw parity at 18-18 and then surged ahead when Marc's return found the net. A bodyline smash earned him another point and then with the German hitting long meant Srikanth pocketing the first game.
In the second game, Marc led 11-9 again at the break but this time he went on to win the game, despite Srikanth threatening to make another roaring comeback as he reduced a seven-point lead at 10-17 to come as close as 20-18.
In the decider, Srikanth dominated proceedings from the start and led 11-6 and even though Marc clawed back to make it 19-16, the Indian sealed the match in his favour when the German hit long.
Image: Parupalli Kashyap
Photograph: Victor Fraile/Getty Images