Vandana Kataria slammed a hat-trick as India thrashed minnows Russia 10-1 to enter the quarter-finals in the Junior women's hockey World Cup in Monchengladbach, Germany, on Tuesday.
After the 1-6 drubbing from Australia and 2-0 victory over New Zealand, the Indian girls needed to win by a big margin against Russia and hope for either an Australian victory over New Zealand or a draw in the final Pool C match to make it to the knock-out stage.
India's prayers did not go unheard as Australia held New Zealand to a 3-3 draw.
Australia topped Pool C with seven points from three games, while India finished second with six.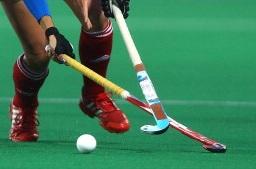 India will now face the Pool D winners in the quarter-finals on Thursday, while Australia are up against the second-placed team from Pool D.
India scored five goals in each half, through Vandana (7th minute, 15th, 31st), Poonam Rani (22nd, 27th), Rani (39th, 49th), Ritusha Kumani Arya (44th), Manjit Kaur (69th) and an own goal in the 66th minute.
Anastasia Miroshikova scored the lone goal for Russia in the 36th minute.
Fully aware that only a victory would keep them in quarter-finals hunt, the Indians went for the offensive from the onset and opened the scoring in the seventh minute through Vandana, who converted the team's third penalty-corner.
Vandana was again in the thick of things eight minutes later when she doubled India's lead through a field effort.
Poonam then joined the party and scored twice in the span of six minutes to extend India's lead.
Vandana completed a hat-trick four minutes from the lemon break to make the score line 5-0.
But 40 seconds into the second half, the Indians were in for a rude shock when Anastasia pulled one back for Russia.
Barring the slight lapse in concentration, the Indians played neat, error-free hockey and it resulted in goals for the blue brigade.
After Russia's unexpected strike, Rani quickly restored India's five-goal lead before Ritusha slapped the ball into the back of the opposition net from a crowded circle to make it 7-1.
India's goal-scoring spree continued as Rani slammed her second of the day in the 49th minute.
An own goal from Russia four minutes from the hooter made it 1-9 before Manjit converted a late penalty-corner to complete the rout.