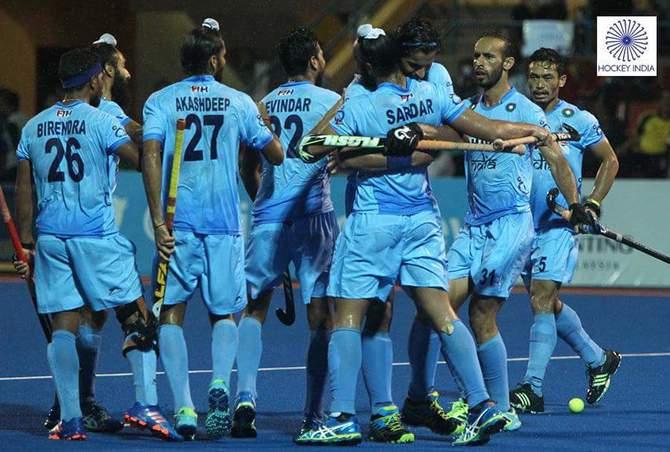 IMAGE: Indian players celebrate after scoring a goal against Pakistan on Sunday. Photograph courtesy: Hockey India
India conceded a surprise early goal but made a fine comeback by pumping in four quick goals to beat minnows Scotland 4-1 in their opening match of Hockey World League semi-finals in London, on Thursday.

Scotland captain Chris Grassick struck as early as the sixth minute to stun the Indians who trailed 0-1 till the end of the first two quarters.

However, India staged a great recovery and scored four times in the third quarter to run away with full points in the Pool B match. Ramandeep Singh (31st, 34th), Akashdeep Singh (40th), Harmanpreet Singh (42nd) were the goal scorers for India.

The first quarter belonged to the underdogs Scotland who displayed good attacking skills to put India on the backfoot. They held on to the ball possession for a greater part of the first quarter keeping the Indians in the hunt.

While the Scottish goalkeeper Thomas Alexander was impressive with his saves, it was skipper Chris Grassick who got an early lead for his team with a splendid deflection that beat Vikas Dahiya to the post in the sixth minute.

It was a baseline pass by Kenny Bain picked up by Grassick perfectly to stun the Indian side.

Both teams slowed down the pace just a little bit in the second quarter. India played cautiously, rotating the ball only to make well-calculated entries into the opposition striking circle.

India's marquee midfielder Sardar Singh was in the center of action
with some impressive dribbling, trying to make space in the circle. But, Indian forwards were denied the equaliser by a determined Alexander who continued to impress with his saves. He padded away Akashdeep Singh's shot on goal in the 25th minute to end the second quarter with advantage to Scotland.
The ten-minute break at half-time was put to good use by India's chief coach Roelant Oltmans who brought about strategic changes to create opportunities in the circle. It worked wonders with forward Ramandeep Singh finding a breakthrough in the 31st minute. He struck a cracker of a goal with a reverse hit from the top of the circle, beating defender Willie Marshall to equalise.
Ramandeep struck again in the 34th minute when forward S V Sunil assisted from the baseline. A perfect deflection by Ramandeep earned India a much-needed 2-1 lead.
India made great amends to a poor start with two more goals in the third quarter. In the 40th minute, it was India skipper Manpreet Singh who set up a goal for Akashdeep, who timed his run to perfection to receive the pass and deflect it past Alexander.
In the 42nd minute, a clever-thinking Sunil appealed for a video referral that saw India win their first penalty corner of the match. India's young drag flicker Harmanpreet Singh made no mistake with a brilliant effort, picking up the ball from injector Sardar Singh, to send the ball like a bolt to the top corner of the post.
At the end of the third quarter, India enjoyed a comfortable 4-1 lead.
India did well in the final quarter to defend their lead, denying any opportunity for the Scottish players to score. India's young goalkeeper Akash Chikte too held his nerve to ensure India walked away with a 4-1 win.
India play their next Pool B match on June 17 against Canada at 18.30 hours IST.