The Indian men's hockey team is all set to compete with France on their tour to Europe, after securing fourth place in the recent FINTRO Hockey World League Semi-Final 2015 in Belgium.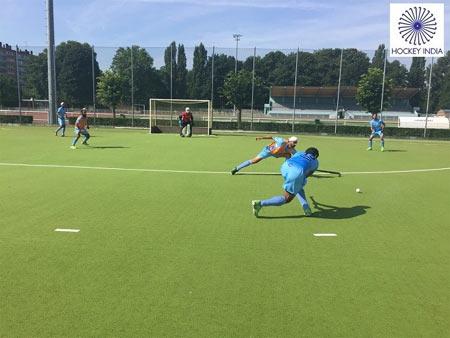 India will play two matches against France and they are looking forward to repeat their success against the European team.
India will be playing their first match against France on Monday.
India had earlier faced France in both the semi-final rounds of the FIH Hockey World League 2012-13 and 2014-15, and defeated them in both the encounters
In the FIH Hockey World League Semi-Final 2012-13, the Indian team outplayed the European team by 6-2 in which young Mandeep Singh scored two back-to-back goals. In the second season of FIH Hockey World League Semi-Final, India again met France in the semi-final round in Belgium and defeated them 3-2.
"France is a good team and they have some good players. We can't take them lightly and we will play with our man-to-man strategy. In our last match in FINTRO Hockey World League Semi-Final in Belgium, they stunned us with their speed and an early goal. This time, we won't give them room for surprise attacks and will try to keep the ball possession in our side," captain Sardar Singh said,
Playing again with France in the Europe Tour, India will field experienced players like as drag-flicker VR Raghunath, defender Kothajit Singh and forward SV Sunil. Along with them, the Tour will also see the return of SK Uthappa, Danish Mujtaba and Mandeep Singh, who are taking this opportunity to enhance their skills for the international level matches.
Speaking before the first match against France, Roelant Oltmans, Director, High Performance and Indian Men Chief Coach stated, "Though we have beaten France in our previous encounters, we are not taking them lightly. They are preparing for the Euro Hockey Championships 2015, which is a very important tournament for them and they will utilize all the opportunities perfectly before the start of the tournament. The Indian boys are well-prepared and we have strategies to counter them. The Tour will help us to understand our strategies better and the strength of the players. I am very hopeful that we will start our campaign with a positive note."
On the other hand, France is also gearing up for their upcoming UNIBET Euro Hockey Championships 2015, which will be held from 21-29 August in London. World's top teams such as Germany, The Netherlands and England will feature in this tournament. Playing against FIH Rank # 8 India, France will get a vital opportunity for their practice before the all-important tournament.
Image: India players a training session
Photograph: Hockey India/Facebook