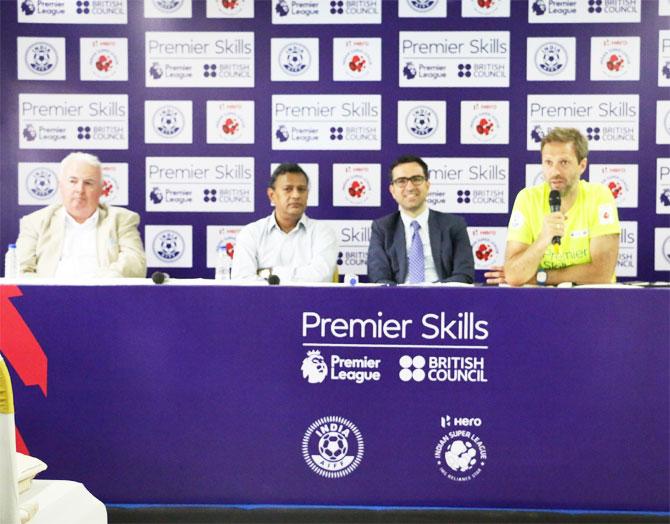 IMAGE: Jeremy Weeks (extreme right) speaks at a media briefing in Mumbai on Sunday.
For India to grow substantially in football, it needs a larger pool of skilled coaches and coach educators, says Jeremy Weeks, head coach of Premier Skills, an initiative of English Premier League.
"There is a passion and enthusiasm for the sport of football evident in India, more so after the onset of the Indian Super League here. There is a different set of skills required to be a good grassroots community coach. And that's what we have set out to achieve over the last few days," said Weeks at the concluding ceremony of the week-long ISL-Premier Skills training programme at the Cooperage ground in Mumbai on Sunday.
"We aren't here to tell the coaches what to do. This is about our Premier League clubs sharing our knowledge and skills with the Indian coaches. It's amazing to see coaches enthusiastic about learning and developing themselves. If we need more youth to play, we will need more coaches to develop and help players improve their skills," he added.
Weeks stressed the importance of creating a vast talent pool of coaches and coach educators in India, who further need to work in the communities in encouraging young players.
Premier Skills has partnered with the ISL and All India Football Federation to launch its football skills enhancing programme in India. Phase 1 of three-phase course ended today.
Fifty grassroots and youth coaches from the eight ISL clubs and community football coaches from NGOs received expert training and valuable insights in football skills from Weeks and his qualified team of coaches at Premier Skills.
Weeks was supported by Robert Parrett, Development Manager at Crystal Palace Football Club and Katie Bottom, Women and Girls Development Officer at West Ham United Football Club.
They were joined by three Indian Premier Skills coach educators, Kuntala Ghosh Dastidar, Shekhar Kerkar and Shafeeq Hassan.
AIFF's General Secretary Kushal Das said such initiatives would go towards improving the standard of the game in India.
"Our focus over the past couple of years has been on development of grassroots football and coach educators," he said.
Successful candidates from Phase 1 of Premier Skills are eligible for AIFF `D' licence certificate and further in three months, they can apply for AFC 1C' licence, he said.