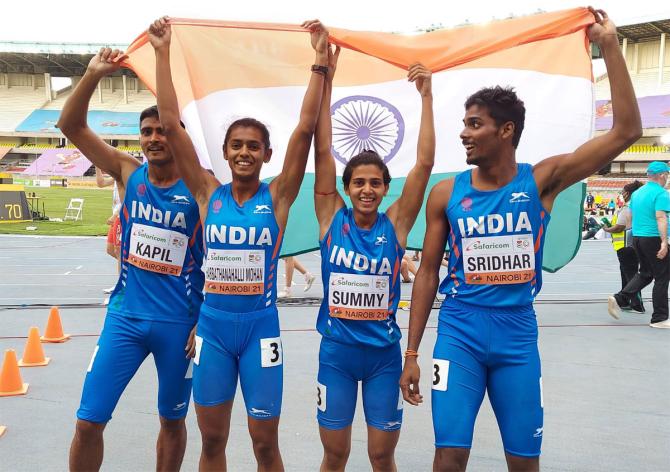 The Indian mixed 4x400m relay team on Wednesday won a bronze to clinch the country's fifth medal in the history of Under-20 World Athletics Championships in Nairobi.
The Indian quartet of Bharath S, Priya Mohan, Summy and Kapil clocked 3:20.60 seconds to finish third in the final.

Nigeria and Poland won the gold and silver medals with timings of 3:19.70s and 3:19.80s respectively.

India had entered the final as the second best team overall with a championship record timing of 3:23.36s in the heat races held in the morning.

The record was, however, short-lived as the athletes from Nigeria improved it by finishing their race in heat 2 with a timing of 3:21.66s.

There was a change in the Indian quartet in the final from the heat race with Bharath S running in place of Abdul Razzaq. Barath had clocked 47.55s recently during the Federation Cup National Junior Championships in Sangrur.

For Priya and Summy, the mixed 4x400m relay final was their third race of the day as both also featured in the individual 400m heats.

"We were inspired by Olympic javelin gold medallist Neeraj Chopra. We wanted to show the world that his win at the Olympics was not a fluke. Our win here will inspire many Indians to take up athletics," Priya Mohan said after the final race.

"It is a wonderful moment for me and my team-mates. It is a dream come true for us to win a medal at an international event and we want to thank World Athletics and our hosts Kenya for making it happen," said Bharath.

Before Wednesday's bronze in mixed 4x400m relay, India had won medals through Seema Antil (bronze in discus throw, 2002), Navjeet Kaur Dhillon (bronze in discus throw, 2014), Olympic champion Neeraj Chopra (gold in javelin throw, 2016) and Hima Das (gold in 400m, 2018) in the world U-20 meet.

Priya also qualified for the 400m final after finishing third, clocking 53.79s in heat 3. The final will be held on Saturday.

The second Indian in the fray, Summy fizzled out in heat 2 and finished fifth with a timing of 55.43 seconds.

In men's shot put, Amandeep Singh Dhaliwal also qualified for the finals with a best throw of 17.92m.

However, Vipin Kumar faltered in the hammer throw. His best attempt of 63.17m was way below the qualifying mark of 74m.

In javelin throw, Kunwer Ajai Singh Rana and Jay Kumar both qualified for the final. Rana threw the spear to 71.05m while Kumar cleared 70.34m. The javelin final will be held on Friday.
Jr World Wrestling: Silver for Ravinder

Ravinder settled for a silver medal after being outwitted by his Iranian opponent but Bipasha emerged a surprise finalist in the women's 76kg to keep India's gold medal hopes alive at the junior world wrestling championship, in Ufa, Russia, on Monday.

Making full use of repechage route, Yash (74kg), Pruthvi Babasehb Patil (92kg) and Anirudh (125kg) grabbed bronze medals as India finished their men's free style campaign with six medals.

Gourav Baliyan (79kg) and Deepak (97kg) had won bronze on Tuesday.

Up against a strong Rahman Mousa Amouzadkhalili, who had won the Yasar Dogu senior event in June this year, Ravinder could not make his moves as he was largely left to defend in the 61kg title clash.

The Iranian kept Ravinder tangled in head and body locks to win comfortably 9-3.

In the 74kg play-off, Yash first scored a confident 9-2 win over Armen Musikyan from Armenia and then pulled off a 12-6 win over Kyrgyzstan's Stambul Zhanybek Uulu after trailing 2-5.

Yash changed the bout in the last 90 seconds with his timely quick moves. Stambul perhaps got overconfident after taking lead and Yash was quick to take advantage after his rival dropped his guard a bit.

Patil took bronze in 92kg after edging past Russia's Ivan Kirillov 2-1 in the play-off. Patil was trailing on criteria after both wrestlers scored points on each others passivity but the Russian was imposed a point penalty for foul play, and that proved decisive.

Anirudh (125kg) also added a bronze to India's tally with an impressive 7-2 win over Aydin Ahmadov from Azebaijan.

In the women's competition, Bipasha was slow off the blocks but got better with each match. She managed a 6-3 win over Kazakhstan's Dilnaz Mulkinova and then comfortably beat Mongolia's Odbag Ulziibat 9-4.

Simran moved into the women's 50kg semifinals with two dominant wins but lost the last-four stage match by technical superiority to formidable American Emily King Shilson. She will not fight for bronze.

Showing much promise for future, Simran first beat Romania's Georgiana Lavinia Antuca by technical superiority without conceding a point and then pulled off a victory by 'fall' in the high-scoring quarterfinal against Gultakin Shirinova of Azerbaijan.

The quarter-final was fast with moves and counter moves across the two periods but eventually Simran got hold of Shirinova for a pin when she was leading 18-8.

However, Sito (55kg), Kusum (59kg) and Arju (68kg) lost their respective quarters.