Congratulations Manipur for giving the country such a wonderful series of champion sportswomen, tweets President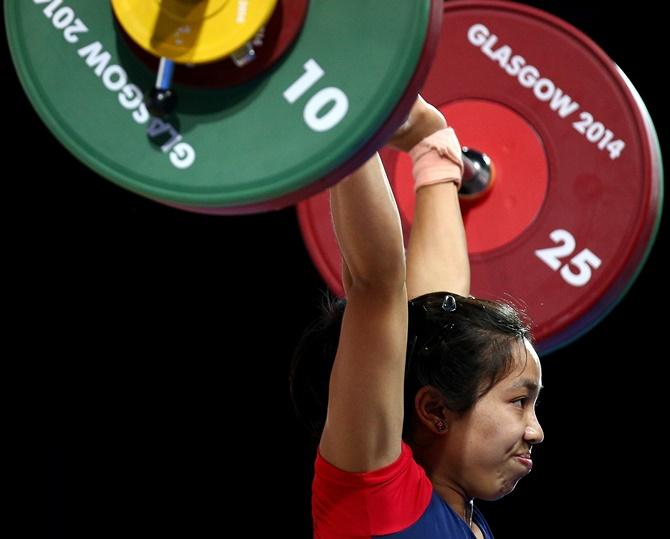 IMAGE: Mirabai Chanu of India competes. Photograph: Paul Gilham/Getty Images
President Ram Nath Kovind and Prime Minister Narendra Modi, on Thursday, hailed Saikhom Mirabai Chanu's gold-medal winning effort at the Weightlifting World Championship in Anaheim, USA.
Chanu, who is employed with the Indian Railways, lifted 85kg in snatch and 109kg in clean and jerk to total an impressive 194kg in the women's 48kg, in the process setting a new national record and becoming the first Indian in over two decades to claim gold in the tournament.
"India is proud of Mirabai Chanu, who has won a gold at the World Weightlifting Championship. Congratulations and best wishes for her future endeavours," PM Modi wrote on his Twitter handle.
The President's Office said in a tweet, "Congratulations Mirabai Chanu for winning a gold medal in the World Weightlifting Championship. India is so proud of you. And congratulations Manipur for giving the country such a wonderful series of champion sportswomen!"
Seeing the tricolour from the podium, tears of joy rolled down her cheeks, as Chanu picked up a rare honour for an Indian at the marquee event.
Sports Minister Rajyavardhan Singh Rathore was also prompt in congratulating Chanu.
"Saikhom Mirabai Chanu wins #Gold in 2017 IWF Senior Men & Women #weightlifting championships in Anaheim, USA. In the 48 kg weight category, her total lift was 194 kg. That's 4 times her bodyweight. In sports, and in life, 'Will' is everything. Never, EVER give up."
Olympic medallist and five-time world champion MC Mary Kom said, "Congratulations #MirabaiChanu on lifting #Gold at #WorldWeightliftingChampionship and becoming 2nd Indian after Karnam Malleshwari 2 bring the glory 2 our country. She created a new record by lifting total of 194kgs of weight in women's 48kg category."
Another Olympic medallist boxer, Vijender Singh, also joined the country in congratulating the 23-year-old weightlifter.
Vijender wrote, "Another Indian women athlete creates history today. India's #MirabaiChanu lifts 194kg at the World Weightlifting Championship. She is the second Indian after Karnam Malleswari to win gold. You Women Never Fail To Make India Proud !!! Salute."
The PM meanwhile, also lauded cueist Pankaj Advani for winning yet another world title.
Modi said, "Congratulations @PankajAdvani247 for winning your 18th world title in the recently concluded IBSF World Snooker Championship. Your accomplishments make us very proud."