'Oltmans gave a series of presentation about his long-term vision but we need short-term results.'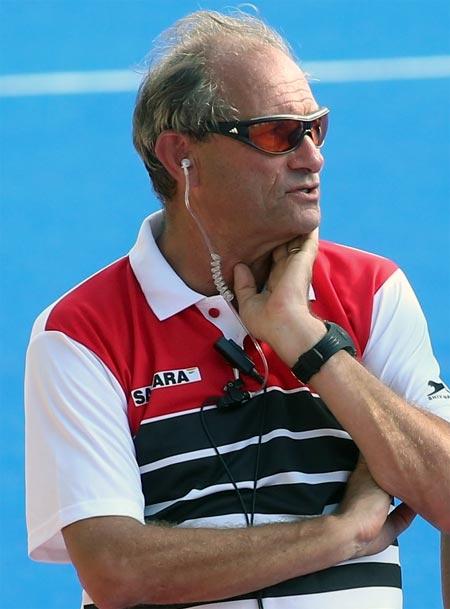 Hockey India on Saturday sprang a surprise by sacking national coach Roelant Oltmans, citing lack of trust in the legendary Dutchman's formula of "long-term" process for success.

Hockey India sacked Oltmans with immediate effect and made High Performance Director David John in charge of the national men's team till a suitable replacement is found.

HI arrived at the decision after a three-day review meeting of its High Performance and Development Committee.

"Oltmans gave a series of presentation about his long-term vision but we need short-term results. We had a core of probables since 2012 but still we failed to produce desired results at the international level," Hockey India's High Performance Director David John said.

"We want consistency. We want to finish in top three in international events. We want to win the Asia Cup, Hockey World League Finals and Asian Games. We want to finish on the podium in Commonwealth Games, next year's World Cup and 2020 Olympics," he said.

Oltmans had joined the Indian team as High Performance Director in January 2013 and took over as coach in July 2015 after the ouster of Paul Van Ass.

"He (Oltmans) gave his presentation over the last two days but the committee felt the team now needs a new direction as it had not performed as we would have liked under him."

The most notable performance for India under Oltmans was a silver medal at the Champions Trophy last year. He also guided the junior team to World Cup gold as an advisor.

John said India might have improved from world no. 11 to six under Oltmans but losing matches against lower-ranked sides this year went against him.

"Losing matches against Malaysia twice this year (in Azlan Shah Cup and Hockey World League Semi-finals in London and against Canada) was the last straw for Oltmans," said the Australian, who was India's exercise physiologist under Micheal Nobbs in 2012.

A disappointed Oltmans said it was an "unexpected" decision for him but wished Indian hockey in its future endeavours.

"I was not expecting such a decision but the Hockey India took the decision to have a different direction and I welcome it. I just wish the team best of luck and hope it continues its progress," he said.

Before Oltmans, many other foreign hockey coaches were shown the door unceremoniously, including Ric Charlesworth, Jose Brasa, Michael Nobbs, Terry Walsh and Paul van Ass.

The Federation too said that it was not impressed with the recent failures under the Dutchman.

"Key decisions were taken which included to ask chief coach Roelant Oltmans to step down," Hockey India said in a release.

"While Roelant Oltmans role as chief coach in improving the teams' overall fitness and cohesiveness has been appreciated, the results are what matter and the performance of the team has not been consistent or up to the desired levels."

The power-packed meeting to assess the way forward for Indian hockey was attended by over 24 members over the last three days.

Harbinder Singh, chairman of the Hockey India selection committee said, "The Committee was convened since we are collectively not satisfied with the Indian Men's Hockey team's performance in 2016 and 2017 and feel that wins in Asia can't be a benchmark for success any more."
Image: Roelant Oltmans
Photograph: Hockey India