Former India hockey captain Viren Rasquinha gave a clarion call to all concerned in running the sport, to bury their egos and stop politicking for the future of national game.
Reacting to the decision of the International Hockey Federation (FIH) to take away the hosting rights of the December 3-11 men's Champions Trophy from the country due to the administrative row over the governance of the game, Rasquinha said he is more worried about what could happen in future vis-a-vis the Olympic qualifiers awarded to the country.
- Power Your Champions -- contribute just Rs 100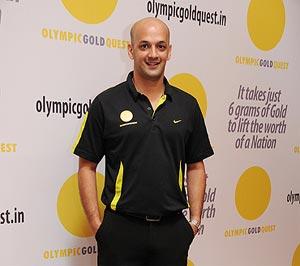 "I am not too worried about the Champions Trophy [being taken away], but am more concerned about what could happen to the hosting rights for the Olympic qualifiers (scheduled in February, 2012) awarded to India, if the present impasse continued," said the former midfielder, on Tuesday.
- HI, IHF fume over Champions Trophy snub
"Home advantage is a huge one and we should not regret later that it was taken away," added the former international, pointing out that India could then be in severe danger of missing an Olympic berth for the second Games running.
"The FIH is doing everything possible for India to qualify (for next year's London Games). We should not let go of this opportunity and regret later."
Rasquinha feels that it is time for all concerned to sink their differences and egos for the future of the game.
- CWG kicks off India's Olympic gold quest
"We need one federation to govern the game in the country for the standards to improve and for sponsors to show interest in the game. It's time for everyone concerned to let go of their egos and bury politics. The sport should take priority over everything else," he said. 
- Hockey, players will suffer: Nobbs
Another former India skipper and midfielder Somaya Maneypande, however, hit out at the decision of the FIH, saying it does not appear a "rational" one.
"The fault lies with the FIH, if at all. It was wrong on their part to award the Champions Trophy first and then take it away just because people like Suresh Kalmadi and others are no longer in control [of things]," said the three-time Olympian and member of the 1980 gold medal-winning team at the Moscow Games.
"FIH cannot dictate terms to the Indian government. They cannot say who should be conducting the event as long as it is run efficiently and they get their royalty fees or whatever it is," he fumed.
Somaya also said the Indian public will be deprived of watching top class hockey action because of the FIH's decision.
"The Indian crowd was thrilled at watching top class hockey during the World Cup (in March 2010) and the Commonwealth Games (in October 2010). They would now be deprived of that," he rued.
Both these events were hosted by the country at the Dhyan Chand National stadium in New Delhi.