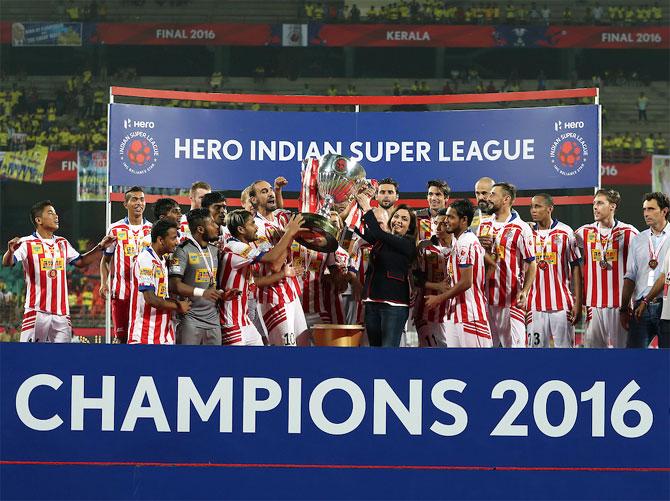 IMAGE: Atletico de Kolkata's players celebrate after winning the 2016 Indian Super League title.
Former France defender Mikael Silvestre, who played for Indian Super League side Chennaiyin FC in the inaugural edition in 2014, feels that football is growing fast in India.

Silvestre, who was part of the France team that reached the 2006 FIFA World Cup final, first made his mark on the international stage in 1997 at FIFA World Youth Championship in Malaysia, and ended his decorated professional career in 2014 with a season-long stint with Chennaiyin FC in the 2014 ISL.

"Playing in India for Chennaiyin FC was a very enjoyable experience as the country has a fast-growing football scene. In addition to being the defensive partner of player-manager Marco Materazzi, I did a lot of Italian-to-English translation for my Indian teammates at the club," Silvestre said during a visit to the offices of the Supreme Committee for Delivery and Legacy of the 2022 Doha World Cup.

Silvestre said that the bond he shared with Italy's 2006 World Cup winner Materazzi underscored football's role in bringing people together.

"The incident between Marco and Zizou (Zinedine Zidane) in the 2006 final was unfortunate, but despite that I was able to have a great relationship with Marco in India. This shows that football is bigger than politics and war," he was quoted as saying by www.sc.qa.

He said Qatar hosting the 2022
World Cup will be a significant milestone in the process of globalisation of football.
"The 2022 FIFA World Cup is very important for the globalisation of football, as an Arab country will be hosting it for the first time ever," said the 39-year-old five-time English Premier League winner with Manchester United.
"The entire Arab world will be making an important statement if Qatar delivers the best ever World Cup from an organisational point of view. I am happy to see that a lot of effort is going into the preparations to ensure the competition will be a success."
The 2008 UEFA Champions League winner with Manchester United also reminisced about his international tournament bow in Malaysia, to underpin the strategic importance of awarding hosting rights of major tournaments to countries outside Europe.
"The tournament (
in Malaysia
) was a big success because of the huge passion for the game in Malaysia. A lot of future stars were born there. Thierry Henry, Nicolas Anelka, David Trezeguet, William Gallas and Willy Sagnol were my teammates," he said.
The man with 40 international caps and 361 appearances in a decorated nine-year career with Manchester United said Qatar is passionate about football.
"As a regular visitor to Qatar, I am amazed to witness the rich football culture in Doha concentrated in a compact geographical space. I admire the overwhelming passion for the sport here," said the Frenchman.