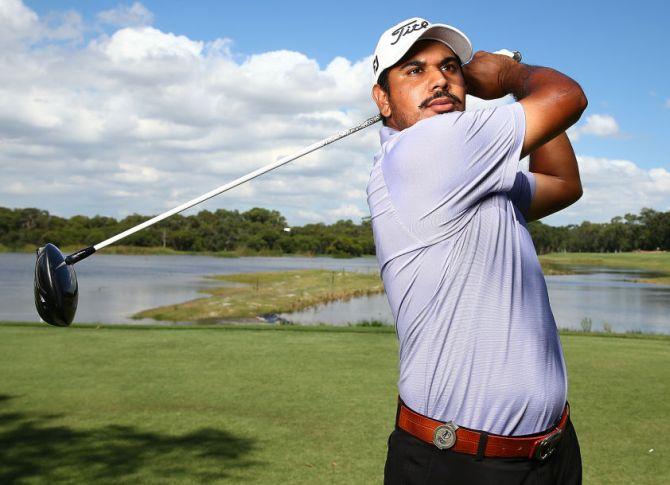 Extending his good form, Gaganjeet Bhullar shot a 4-under 67 to position himself tied second at the end of the first round of the Shinhan Donghae Open in Incheon, Korea,on Thursday.
Bhullar, who has five Top-10s in his last seven starts, is two shots behind local man, SanghyunPark (65) along with six others including South African Jbe Kruger and Frenchman Lionel Weber.
Bhullar, who won the 2016 edition here, was the best Indian, as Rashid Khan (68) was T-9th, Viraj Madappa, winner of Take Solutions last month, was T-28 and Ajeetesh Sandhu (71) and Arjun Atwal (71) were T-41st.
Shiv Kapur, Jyoti Randhawa and S Chikkarangappa carded 72 and were T-67, while Khalin Joshi (70) was T-90th.
Bhullar started from the back nine and birdied the 11th, dropped just one bogey on Par-5 14th and he birdied 15th and 17th to turn in 2-under 33. On the second nine, he birdied his closing holes eighth and ninth.
"It was a steady round of golf today. I hit 11 fairways and 14 greens in regulation. I gave myself a lot of birdie chances. The last two holes were really good. Holes eight and nine turned around the day for me," Bhullar said.
"The only bogey I had was on 15, my fifth hole of the day. I missed the fairway off the tee and I had to lay up. Then I missed the third shot onto the green. The goal this week is to keep the ball in play.
"Golf is a like a marathon. It is still too early to discuss a victory. You have to go out there and give 100 per cent every day and hope that your game clicks."
Bhullar won his ninth Asian Tour title last month in Fiji at the Fiji International and is now Tied-4th on Asian Tour's Habitat for Humanity Order of Merit.
Gaurika takes lead, Khushi lying second in 14th leg of Hero WPG Tour
Gaurika Bishnoi finally found the form she was searching for with five birdies in the second round of the 14th Leg of the Hero Women's Pro Golf Tour in Gurgaon on Thursday.
Gaurika, who is still looking for her first win this season, shot 2-over 74 despite a bogey-bogey finish on the challenging Gary Player layout at the DLF Golf and Country Club.
With rounds of 77 and 74, Gaurika is now 7-over 151 and leads her closest rival, young Khushi Khanijau (71) by two shots.
Khushi, who has been showing a lot of promise and also finished second in the 11th Leg at Hyderabad in August, carded the first sub-par round of the week, as she compiled 1-under 71 which also included five birdies.
Afshan Fatima, winner last week in the 13th Leg of the Hero WPG Tour at Greater Noida, shot 76 and at 154, she was third and one ahead of Neha Tripathi, who after a disappointing first round of 82 made a nine-shot improvement with a 73. At 155 she is fourth.
Gaurika birdied third and ninth but dropped shots on second, sixth and eighth to turn in 1-over 37. On the back nine she birdied three times between 12th and 15th, but also dropped shots on 11th, 13th, 17th and 18th for a total of 74.
Khushi had a fine front nine with two birdies against one bogey, while on the back nine she had three birdies on 11th, 16th and 18th. However, three bogeys in a row from 13th to 15th spoilt her fine card.
Amateur Sifat Sagoo, who is playing on her home course, added 79 to her first round 80 and is Tied-5th alongside first round co-leader, Millie Saroha (82).
The surprise was Amandeep Drall, who for the second day running shot 80 and was placed seventh, while Hero OOM leader Tvesa Malik (79-82) disappointed as she was Tied-8th alongside Gursimar Badwal (84-77) and Anisha Padukone (86-75).
In the final round, Sonam Chugh, Astha Madan and amateur Rhea Saravanan will tee off first, while Tvesa Malik, Siddhi Kapoor and Mehar Atwal will follow them. The third group has Amandeep Drall, Anisha Padukone and Gursimar Badwal.
The penultimate group will see Neha Tripathi, amateur Sifat Sagoo and Millie Saroha, while Gaurika Bishnoi, Khushi Khanijau and Afshan Fatima will tee off last in the leader group.