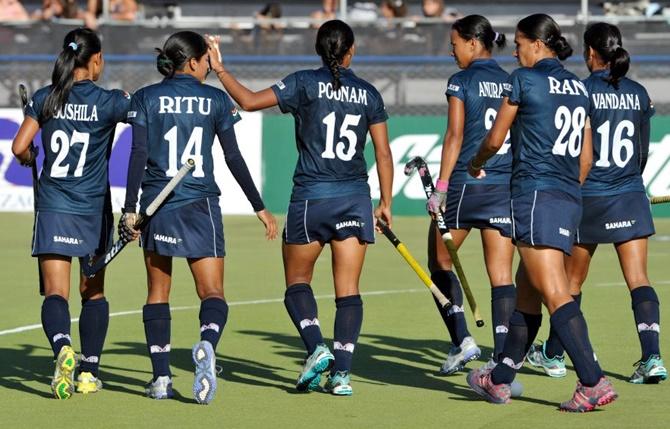 IMAGE: Indian women's hockey team. Photograph: Facebook.
Indian women's hockey team suffered a 1-2 defeat at the hands of fifth-ranked China in the last pool game of the 2016 Hawkey's Bay Cup.
The match started slowly, with most of the battles taking place in the midfield and both teams struggling to penetrate the circle. China had the best opportunity of the quarter with a penalty corner which was well saved by Savita in goal to take the teams to the break tied 0-0.
After the goalless first quarter, Rani scored off a swiftly worked counter from the right to open India's account in the 19th minute. China immediately hit back, and won a PC of their own, but another save from Savita ensured India went into the break with their lead intact.
The third quarter saw resolute defending from India, as China controlled most of the possession. Monika in particular was very good at marshalling the defence and dropping deep to ensure the numbers denied China openings for goal. With the last play of the quarter though, China scored the equaliser through Yu Qian.
The final quarter saw several chances fall for both teams as they tried to take full points. Deepika, took charge and had a couple of half chances that went wide of the post.
Wang Mengyu scored the winner for China through a PC with five minutes left on the clock.
Reflecting on the defeat, coach CR Kumar said, "We gave a tough game today to a team that are higher ranked than us. Crucial mistakes at the end of the final quarters denied us the points. Our defence was secure, but we now need to focus on getting the ball upfield quicker to score goals."
Besides the two sides, Australia, Canada, Ireland, Japan, Korea and New Zealand are the other sides participating in an invitational 8 nation women tournament.
India will now lock horns with Japan in their quarterfinal clash on Thursday.