Satnam Singh Bhamara became the first India-born player to be selected in the 2015 NBA draft after being picked by Dallas Mavericks.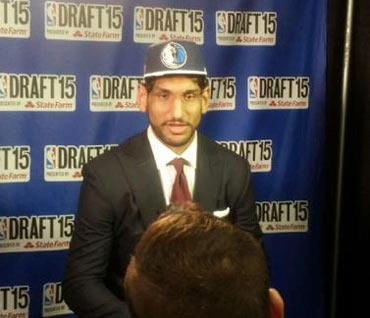 "Satnam Singh, Center from India, gets selected #52 by the @dallasmavs! #NBADraft @NBAIndia," @NBA tweeted on Friday morning.
The 19-year-old was the 52nd pick in the NBA Draft.
The 7 feet 2 inches tall Satnam, tagged a bright basketball prospect for the last few years, hails from Barnala district in Punjab. He was one of the few players to be selected to train at the IMG Academy in Florida five years ago.
At 16 years of age, he was the youngest player to represent India at the 26th Asian Basketball Championship, at Wuhan in China, in 2011.
Satnam has quite a following in Bollywood and actor Abhishek Bachchan was the first to congratulate him.
"Congratulations Satnam Singh. The 1st ever Indian to be drafted into the NBA by the Dallas Mavericks", he posted on his Twitter page.
Last year, Akshay Kumar had tweeted about his meeting with the then NBA prodigy.
He shared a picture of them together and tweeted: 'Meet my new friend Satnam Singh! India's most influential Basketball player! He has a story that would melt ur hearts! I met him in America at my niece's summer camp where she's training to live her dream of being a brilliant Basketball player for India one day.
'Satnam is not only incredibly tall but unbelievably dedicated & talented at what he does here at the IMG Basketball school. What he's been through to get where he is, is an inspiration in itself.'

'He reminded me of me, when nothing but ur dreams matter.
'I wish this lovely young man a super successful life & I urge many of you to follow him & learn from his story. I've been in America for nearly a month now, but when I leave, I'll be taking his hardship & training myself like a true champ for my next film, he's really given me the spirit to fight on..."
Earlier this year, Canadian-born Gursimran "Sim" Bhullar became the NBA's first player of Indian descent to make the league when he was signed by the Sacramento Kings.
Since their inaugural 1980–81 season, the Dallas Mavericks won three division titles (1987, 2007, 2010), two Conference championships (2006, 2011), and one NBA Championship (2011).
Image: Satnam Singh of the Dallas Mavericks at the 2015 NBA Draft
Photograph: NBA Draft/Twitter