- ISL is a three-month long tournament and has attracted some very big names like Roberto Carlos. I don't want ISL to merge with I-League: Bhaichung Bhutia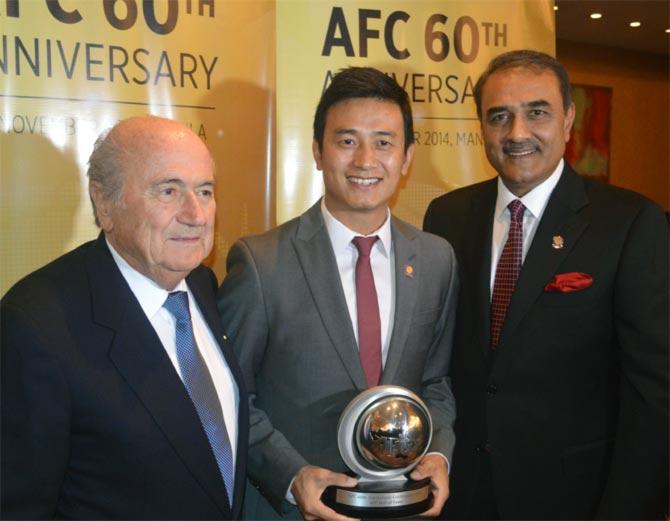 IMAGE: Bhaichung Bhutia (centre), with FIFA president Sepp Blatter (left) and AIFF president Praful Patel. Photograph: AIFF Media
Former India football captain Bhaichung Bhutia said on Tuesday that a merger of the newly floated Indian Super League (ISL) and the long-running I-League is neither going to happen nor is it advisable.

"The first season of ISL was a huge success and I want it to be better in season 2. But I don't see it (ISL merging with I-League) happening. ISL is a three-month long tournament and has attracted some very big names like Roberto Carlos. I don't want ISL to merge with I-League," he said in Mumbai.

Earlier this month, All-India Football Federation (AIFF) president Praful Patel said, after a joint meeting with I- League clubs and ISL organisers - IMG-Reliance - that a united league is the way forward but it would take some time to happen.

Faced with the prospect of closure of two Pune-based I-League teams, AIFF decided to form a working group as a precursor to merge the two championships.

"We are working towards one entity in future -- the I-League clubs and the ISL. A working group will be formed, about nine members, to work out the way," Patel had said after the meeting that was held to lay the roadmap for the domestic club league.

Bhutia sympathised with the predicament of the two Pune-based I-League clubs, Pune FC and Bharat FC, who are thinking of shutting shop in the near future.

"I can understand their position. It's not easy as sponsorship is difficult to get. I-league does not get the kind of TV viewership and mileage like ISL. I had my own club Sikkim United and though it's not shut down, I am running it at a smaller scale," said the 38-year-old star footballer.

He said the one small difference between his club and the Pune outfits is that the latter are backed by corporates and he advised them to "develop a good fan base" and also to spend "wisely".

"If you don't win or don't make money as well, but see 10,000 to 15,000 people coming to the stadium to support your team, that itself inspires the club owners, which we had in Sikkim. But for us it was the finance part -- we didn't get sponsorship. I think they (Pune clubs) should try to hang on and spend wisely too," said the former striker.

Bhutia wants the state associations, ISL and I-League clubs to focus on grassroots development, a topic which he said he has been hammering out over the last 10-15 years.

"The responsibility lies with the stakeholders, including the state associations, which play big roles. The federation does not control players. The state associations should be more active but 90-95 per cent of them don't do much in development of grassroots which is also the responsibility of I-League clubs and ISL clubs," he stated.

In this respect he feels the FIFA Under-17 World Cup, to be hosted by India two years from now, could change things a bit.

"The Under-17 World Cup will help us a lot in investing quite a lot in infrastructure. We have already started developing a team which is travelling in Germany now and which is together for a very long time.

"Whatever be the performance in the U-17 World Cup, we are giving much more attention, time and energy to this team and there would be some quality players coming through. But more players need to be selected.

"We need to do much more to spot out talent from all over the country. We have the (under-17) national coach travelling all over the country. Ideally, the state associations should do it, but we don't have that system in place," he said.