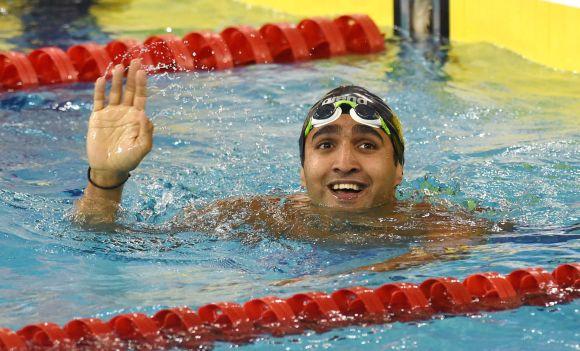 Image: India's Sandeep Sejwal reacts after winning the bronze in 50m breaststroke at the Incheon Asian Games. Photograph: PTI
It was gold rush for India on the opening day of the South Asian Games with the country's wrestlers, swimmers and weightlifters showing their regional dominance by making a near clean sweep of top honours on Saturday.
India clinched 14 gold and five silver medals on a highly productive day to top the medals tally with an overall count of 19.Sri Lanka, despite having a higher overall medal count of 21, occupied the second spot in the table owing to alesser tally of gold medals (4).
Wrestlers were the stars for India, grabbing as many as five gold medals followed by the swimmers who clinched four gold and three silver medals.
The weightlifters added three gold medals to the tally after the cyclists had opened India's account with two gold and an equal number of silver medals in the morning.
Three women and two male grapplers finished on top of the podium as the proceedings went on expected lines on the opening day of the competitions.
Rajneesh and Ravinder bagged the gold in Men's 65kg and 57kg divisions respectively.
In women's wrestling, Priyanka Singh claimed the top position in 48kg, while Manisha won the gold in 60kg and Archana Tomar clinched the yellow metal in 55kg categories.
The Indians created quite a splash in the pool as well picking up three of their four gold medals by clocking record times.
Asian Games bronze-medallist Sandeep Sejwal (men's 200m breaststroke), Shivani Kataria (women's 200m freestyle) and the women's 100m freestyle relay team set new Games record timings on their way to gold while Damini Gowda added another yellow metal in women's 100m butterfly.
Sejwal won his pet event in 2:20.66sec to better his own record of 2:21.03 which he had set in the last edition in Dhaka in 2010 and defended his title. Kiran Jasinghe of Sri Lanka and Mohd Shariful Islam came second and third in 2:26.17 and 2:26.99 respectively.
In women's 200m freestyle, Kataria first set a new Games record in the morning heats with a timing of 2:12.13 and she bettered it in the evening with an effort of 2:08.68 on her way to gold. Machiko Raheem and Ishani Erandika Senanayake, both from Sri Lanka, were second and third respectively.
The Indian women's 4x100m freestyle quartet completed the home side's dominance by winning the relay event, the last of the day, to the big cheer from the crowd.
They clocked 4:01.95 to better India's own record of 4:08.72 set in the 2006 edition in Colombo. The Sri Lankan (4:05.07) and Pakistan (4:22.38) teams were second and third respectively.
As many as six Games records were set out of the eight competed and expectedly Sri Lanka ran neck and neck with India by grabbing 3 gold, 5 silver and 3 bronze.
Pakistan won a silver while Bangladesh could win four bronze medals at the Dr Zakir Hussain Aquatic Complex here.
In men's 200m freestyle, India's Saurabh Sangvekar won the silver in 1:53.03.
The second silver came in men's 100m butterfly through Supriyo Mondal in 55.86 seconds.
India established early dominance in the weightlifting competition as well by notching up three gold medals on the first day of competitions.
Saikhom Mirabai Chanu, Harshdeep Kaur and Gururaja bagged the yellow metal for India.
Chanu, silver medallist at the 2014 Commonwealth Games, opened the medal account for India in weightlifting in women's 48kg weight category.
She lifted a total of 169kg (79kg in snatch + 90kg in clean and jerk). All her efforts in snatch, clean and jerk and total are South Asian Games records as women's weightlifting has been included for the first time in the SAG.
Gururaja bagged the second gold for India by winning the men's 56kg event with a total lift of 241kg (104kg + 137kg) on the opening day of the competitions on Saturday.