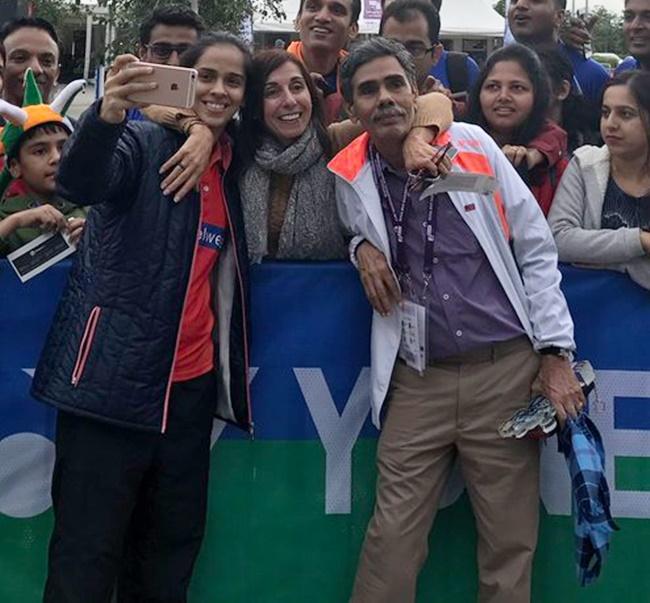 IMAGE: Olympic champion Carolina Marin's mother Toni Martin poses with Saina Nehwal and her father Harvir. Photograph: Abhijeet Kulkarni/ Twitter.
Indian Olympic Association (IOA) president Narendra Batra feels Sports Ministry should allow the parents of star shuttlers P V Sindhu and Saina Nehwal to accompany them at the Gold Coast Commonwealth Games.
"I don't know why the sports ministry is not agreeing to clear the parents of Sindhu and Saina to accompany them at the CWG. The government is not going to bear their expenses," Batra said.
"These shuttlers are our big sporting stars now and we should be supporting them. If a Virat Kohli or a Sachin Tendulkar had wanted to do the same as Sindhu and Saina are requesting now, will they (ministry) say no to them also?" asked Batra at the sidelines of the sending-off ceremony of the India's CWG contingent.
Reports emerged today that Saina's father Harvir Singh and Sindhu's mother Vijaya Pursala were going to Gold Coast on government expense after their name figured in the IOA list of officials.
However, a letter written by Badminton Association of India (BAI) to IOA, a copy of which is with PTI, doesn't mention their names anywhere.
BAI today said it is unfair to imply that parents of Saina and Sindhu are going to Commonwealth Games as part of the Indian contingent.
"It is absolutely false report. There is no truth in it and I think it is unfair on these two shuttlers, who bring laurels to the country," BAI secretary Anup Narang said.
When Sindhu's father PV Ramana was contacted, he said: "I have travelled with Sindhu to many tournaments and always with my own money. This time also we had requested BAI to allow Vijaya to travel on own money. So it hurts to know that some people are spreading these false news."
Saina's father Singh was clueless about the development and said he has never taken any undue advantage of his position and all his expenses are borne by his daughter.
"I'm going on my own. I know a professor at Gold Coast. So I will go to watch the Games as a spectator and I am not part of the contingent. Even when I went to Rio Games, I stayed in rented accommodation. So, I don't know from where these reports are coming. It is unfortunate," Harvir Singh said.
London Olympics bronze medallist Saina and Rio Games silver winner Sindhu are prime candidates to win the coveted gold at the Commonwealth Games.
Jitu does not want 2022 CWG boycott on shooting issue
Star marksman Jitu Rai said the imminent dropping of shooting from the 2022 Commonwealth Games would be a huge loss to the country but felt that India should not resort to a boycott of the quadrennial multi-sporting event due to the issue.
Former shooter Jaspal Rana recently said that India should boycott the 2022 Commonwealth Games after the Birmingham organisers decided to drop shooting -- an optional sport for the CWG -- due to logistical issues.
But Jitu, who won a gold in the 50m pistol event in the 2014 Glasgow CWG, begged to differ.
"Yes, it will be a huge loss to India because shooting is one sport which is giving the country a lot of medals. I am personally disappointed that shooting is most likely to be dropped from 2022 CWG," he said at the sidelines of the sending-off ceremony of the Indian contingent for the Gold Coast Games.
"But it is not that shooting will be dropped forever or continuously. It is the choice of the organisers of a particular CWG as it is an optional sport. It (shooting) may return in another Commonwealth Games, it all depends on the host country. So, I feel it is not advisable to boycott a particular Games by India on the ground that shooting is not there," said the 30-year-old highly decorated marksman.
The Nepal-born shooter said he was confident of retaining the 50m pistol gold he won in Glasgow in 2014.
"The focus is to win gold again in Gold Coast. I am pretty sure I can win a gold this time also. The preparation has been good and I am ready for the Games physically and mentally."
Asked about his technique which has fetched him and the country a lot of medals, he said, "Every shooter has a different technique. Some will shoot after 15 seconds or some will shooter later. I have my own technique and rhythm is important for me."