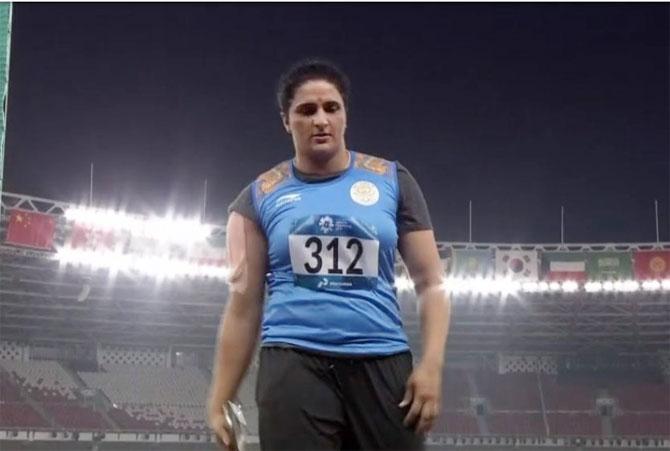 Defending champion Seema Punia settled for a bronze in the women's discus throw event in the Asian Games in Jakarta on Thursday.
The 35-year-old Seema cleared a best distance of 62.26m, her best in six years, but that was just enough for a bronze medal.
Asian champion Chen Yang of China hurled the disc to gold winning distance of 65.12 in her last attempt, which was a huge 2.86m more than the Indian at the GBK Main stadium.
The Asia number one Chen, 27, was always a top contender in this event with a personal and season best throw of 67.03. She kept improving with her throws and was closely followed by compatriot Feng Bin, who grabbed the silver with 64.25m, which also came in her last attempt.
Seema's best throw came in her third attempt when she sent the disc to 62.26m, which was better than her gold-winning effort at the 2014 Incheon Games, where she had managed 61.03m.
Squash team fails against Hong Kong, face mighty Malaysia next
The Indian women's squash team lost the all-important match against Hong Kong 1-2 to finish second in Group B, resulting in a tougher semi-final opponent in defending champions Malaysia at the Asian Games, in Jakarta on Thursday.
Senior players Dipika Pallikal and Joshna Chinappa lost their matches against Joey Chan and Annie Au, 1-3 and 0-3, respectively. Sunayna Kuruvilla, who is Pallikal's cousin, kept India in the hunt with a fighting win over Tze Lok Ho in the second singles.
Kuruvilla, making her Games debut, was trailing 0-2 in the match and 7-10 in the fifth and deciding game but she never gave up despite some debatable calls by the referee. She fought till the last point for the biggest win of her career, prevailing 5-11, 13-15, 11-6, 11-9, 14-12.
After the energy-sapping match, Kuruvilla had tears in her eyes. Unfortunately, her spirited effort was not good enough for the team.
India, who had won a maiden silver at the Incheon Games, would have had a much easier opponent in Japan if they had beaten Hong Kong.
Beating defending champions Malaysia will be a huge task but it is possible, said Pallikal.
"Disappointed with the match. Both Joshna and I did not play our best squash. But it is still not over. We can beat Malaysia. It is not impossible. Of course, we would have preferred playing Japan in the semis," said Pallikal.
Both Pallikal and Chinappa had settled for a bronze each in the singles event. A team bronze is assured but the team is aiming to go all the way. Malaysia are led by multiple time world champion Nicol David, whom Chinappa stunned in Egypt earlier this year.
Both men and women are on their own here even though the coaches are travelling with them. During matches, the players have to rely on each other for inputs as they don't have a full-time coach. The coaches travelling with the Indian contingent are Cyrus Poncha and Bhuvneshwari Kumari.
Asiad Judo: Hardeep, Garima lose in the pre-quarters
Indian judokas Harshdeep Singh Brar and Garima Choudhary crashed out in the pre-quarterfinals of their respective events at the 18th Asian Games in Jakarta on Thursday.
Hardeep lost to South Korea's Seungsu Lee 3-10 in the round of 16 of the men's 81kg category.
The 20-year-old Indian committed three Shidos (minor violations) while Lee received one penalty point and scored an Ippon (full point).
Earlier, Hardeep had sailed past Rajitha P K Uwarapaksha Gedara of Sri Lanka 10-0 in the round of 32.
In the women's 70 kg event, Garima lost to Gulnoza Matniyazov of Uzbekistan 0-10.
Garima, who was India's sole judoka in the 2012 London Olympics, failed to pick up any point in her bout while Matniyazov managed to log an Ippon.