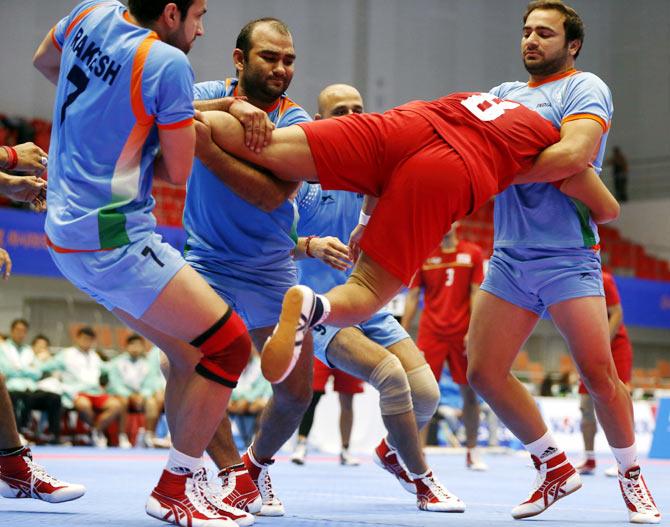 India's Rakesh Kumar (left), Jasvir Singh (centre) and Manjeet Chhillar (right) tackle Thailand's Wannasaen Phuwanai (red) during the men's preliminary kabaddi match at the Asian Games. Photograph: Olivia Harris/Reuters
Six-time champions India notched their second successive victory in the men's kabaddi competition, thrashing Thailand 66-27 in a Group A preliminary-round match at the 17th Asian Games, in Incheon, on Monday.

The Indians dished out another dominating performance. They surged 29-15 ahead at the break and wrapped up the match after pocketing the second half 37-12.

The Indian team registered five bonus points in each half, besides adding two and six lona points in the two halves respectively, while Thailand could score just two bonus points in each half.

India defeated Bangladesh 30-15 on Monday in their opening match in Pool A, which also comprises Pakistan, runners-up at the 1998 and 2006 Games, and Thailand.

India will take on arch-rivals Pakistan in their last league match on Tuesday.

The Indian women's team, which also started their campaign on a winning note, beating Bangladesh on Monday, will face Korea on Tuesday in their second and final Pool A tie.
India lose to South Korea in women's hockey semis
The Indian women's hockey team produced a gallant display but it was not enough to prevent them from going down 1-3 to South Korea in the semi-finals.
India will play Japan, who lost 0-1 to China in the other semi-final, in the bronze medal play-off.
Korea opened the account as early as the third minute when Kim Darae's reflex snap-shot beat goalkeeper Savita all ends up.
India restored parity in the 11th minute when Namita Toppo scored from the top of the circle with a rasping shot.
After finishing on even terms in the first quarter, the Indian girls fell in arrears again when Han Hyelyoung scored in the 28th minute.
The Koreans increased their lead in the 42nd minute when Park Mihyun took advantage of poor defending after being fed from the right and scored.
She had enough time to turn and slot the ball home after it rebounded off goalkeeper Savita's pads.
In the final quarter, India earned a penalty-corner but drag-flick specialist Jaspreet Kaur failed to score from it.
The Indian women will have revenge on their minds when they take on Japan in the bronze medal play-off. Japan won that contest 1-0 in the Guangzhou edition four years back.
Indian men win, women lose in sepaktakraw

The Indian men's sepaktakraw team registered a comprehensive straight-game win over Brunei and Nepal but their women counterparts went down to Indonesia in the preliminary round matches.

The men's team took just 38 minutes to see off the challenge from Brunei 21-12, 21-15 in the regu preliminary group B match early in the day before getting a 2-0 result in their favour after Nepal did not start the match, at the Bucheon Gymnasium.

With two wins from as many matches, the Indian men are now placed at the top of the group, while Korea is second.

However, the women's team went down in a little over half an hour as their fight was crushed 12-21, 13-21 by Indonesia in the regu preliminary Group A match.

The Indian eves are placed at the bottom of Group A, which also comprises China and Laos, besides Indonesia.

India disappoint in canoeing and kayaking final

It turned out to be a disappointing day for the Indians in canoeing and kayaking competitions as they failed to win a medal despite reaching the finals in several events.

Gaurav Tomar, who had topped the semi-final on Sunday, found the going tough at the Hanam Misari Center as he took 4:17:389 minutes to cover 1000m in the Canoe Men's Single (C1) Final A to finish seventh.

Albert Raj Selvaraj also had a disappointing outing in the Kayak men's Single K1 Final A as he finished at eighth spot after clocking 3:59.933 to cover a distance of 1000m.

Ajit Kumar Sha and Raju Rawat clocked 4:00.800 to finish fifth in Canoe Double (C2) 1000m Men Final A, while the quartet of Ragina Kiro, Biju Anusha, Soniya Devi and Nanao Devi Ahongshangbam could manage a timing of 1:52.022 to settle for seventh spot in Kayak Four (K4) 500m Women Final A.

The men's quartet of Ajit Singh, Sunny Kumar, Ramesh Golli, Chingching Singh Arambam also were lacklustre in their performance as they ended in the eighth spot, ahead of only bottom-placed Singapore, after clocking 3:15.291 in the Kayak Four (K4) 1000m Men Final A.

In the Kayak Double (K2) 500m Women Final A, Ragina Kiro and Nanao Devi clocked 1:55.351 to languish at the bottom, while Jamesboy Singh Oinam too finished last after producing a timing of 43.981 in Canoe Single (C1) 200m Men Final A.