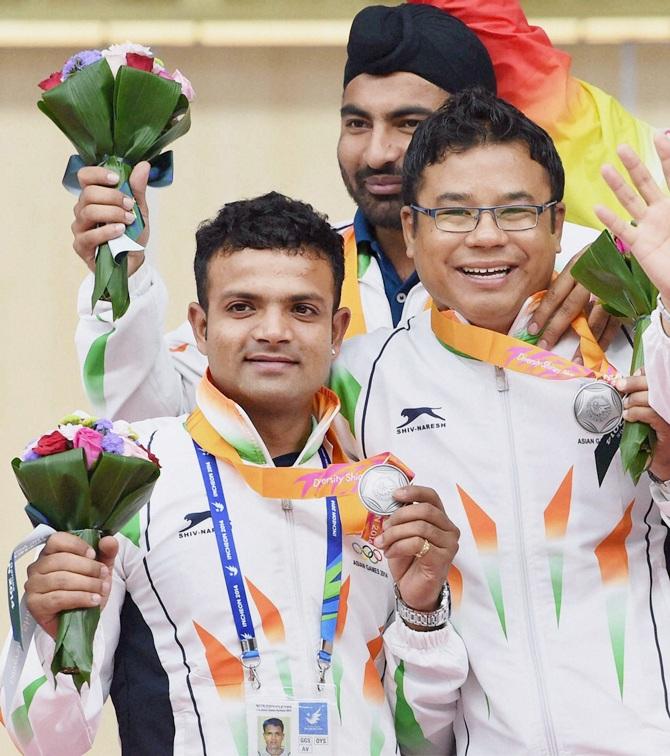 Shooters Vijay Kumar, left, Pemba Tamang, right, and Gurpreet Singh with their medals at the 17th Asian Games in Incheon. Photograph: PTI
The Indian men's team ended its campaign in the pistol events on a winning note, shooting down a silver medal in the 25m centre fire event, even as the women's team exited from the 50m three-position competition at the Asian Games, in Incheon, on Friday.
Complete coverage: 2014 Asian Games
The men pistol shooters – spearheaded by London Olympics silver medallist Vijay Kumar – clinched second place with a total score of 1740, two behind gold medallists China.
Had the Mhow-based army men's trio, comprising Kumar, Pemba Tamang and Gurpreet Singh, equalled the Chinese, they would have secured gold, as their number of inner tens was higher than that of their formidable rivals.
It was the eighth medal the shooters won from the Games. They have one gold, a silver and six bronze medals, all but two of them coming from team events.
Barring Jitu Rai, only Abhinav Bindra won an individual medal in Incheon, an indication of how competitive the shooting competition was.
The Indian women team, comprising Lajja Gauswami, 44-year-old Anjali Bhagwat and Tejaswini Muley, finished sixth in the 50m Rifle 3 Positions Team Finals.
Lajja also flattered to deceive in the individual 50m Rifle 3 Positions as she finished a lowly seventh in the final, while Anjali (572) and Tejaswini (568) were eliminated after finishing a distant 25th and 29th respectively.
India's medal hopes now lie only on their men's rifle team, including star shooter Gagan Narang, in the 50m 3-position event, to be held on Saturday.
Two silvers assured in squash team events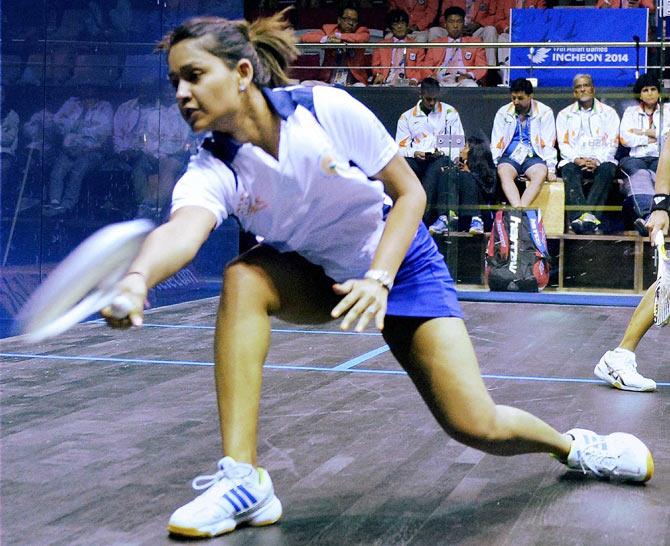 Dipika Pallikal in action. Photograph: PTI
India's squash players continued their splendid showing in the ongoing Asian Games as both the men's and women's teams were assured at least two silver medals after winning their respective semi-final matches at the Yeorumul Courts.
The women's team, comprising Joshna Chinappa, Dipika Pallikal and Anaka Alankamony, outplayed Singapore 2-0 while the men's team, comprising Mahesh Mangaonkar, Saurav Ghosal and Harinder Pal Singh Sandhu, eased past Kuwait 2-0.
Ghosal had earlier won a historic silver -- a first in Asian Games squash -- in the men's singles, though the Kolkata-born player was disappointed at losing the gold to Almezayen.
Dipika won a bronze medal in the women's singles, also a first for Indian squash.
Sanam, Yuki seal singles quarter-final berths; Ankita bows out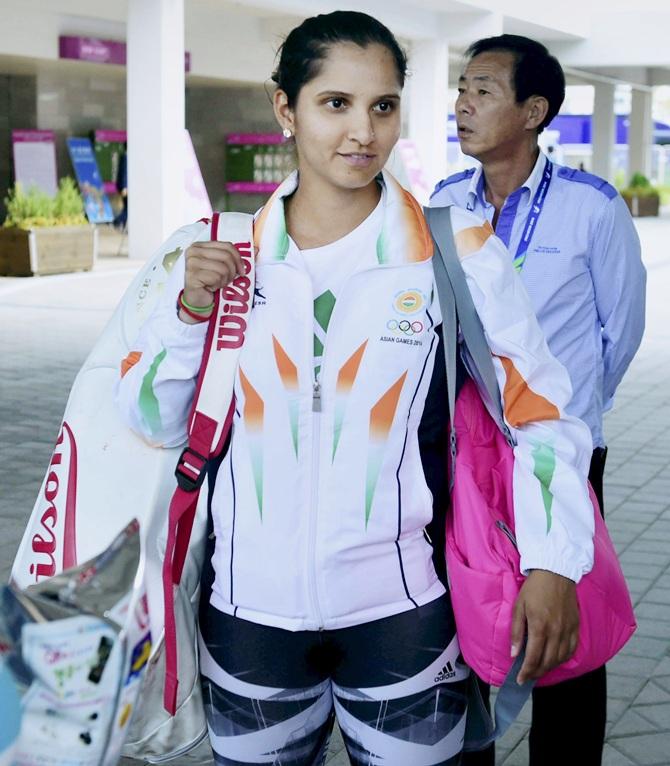 Sania Mirza at the Asian Games. Photograph: PTI
Sanam Singh recovered from a sluggish start to move into the men's singles quarter-finals and later combined with Saketh Myneni to seal a place in the men's doubles last-eight as Indian players continued their dominating show on the tennis courts.
Ranked just inside the top-400 at 397, Sanam beat 190-ranked Chung 7-5, 6-1 the third round.
Also advancing to the men's singles last-eight was Yuki Bhambri, who defeated Indonesia's Christopher Rungkat 6-3, 6-3 in an hour and 30 minutes in the third round.
After a break, Sanam teamed with Saketh Myneni, seeded fifth, and took just 32 minutes to trounce Saudi Arabia's Ammar Alhaqbani and Omar Fahmi Ahmed 6-0, 6-1 in the second round.
A similar dominating performance was dished out by fifth seeds Sania Mirza and Prarthana Thombare in the women's doubles second round as they blanked Mongolia's Bolor Enkhbayar and Gotov Dulguunjargal 6-0, 6-0.
However, Ankita Raina had a disappointing outing, crashing out of the women's singles after losing 2-6, 6-4, 1-6 to fourth seed Japanese Eri Hozumi in the third round.
With Ankita's defeat, India's challenge ended in the women's singles. Ankita, though, is still in fray in the mixed doubles with Divij Sharan.
Women's recurve team still in medal hunt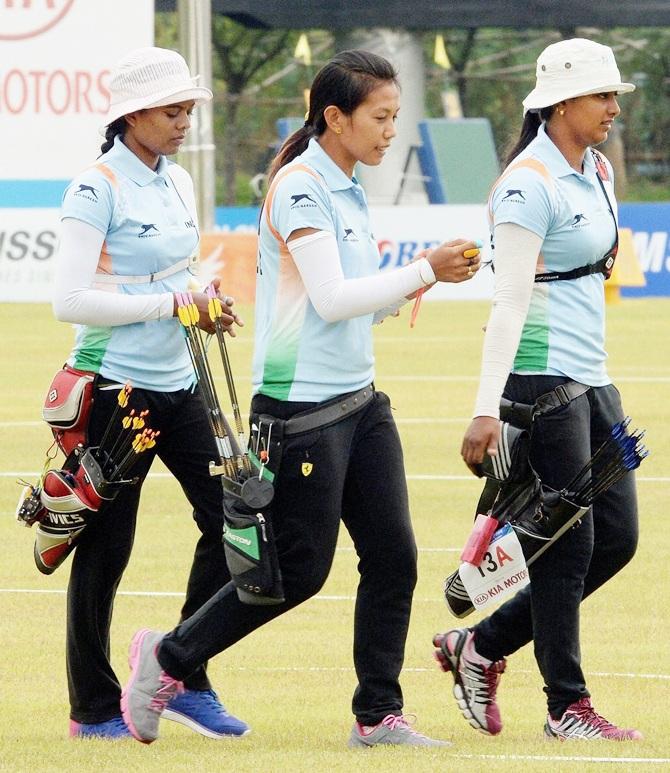 From right, Deepika Kumari, L Bombayla Devi and Laxmirani Majhi. Photograph: PTI
India's women recurve team kept itself in medal contention by moving to the semi-finals even as the men's recurve team suffered a close 3-5 defeat to Hong Kong and crash out in the elimination round of the archery competition.
The trio of Deepika Kumari, L Bombayla Devi and Laxmirani Majhi blanked Uzbekistan 6-0 before recording a close 5-4 win over Taipei in the quarter-finals.
In the semi-finals, the Indian women are up against formidable Korea.
However, India's men's team, comprising Atanu Das, Tarundeep Rai and Jayanta Talukdar, lost the deciding fourth set by a narrow margin of one point (52-53) and crashed out.
Saina, Kashyap lose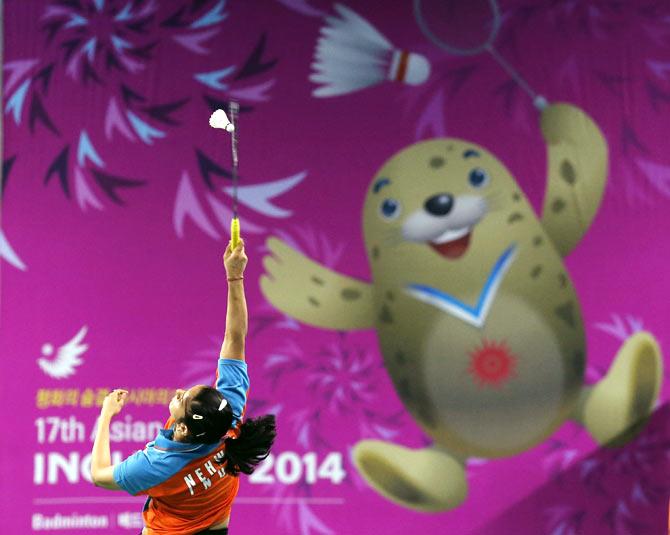 Saina Nehwal in action. Photograph: Kim Kyung-Hoon/Reuters
Commonwealth Games gold medallist Kashyap failed to pass the Asiad test, losing to world No 1 Lee Chong Wei 21-12, 21-11 in the men's pre-quarter-finals at the Gyeyang Gymnasium, while Saina fizzled out after winning the first game, beaten by China's Yihan Wang 21-18, 9-21, 7-21 in her women's singles quarter-final.
India's K Srikanth also lost in the men's singles pre-quarter-finals after a hard-fought battle against Wanho Son of South Korea.
Indians disappoint in equestrian team eventing
The Indian equestrian team finished fifth in team eventing while also falling out of the medal bracket in individual events competed over three days at the Asian Games on Friday.
After the dressage and cross-country team eventing competitions, held on Wednesday and Thursday, the Indian quartet of Sangram Singh, Mrityunjay Singh Rathore, Mirza Fouaad and Ajai Poovaiah were fifth, and maintained the spot after adding their performance in Friday's jumping event.
The quartet stood fifth with an accumulated 188.50 penalty points at the end of the three events.
South Korea won the gold, while Japan and Hong Kong won silver and bronze respectively.
In individual eventing, Poovaiah finished eighth, Mirza was 10th while Rathore and Sangram ended at 20th and 22nd.
Sailors Varsha-Aishwarya still in medal race
Young Indian women sailors Varsha Gautham and Aishwarya Nedunchezhiyan occupied third place after eight rounds in the 29er class competition despite being disqualified in the seventh race.
The Indian duo, who led a small bunch of six teams after six races on Thursday, finished third in the seventh race but were disqualified later and picked seven penalty points after one of the competing teams, Malaysia, protested against one of their manoeuvres which was upheld by the race organisers at Wangsan Sailing Marina.
But, a third-place finish in the eighth race put them third with four more rounds to go into the competition.
"The protest against us by Malaysia was upheld after we finished third in the seventh race," team manager Commander K D Singh said.
Asked about the duo's chances now, he said since the margin separating the top three teams in the class was small, anything can happen over the last four races.
The Thailand duo of N Poonpat and Waiwai Nichapa led the field with 12 penalty points, followed by Singapore (13.0 penalty points).
India were third with 16 while Malaysia, who spoilt the Indians' day, were fourth after accumulating 10 more penalty points.
Indian sailors continued to be in the middle or rear of the pack in four other class of races.
In the men's Optimist (one person) dinghy, 12-year-old Chitresh Tatha was maintaining the sixth place out of 10 competitors with 39 net penalty points after coming in fifth in both the races held on Friday.
In the corresponding women's class, India's Ramya Sarvanan slipped down a rung from yesterday's position and was lying seventh out of eight competitors with 43 net penalties after one discard.
After the eighth race in the women's laser radial class, a one-person dinghy, Nethra Kumanan was still lying seventh with 42 net penalties.
In the Hobie 16 Open multihull class of two-person boats, India's men's pair of Brijraj Verma and Pankaj Kumar were maintaining fifth position, out of nine teams, with a net penalty point tally of 32.
"Wind conditions were okay for sailing today, they were fairly good," said team manager Singh.