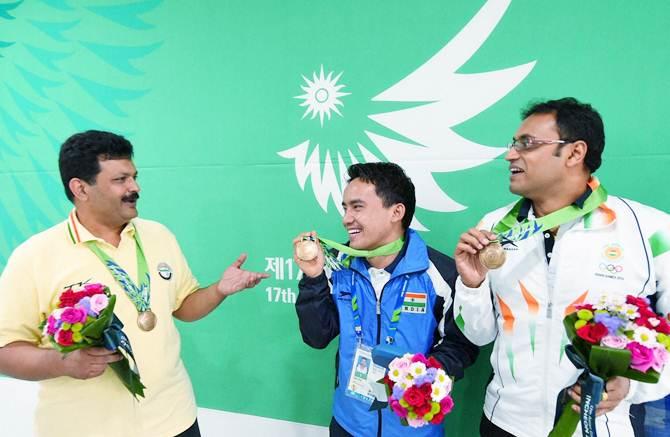 From left, Indian 10m air pistol shooting team Samaresh Jung, Jitu Rai and Prakash Papanna pose with their bronze medals. Photograph: PTI. Photograph: PTI
Indian shooters continued to shine at the 17th Asian Games, clinching the bronze medal in men's 10m air pistol team event, but Jitu Rai could not emulate his golden feat and finished fifth after promising much in the earlier part of the individual finals in Incheon on Sunday.
- Complete coverage: 2014 Asian Games
- Asian Games: Indian men shoot bronze in 10m air pistol
- Asian Games: Gold for shooter Jitu Rai in 50m Pistol
- India at Asian Games: Jitu strikes gold, Shweta bags bronze on Day 1
Rai's splendid and precise shooting, that helped him garner 585 points and qualify for the medal round with the second-best score of 585 that was just one point behind Kazakhstan's top scorer Rashid Yunusmetov, backed up by Samaresh Jung's 580 (who finished 9th) and Prakash Nanjappa's 578 (14th), albeit with an injured leg, helped India garner 1743 points, the same as second placed China, for the bronze.
In fact, India and China were level on points and the silver was decided by the number of Xs (bullseye) in the tens in which the latter tallied one more - 65 to India's 64.
The gold was won by hosts South Korea with a combined tally of 1744.
Jitu Rai fifth in singles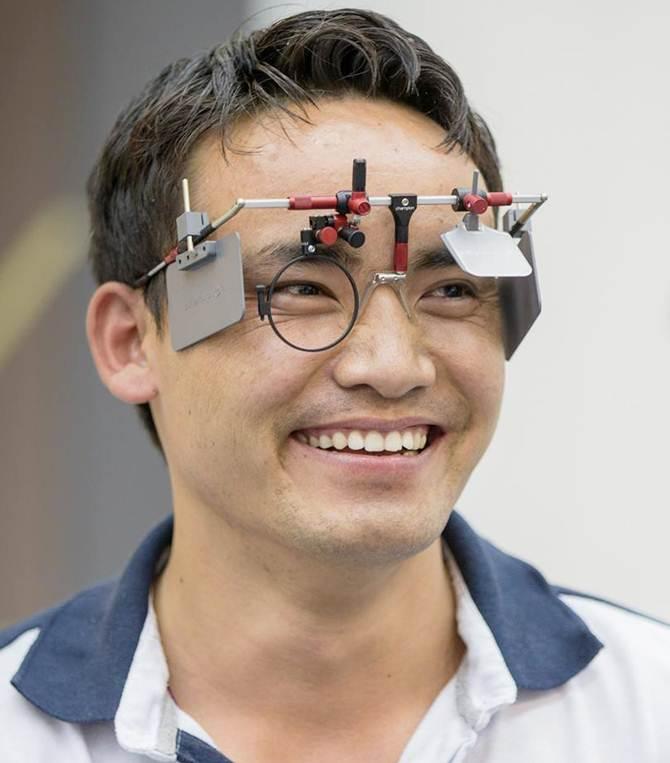 India's Jitu Rai. Photograph: Facebook
The 50m champion, Rai, was leading after the sixth of the 20-shot finals in the shorter distance. He was ahead of his renowned Korean rival and eventual gold medallist Kim Cheongyang before slipping to the second spot with his next shot of 9.5.
Rai, who became the first pistol shooter after Jaspal Rana among men to strike gold at the Asian Games, then remained in the second slot behind the host country shooter till the 9th shot and then even jumped to the joint lead when he shot 10.4 to the Korean's 10.3 off the tenth shot.
However, the 11th shot proved to be his undoing as he was off target to log 7.8, which upset his medal chances. He got eliminated after the 14th shot with an aggregate of 138.3. PTI Rai, of Nepalese origin, later blamed the claps from the crowd.
"Actually what happened was that the previous shooter (Korean Kim) shot 10.9 and people started clapping. What happens in such circumstances is that it takes away time as I had to stop my aim to get concentration back and, with time running out - you get 50 seconds per shot - I had to take a shot and the mistake happened. If I had not taken time off I would have got a zero. It has never happened to me before," said Rai.
The gold was won by Kim with a total score of 201.2 while China's Pang Wei (199.3) and Korea's double Olympic champion Jin Jongoh (179.3) secured silver and bronze. Kazakhstan's Rashid Yunusmetsov, the leader in the preliminary phase, ended fourth with 157.9.
Men's trap trio flopped
The men's trap trio of Mansher Singh, Manavjit Singh Sandhu and Darius Kynan Chenai flopped with all of them finishing outside the top ten.
Mansher secured the 11th position with an aggregate of 117 over two days, Sandhu secured 116 to be 14th while Chenai brought up the rear after logging 108 to end up a distant 36 out of 46 shooters.
Dipika wins grudge tie, Ghosal too in semis to assure 2 medals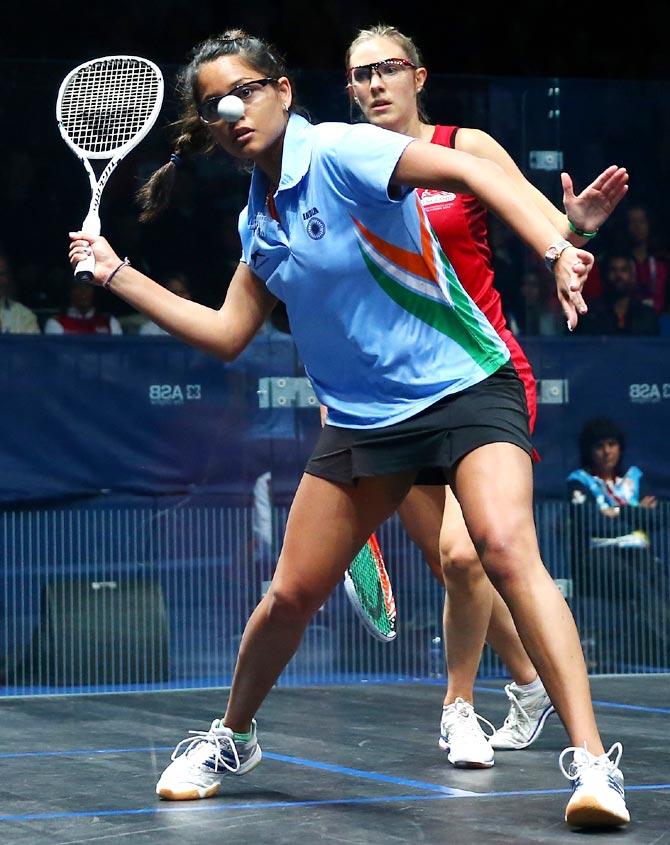 Dipika Pallikal in action. Photograph: Ryan Pierse/Getty Images
Birthday-girl Dipika Pallikal assured India its first ever women's singles squash medal at the Asian Games by beating compatriot Joshana Chinappa in a marathon quarterfinal after top seed Saurav Ghosal confirmed himself a third consecutive men's singles medal.
World No 16 and Asia No 1 Ghosal got past a gritty 20-year-old from Pakistan, Nasir Iqbal, 11-6, 9-11, 11-2, 11-9 in a tight quarterfinal lasting 58 minutes at the Yeorumul Squash Courts. The Indian faces a familiar opponent in 2006 champion Ong Beng Hee of Malaysia on Monday.
Pallikal then showed grit and gumption to beat her long-time teammate Chinappa 7-11, 11-9, 11-8, 15-17, 11-9 in a much hyped quarterfinal mainly for off-court reasons. The newly turned 23-year-old next confronts a mighty Nicol David, the World No 1 who has not lost a singles match since the sport was introduced in the 1998 Bangkok Games.
On a positive note, both Pallikal and Ghosal reaching semifinals and assuring themselves of at least a bronze puts India on track for its best ever show at the continental event.
Indian men trounce Sri Lanka 8-0 in hockey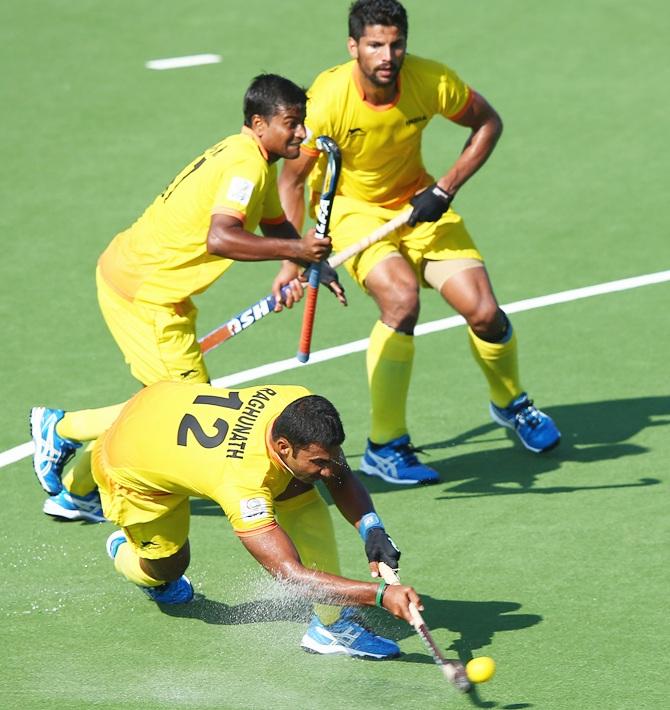 VR Raghunath and Rupinder Pal Singh of India in action. Photograph: Ian Walton/Getty Images
The Indian men's hockey team commenced their Asian Games campaign on a rousing note, blanking Sri Lanka 8-0 following Rupinder Pal Singh's super hat-trick on Sunday.
Rupinder Pal Singh pumped in goals in the 12th, 45th and 46th minute, while Ramandeep Singh sounded the board in the 28th and 59th minute.
There were also goals from Danish Mujtaba, Kangujam Chinglensana Singh and Raghunath Ramachandra at the Seonhak Hockey Stadium.
India blank Nepal 3-0 in men's tennis, into quarters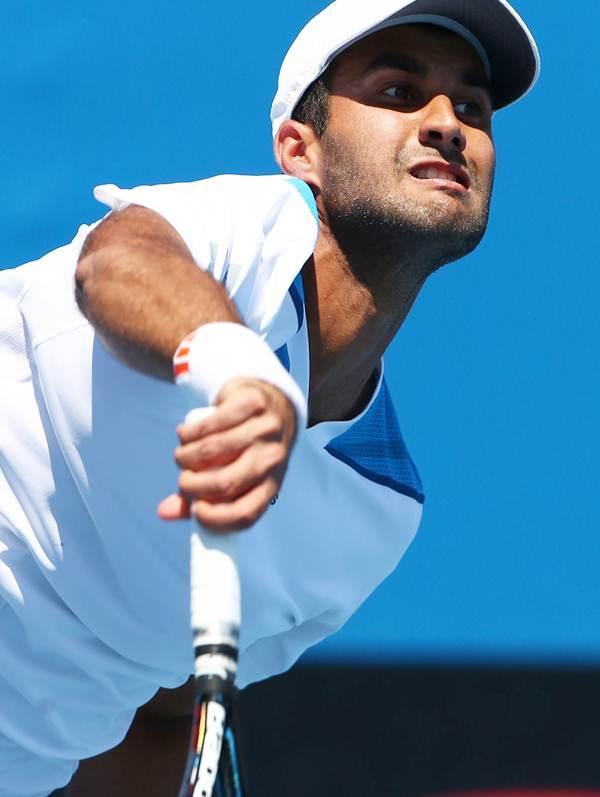 Yuki Bhambri of India serves. Photograph: Renee McKay/Getty Images
India blanked Nepal 3-0 to sail into the quarterfinals of men's tennis team event.
Yuki Bhambri did not drop a game en route to a crushing 6-0, 6-0 win over Jeetendra Pariyar to seal the issue in India's favour, after Sanam Singh posted a comfortable 6-0, 6-1 victory over Abhishek Bastola at the Yeorumul Tennis Courts.
In the inconsequential doubles tie, the Indian duo of Divij Sharan and Saketh Myneni registered a comfortable straight sets 6-0, 6-0 win over Santosh Khatri and Sonam Dawa, thrashing their opponents in only 35 minutes.
The sixth seeded Indians will face top seeds Kazakhstan in their last-eight match. Kazakhstan defeated Hong Kong in their second round match 3-0.
Cagers lose to Saudi Arabia in second qualifier
After an impressive start in their opening game, the Indian men cagers failed to maintain the momentum as they went down fighting 67-73 to Saudi Arabia in their second Group B qualifying round match in the basketball
competition.
India scripted a fightback in the fourth and final quarter after Saudi Arabia dominated the proceedings in the first three quarters but could not avoid a defeat.
The Indians finally lost by a just six points at the Samsan World Gymnasium.
Belal Fahad Alsalik was the highest scorer for Saudi Arabia with 17 points, while captain Amritpal Singh and his Amjyot Singh finished with 19 points each for India.
India will next take on Kazakhstan in another qualifying round match on Monday.
Rowers qualify for final in men's eight event
Indian rowers qualified for the final round in men's eight event after they finished second in the heats on the second day of competitions.
The Indian team, which included Bajrang Lal Takhar, Robin Ulahannan, Ranjit Singh, Sawan Kumar, Mohammad Azad and Maninder Singh, clocked 5:53.58 to cover the distance of 2000m behind the Chinese team (5:46.01).
The Indians were third midway into the race bur recovered later on to finish second. All the five teams in the heat qualified for the final round to be held on September 25.
In men's double sculls heats, Om Prakash and Baban Bhokanal Dattu finished third, clocking 6:41.67. They will now contest in the repechage round on Tuesday as only heat winning team makes it to the finals.
Sawarn Singh will also compete in the repechage round of the men's single sculls heats after he finished second in his heat, clocking 1:48.51.
In lightweight men's quadruple sculls heats, Indian the quartet of Rakesh Raliya, Vikram Singh, Laxmi Narain Sonu, Shokendar Tomar finished fourth and last with a timing of 6:20.09. They will still contest in the repechage round.
In women's quadruple sculls heats also, the Indian quartet of Amanjot Kaur, Sanjukta Dung Dung, Narengbam Lakshmi Devi and Navneet Kaur ended fifth and last, clocking 7:26.50 over the 200m distance. They also will still compete in the repechage round.
Indian swimmers disappoint
Indian swimmers cut a sorry figure in the 17th Asian Games, failing to qualify for the finals of the three events in which they participated.
The Indians participated in three events on the opening day of the swimming competitions at the Munhak Park Tae-hwan Aquatics Center.
Saurabh Sangvekar ended fifth in the men's 200m freestyle heat with a timing of 1:53.33.
In the men's 100m backstroke heats, Madhu Nair clocked 57.81 to finish seventh.
In men's 200m butterfly event, Agnel Dsouza finished a creditable fourth with a timing of 2:04.74. He has made the reserves list for the final but is unlikely to make the cut.
Handball team loses to South Korea
The Indian handball team's dismal show continued as it lost 19-39 to South Korea in its second group D match.
The Indians trailed the host team 6-21 in the first half before losing the second half 13-18.
The Koreans were incisive in their striking with Hyeonsik Lee being the top-scorer, converting eight of the 15 shots he took at the goal.
The Indians, on the other hand, found the going tough with Hardev Singh managing to convert just three of his 11 shots at the goal.
Satish Pawar top-scored for the Indian team with four goals.
Indian cycling duo finish 9th and 11th
Indian cyclists Debroah and Mohan Mahitha finished ninth and 11th in the women's keirin individual track event.
Both Debroah and Mahitha finished fifth in their respective heats over eight laps before ending at the ninth and 11th in the classification race to decide minor positions at the Incheon International Velodrome.
On Saturday, Indian men's and women's track cyclists finished disappointing identical seventh in their respective team sprint events on the opening day. Deborah had paired up with Kezia Vargheese in the women's team event.
Women football team suffers 0-10 loss against Thailand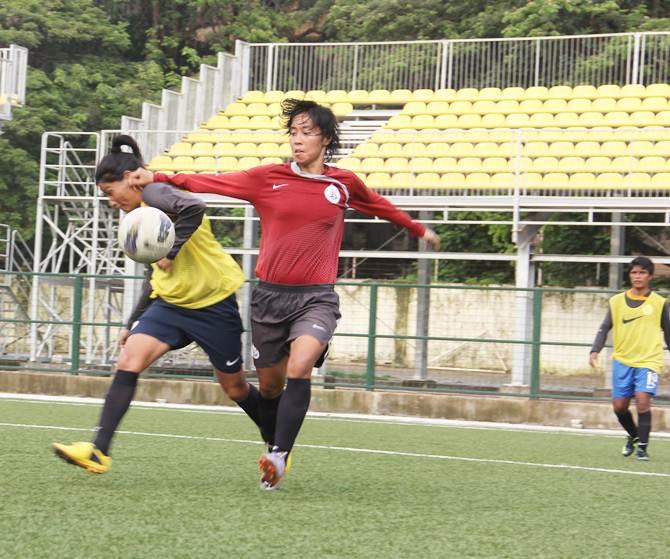 File picture of Indian women football team in traning. Photograph: Uttam Ghosh/Rediff.com
Indian women's team was taught a football lesson by Thailand in a 0-10 result in their third Group A match.
The much superior Thailand women led 8-0 at the interval.
India though have qualified for the quarterfinals after they mauled Maldives 15-0 in their campaign opener on September 14.
The thrashing at the hands of Thailand was the second consecutive defeat for the Indians after an identical 0-10 drubbing by South Korea in their second group match on September 17.
Four goals each from captain Sung Ngoen Kanjana and midfielder Boothduang Wilaiporn and one each from substitutes Sornsai Pitasamai and Seesraum Naphat sealed the issue for Thailand in a one-sided encounter.
Such was Thailand's domination that they surged into a 2-0 lead within eight minutes of the match and breezed to a 6-0 lead by the half hour mark.
India felt the absence of regular captain Bembem Devi, suspended for the game for a double booking against South Korea, in the midfield as their fleet-footed counterparts got behind the back four more often than not.
Stand-in captain Romi Devi and her defensive partners did try to shut it down but in vain.
Shruti, Nadia qualify for final round in equestrian dressage
Two Indian women qualify for the final round of the equestrian dressage individual event after a creditable show in the first round.
Shruti Vora and Nadia Haridass made the cut for the final round as one of the 15 best performers in the Intermediate 1 (first round) at Dream Park Equestrian Venue here.
Shruti, who rode on her steed Akira, came up with a total percentage score of 68.474 while Nadia, on her Toranto, scored 66.105 in the Intermediate 1 contest competed among 30 best performers in the team event held on Saturday.
The duo will compete in the second round on Tuesday when the scores of the first round will be added together to decide the podium finishers.