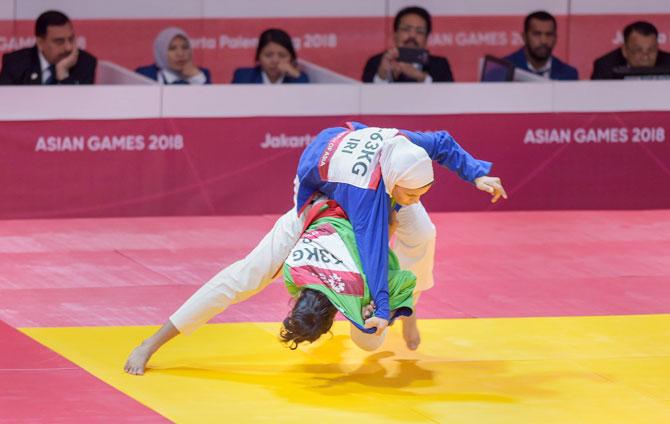 The Indian women's squash team assured itself of a medal after advancing to the semi-finals at the 18th Asian Games in Jakarta on Wednesday.
The women's team comprising Joshana Chinappa, Dipika Pallikal Karthik, Sunayana Kuruvilla and Tanvi Khanna continued its unbeaten run, defeating China 3-0 in penultimate pool match.
The team will play their final Pool B match against Hong Kong on Thursday and will look to top its pool.
The women's team, which won a maiden silver medal at Incheon four years ago, had earlier beaten Iran, Thailand and Indonesia.
Pallikal and Chinappa had also won bronze medals in the women's singles event last week.
Kurash: Megha Tokas loses in women's 63kg quarterfinals
India's Megha Tokas went down without a fight to Indonesia's Shifa Khasani Najmu in women 63 kg quarterfinal of Kurash event at the 18th Asian Games.
The 20-year-old Indian lost 0-3 to Najmu in a lop-sided contest.
Danish Sharma will play local hope Alfais Muhammad Dhifa in men's 90 kg round of 32 tomorrow, while Jyoti Tokas faces Thailand's Meesri Prawankit in women's 78 kg round of 32.
On Tuesday, India bagged two medals in Kurash, a form of wrestling indigenous to central Asia, with Pincky Balhara and Malaprabha Yallappa Jadhav winning silver and bronze respectively in the women's 52kg category.
Cycling: Esow Alben crashes out in pre-quarters of men's sprint event
Young Esow Alben crashed out of the men's sprint in the pre-quarters while Monorama Devi failed to complete the women's omnium event in what turned out to be a disappointing day for India at the 18th Asian Games.
Esow, who had created history by winning India's first cycling World Cup medal earlier this month, lost to Chaebin Im of South Korea.
The 17-year-old started off well gaining a sizable lead in the beginning but eventually ran out of gas to end on a disappointing note.
Escow, who had won a silver in the men's kerin event at Switzerland, had earlier got the better of Pongthep Tapimay of Thailand in the round of 16.
Ranjit Singh, who also competed in the men's sprint event, was unable to go beyond the Round of 32 losing to Puguh Admadi of Indonesia.
In the men's 4000m Individual Pursuit, Manjeet Singh finished 12th, clocking 4:43.714, 24.042 seconds behind leader Sanghoon Park of South Korea. Manjit failed to qualify for the final.
In the women's omnium event, Monorama failed to finish her Points race. She chalked up a total of 62 points, scoring 24, 20 and 18 in the Scratch, Tempo and Elimination races respectively.
Pencak Silat: Simran, Sonia finish last in women's doubles
India's listless campaign in pencak silat came to an end after Simran and Sonia finished last in the women's doubles event at the 18th Asian Games.
The duo scored a total of 527 points, 47 behind the Indonesian pair of Ni Made Dwiyanti and Ayu Wilantari Sidan, who clinched the gold.
Saowanee Chanthamunee and Oraya Choosuwan of Thailand won the silver, while the bronze medal went to the pair of Nor Hamizah Abu Hassan and Nur Syazreeb A Malik from Malaysia.
Last week, Naorem Boynao Singh had crashed out in the quarterfinals of the men's 50-55 kg event.
Pencak silat is a full-body fighting sport, which includes grappling and throwing, in addition to the use of weaponry. The sport is indigenous to Indonesia.
Judo: Vijay, Kalpana lose in elimination round
Indian judokas Vijay Kumar Yadav and Kalpana Devi Thoudam were knocked out of the Asian Games after losing their respective bouts in the men's and women's elimination rounds.
Vijay lost 0-10 to Uzbekistan's Urozboev Diyorbek in the men's 60kg elimination round, while Kalpana lost to Uzbekistan's Gulnoza Ziyaeva in the women's 52kg elimination round of 16.
Rajwinder kaur will face Sone Akira of japan in women's +78kg quarterfinals on Friday.
Volleyball: Indian women's team beat Hong Kong 3-0
The Indian women's volleyball team ended its campaign with a 3-0 routing of Hong Kong in a classification match at the 18th Asian Games.
Already out of competition, the India women gave a good account of themselves as they scored 25-18, 25-16, 25-13 win to outclass Hong Kong in their final match.
Indian men's team had lost 25-21, 21-25, 21-25, 23-25 to Pakistan in a 7-12 classification match on Tuesday.