Dipa finishes 5th in beam final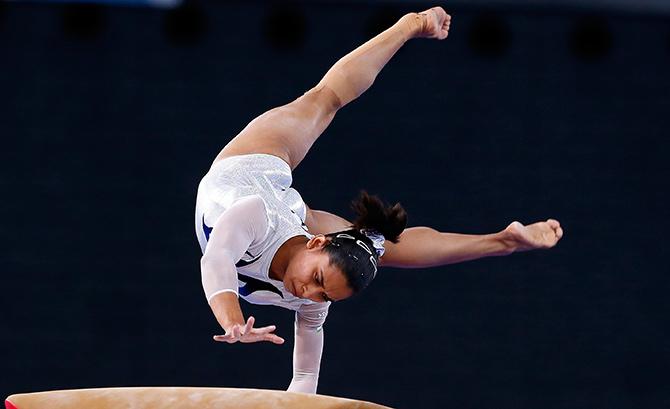 India's campaign in the Asian Games gymnastics ended, on Friday, without a medal after Dipa Karmakar finished fifth in the women's balance beam event final in Jakarta.
Dipa, who was the fifth gymnast to perform on the beam, finished at the same spot with a score of 12.500 in the eight-woman final. She had scored 12.750 in the qualification round.
China's Chen Yile clinched the gold with a score of 14.600 while North Korean Kim Jong Su (13.400) and Zhang Jin (13.325) of China took the silver and bronze respectively.
Considering that she was not 100 per cent fit, Dipa's performance was not too bad. The balance beam was also not her favourite event.
She could not qualify for the final in her pet event of vault in which she had finished fourth in the 2016 Rio Olympics. Her old knee injury flared up during the vault qualification round as she finished behind compatriots Aruna Budda Reddy and Pranati Nayak.
Dipa also had pulled out of the women's team final, in which India had finished seventh.
India thus failed yet again to win a medal in the Asian Games. The country has won just one medal in gymnastics in the history of Asian Games, when Ashish Kumar clinched a bronze in the 2010 Asiad in floor exercise.
Aruna and Pranati had finished in seventh and eighth positions respectively in the women's individual vault event final.
The men's gymnasts failed to make a mark as none of the four, including Ashish, could make it to any individual apparatus final. India also failed to qualify for the men's team event final as it finished ninth in the qualification round.
His compatriot, Advait Page has also qualified for the 1500M Freestyle final.
Manoj wins, CWG gold-medallist Solanki ousted
Veteran Manoj Kumar (69kg) eased into the pre-quarters but Commonwealth Games gold-medallist Gaurav Solanki (52kg) went out with a stunning opening-round loss, giving a mixed start to India's boxing campaign at the Asian Games.
Manoj prevailed 5-0 over Bhutan's Sangay Wangdi to make the last-16 stage and set up a clash with Kyrgyzstan's Abdurakhman Abdurakhmanov, who got an opening-round bye.
The 31-year-old two-time Commonwealth Games medallist was hardly tested in today's fight. The former Asian Championships bronze-medallist was up against an opponent, whose lack of experience showed quite early in the bout.
Manoj had little trouble penetrating Wangdi's defences and kept him on the backfoot almost the entire bout.
However, Solanki was beaten in a unanimous verdict by Japan's Ryomei Tanaka, the Indian 21-year-old's defence all over the place against the southpaw.
The Armyman looked particularly drained after the second round and just could not find a way to prevent his opponent's hooks from connecting.
Tanaka was not much of a power-hitter, his punches in the third round being feeble, but he was helped by Solanki's poor defence and also his own ability to draw the Indian in.
The Japanese boxer had finished fifth at the Asian Championships last year, incidentally beating India's world championship bronze-winner Gaurav Bidhuri in the box-off for a world championships spot. In that tournament, he had competed in the bantamweight (56kg) category.
India beat Pakistan in men's handball
The Indian men's handball team defeated Pakistan 28-27 in a pulsating contest to notch up its second consecutive win in the main round at the Asian Games.
The Indians led 14-12 at the half time.
For India, Greenidge D'Cunha scored nine goals while Adithya Nagaraj was on target six times. The other goal scorers were Navin Punia (four), Karamjeet Singh (four), Harender Singh (three), Avin Khatkar (one) and Deepak Ahlawat (one).
Goalkeeper Atul made 11 saves.
India had defeated Malaysia 45-19 earlier on August 20.
Handball Federation of India Secretary General Anandeshwar Pandey said that the men's team is expected to finish at a higher placing than the last Asian Games in 2014.
"The men's team had finished 14th in Incheon in 2014 but this time it will finish at 10th at the lowest. It can finish higher (than 10th) also," Pandey said.
Rakhi Halder fails to finish lift
India's poor show in the Asian Games weightlifting continued as Rakhi Halder failed to register even a single lift in the women's 63kg category.
The 25-year-old failed to clear her snatch section of the competition. Setting an entry weight of 93kg, Halder was unable to lift it in her three attempts.
Earlier this year, she had lifted a total of 230kg (102kg+128) in the Senior National Championships to create a national record.
North Korea's Hyo Sim Kim lifted a total of 250kg (113kg+ 137kg) to clinch the gold while compatriot Hyo Sim Choe won the silverwith a lift of 238kg (105kg+133kg).
The bronze medal went to Rattanawan Wamalun of Thailand who lifted 225kg(102kg+123kg).
on Thursday, Ajay Singh and Sathish Sivalingam had finished fifth and 10th respectively in the men's 77kg category. Vikas Thakur will compete in men's 94 kg category on Saturday.
Sandeep finishes 7th, Page fails to qualify
Indian swimmer Sandeep Sejwal finished seventh in the men's 50m breaststroke, while Advait Page failed to qualify for the 1500m freestyle final at the 18th Asian Games.
Sandeep, who won a bronze medal in this event at the Incheon Games four years ago, clocked 27.98s, 0.91 seconds behind winner Yasuhiro Koseki of Japan.
In the men's 1500m event, Page, who holds the national record in the category, finished fastest in his heat clocking a time of 15:29:96.
However, the 16-year-old's performance was not good enough to assure him a spot in the final.
Dipika in squash semis, medal guaranteed
Dipika Pallikal Karthik has assured herself and India of a medal after moving into the women's squash semi-final with an easy 3-0 win over Misaki Kobayashi of Japan.
Pencak Silat: N Boynao Singh loses in quarter-finals
Naorem Boynao Singh went down to Dumaan Dines of Philippines in the men's 50-55 kg quarterfinal match, thus ending the Indian men's pencak silat campaign at the 18th Asian Games here today.
The 28-year-old Boynao lost 0-5 to Dines. He had beaten Turatbek Sulaimankul Uulu of Kyrgystan on Thursday.
Pencak silat is a full-body fighting sport, which includes grappling and throwing, in addition to the use of weaponry. The sport is indigenous to Indonesia.
In shooting, at end of 1st stage (Qualification) of 25m Rapid Fire Pistol event, 15 year old Anish Bhanwala is at 3rd spot with 293 points, Shivam Shukla at 11th spot with 289 points.
The 2nd stage of Qualification event scheduled for Saturday.
Among other shooters, Harjinder Singh & Amit Kumar finished 4th & 5th respectively in the Final of 300m Standard Rifle Event.
Bad day for India's archers
Earlier, India's struggling recurve archers were in for more shock with Deepika Kumari and Atanu Das suffering an upset defeat at the hands of lower-ranked Mongolia in the Asian Games here via shootout.
The 4-5 loss in the mixed team quarterfinals left the Indian squad shell-shocked as Deepika yet again floundered in pressure situation, finding a seven in the second shot of the shoot-off, which led to their ouster.
Later, India's compound team of Abhishek Verma and Jyoti Surekaha lost in the quarter-final 153-155 win over Iran.