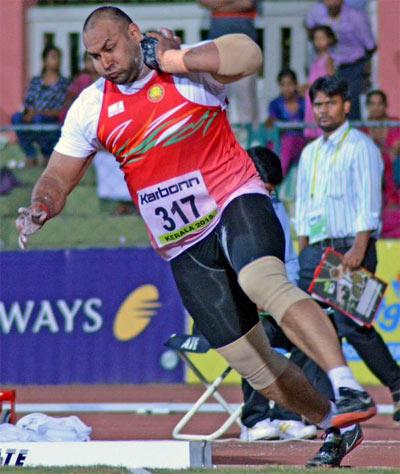 Shot putter Inderjeet Singh and half-miler Jinson Johnson bagged a gold each as Indians won eight medals in the first leg of the Asian Athletics Grand Prix Series in Bangkok, on Monday.

Inderjeet registered a distance of 19.83m to easily win the gold in men's shot put at the National Stadium.

Though Inderjeet could not touch the 20m-mark, his effort was enough to place him on top spot in a mediocre field as India made a rich harvest of two gold, one silver and five bronze medals in the first of the three legs of the Asian Grand Prix Series.

This was Inderjeet's second gold in an international event this month, having won the shot put event at the Asian Championships in Wuhan, China on June 3.

Johnson was the other Indian gold medal winner as he clocked 1:48.52 to finish first in the men's 800m final. In the women's event, M Gomathi clinched a bronze with a timing of 2:07.48.

Ankit Sharma won a silver in the men's long jump with an effort of 7.78m, while Rajiv Arokya and M R Poovamma bagged a bronze each in the men's and women's 400m with timings of 46.86 secs and 53.51 secs, respectively.

Srabani Nanda and Gayathry Govindraj clinched bronze in the women's 100m and 110m hurdles respectively.

In the other events, N V Sheena finished seventh in the women's triple jump with an effort of 12.22m, while 2014 IAAF World Junior Championships bronze medallist in discus throw, Navjeet Kaur Dhillon produced a best of 52.04m to finish fifth.

In the men's javelin throw, Davinder Singh finished sixth with an effort of 69.58m while compatriot Rajinder Singh hurt himself during his third throw after managing 70.58m in his second attempt. The Indian team management had to rush him to the hospital for treatment.

In the 4x100m relays, both the men and women's teams could not finish the race due to overshooting the baton exchange.

The second and third legs of the series will be held on June 25 and June 29 at Pathumthani and Chanthaburi (both in Thailand).

The gold medallist of an individual event will get US$ 1500 while the silver and bronze winners will pocket $800 and $500, respectively.

According to the organisers, all accepted/nominated athletes are required to participate in all three legs to be eligible for the prize money. There will be no prize money for the relay events.
Image: Inderjeet Singh.
Photograph courtesy: National Games Kerala 2015/Twitter