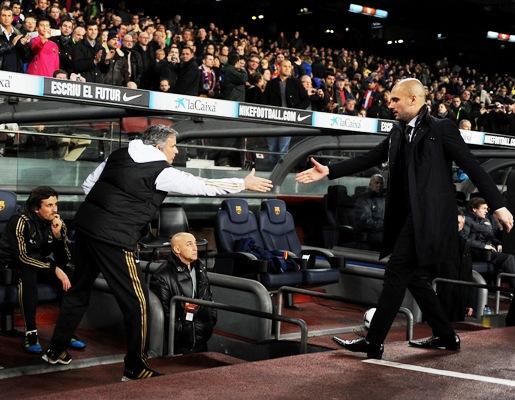 IMAGE: Josep Guardiola (right) greets Jose Mourinho during a match. Photograph: Jasper Juinen/Getty Images.
Manchester United manager Jose Mourinho will not stoke his rivalry with fellow new recruit Pep Guardiola at Manchester City next season because it could damage his team's Premier League title hopes.
Mourinho and Guardiola had a fractious relationship when the Portuguese was in charge of Real Madrid and the Spaniard was at the helm at Barcelona during the 2010-11 and 2011-12 seasons.
"My experience does not allow me to be naive. What I mean by that is that I was with Pep for two years in a championship where the champion was either him or me, Real Madrid or Barcelona," Mourinho told an event at the Faculty of Human Kinetics in Lisbon.
"In a situation like that individual battles make sense because they can have an influence. If, in the English Premier League, I focus on him at Manchester City and he on me at Manchester United, another team will win the title."
The new United and City managers face an early confrontation when their sides meet in a friendly in Beijing on July 25.
Mourinho, who replaced the sacked Louis van Gaal, and Guardiola, who is taking over from Manuel Pellegrini, will renew hostilities in the pre-season International Champions Cup.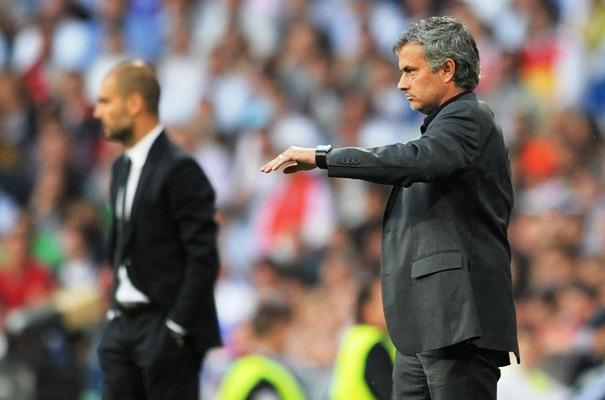 IMAGE: Jose Mourinho stands backdropped by Josep Guardiola. Photograph: Getty Images.
United will be trying next term to make up ground on their neighbours who have finished above them in the Premier League for the past three campaigns since manager Alex Ferguson stood down.
Last season City were ahead on goal difference but pipping United to fourth position meant they took the final Champions League qualifying place, leaving the Old Trafford club to settle for a spot in the Europa League.
Mourinho said he could not afford to focus on Guardiola if he wanted to bring the title back to United for the first time since 2013.
"Look at the Bundesliga ... in the last five years the same team won the title four times and in France the same team won the last four," he said.
"In Spain Atletico (Madrid) won once and Barcelona the other three. In England there have been four different champions in the last four years.
"That says a lot about the competitiveness. The fact it has the biggest television rights and that the television revenues are distributed in the way that they are, allows the league to grow as a competition whereas, in the other leagues, the sharks are always the sharks," added Mourinho.