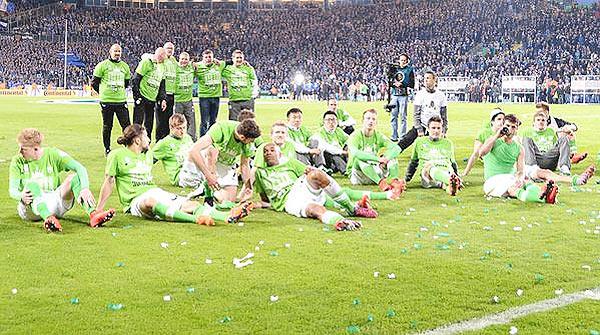 Wolfsburg players celebrate. VfL Wolfsburg EN/Twitter
VfL Wolfsburg ended Arminia Bielefeld's sensational German Cup run, crushing the third division club 4-0 on Wednesday to book a spot in their first Cup final in 20 years where they will face Borussia Dortmund.
Maximilian Arnold and Luiz Gustavo gave the visitors a two-goal first-half cushion as Wolfsburg made sure they did not succumb like Hertha Berlin, Werder Bremen and Borussia Moenchengladbach in previous rounds.
"We were extremely focused today and our mind was set on going to Berlin to the final," Wolfsburg coach Dieter Hecking told reporters.
"Already this morning I felt the entire team being ready for this and concentrated," he said.
Bielefeld, bidding to become only the fourth third division club to make it to the final, had their chance at the start of the second half to cut the deficit.
But a free kick floated into the box by Florian Dick bounced off the bar and Fabian Klos' follow-up sailed over the goal.
It was Wolfsburg, second in the Bundesliga, who scored again with Croatian Ivan Perisic sliding in to connect with a Daniel Caligiuri assist in the 51st and Arnold adding another four minutes later to kill off the tie.
"That early goal was crucial but we are not sad at all. You can't expect to beat a Bundesliga club every four weeks," Bielefeld coach Norbert Meier said. "A Wolfsburg player costs as much as our entire squad so we did it well within the realm of our possibilities today."
Dortmund stunned holders Bayern 2-0 on penalties on Tuesday with the Bavarians missing all four of their spot kicks after a 1-1 draw over 120 minutes.