'Nothing has changed in my life because of hosting these Games'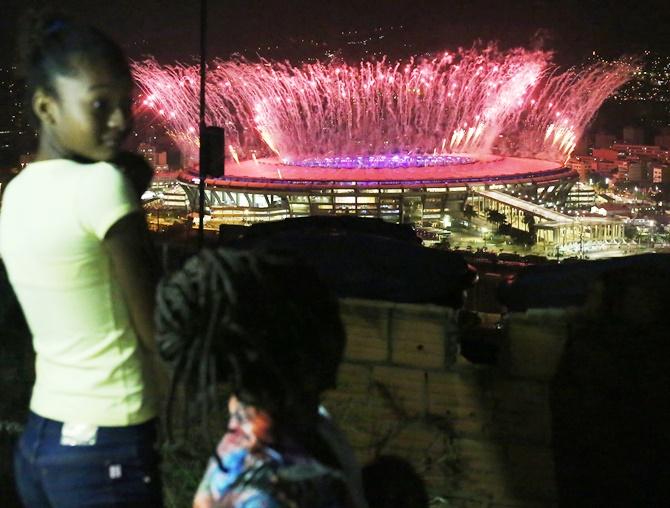 IMAGE: People watch fireworks from the Maracana Olympic Stadium during the opening ceremony, from the Mangueira favela. Photograph: Pilar Olivares/Reuters.
They could see the fireworks but they have felt no impact from the Olympic Games.
Residents of the Mangueira favela or slum, which overlooks the Maracana Stadium where the 2016 Olympic opening ceremony was held, expressed a mix of pride and disappointment as the Games opened in Rio de Janeiro on Friday.
"Look, we're extremely proud to be the host of the Games, but has there been any benefit to us?" asked Lilian Sales, a Mangueira resident.
"No, nothing has changed in my life because of hosting these Games and it's absurd to think that anything will change for my two children," said Sales, who has a son who is 6-years-old and a daughter less than 12 months old.
As A-listers and other celebrities swamped the Maracana for the opening ceremony, which celebrated the culture of favelas, slum dwellers looked on less than 1 kilometer (0.6 mile) away at the lights coloring the night sky.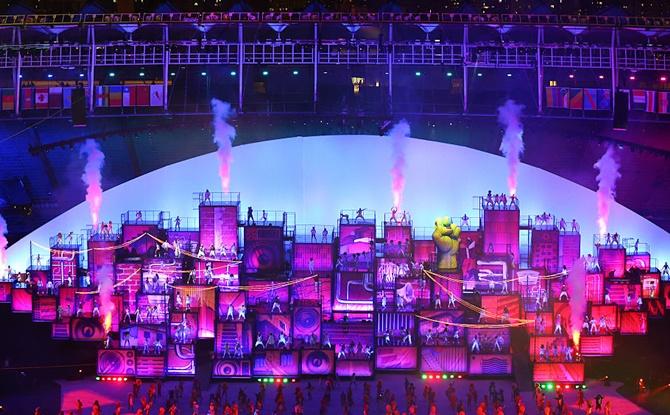 IMAGE: Dancers perform during the Favela Voices segment of the Opening Ceremony of the Rio 2016 Olympic Games. Photograph: Ian Walton/Getty Images.
"The world needs to know – I am here watching this spectacle from a slum right next to where they are opening the Olympics, and my life has not improved at all," said Jose Carmo, a 23-year-old construction worker who lives in Mangueira.
"It is frustrating to be so close to this spectacle and yet so far away, living in a place were we have no security, not even sewage," Carmo said.
Rio's Olympics are costing nearly $12 billion but critics argue even legacy projects like a new metro line, bus highways and massive real estate developments have done little to improve the lives of the city's marginalized.
"I really want to be an optimist, and tell you that all this is great for Brazil," said 34-year-old Robinson Munes as he got his hair trimmed for the weekend.
"But we have not seen it. I love seeing that stadium light up, I want to feel pride as a Brazilian, but the Olympics have not brought any great changes for us."
Denilson Lucio Souza, said that "at this moment I am proud to be a Brazilian and that the Games are here."
But he said he had seen little investment in health, education or security in Mangueira since it was announced that Rio had won the Games in 2009.
"We need help, and it seems bizarre to beg when the city I live in is hosting the Olympics," he said. "I only ask that we get more help with health, security and education."