A meeting between representatives of I-League Professional Football Clubs Association and IMG-R, the commercial partners of All India Football Federation, did not take place on Wednesday with the company maintaining that it cannot meet an entity not recognised by the AIFF.

AIFF General Secretary Kushal Das had written to Salgaocar Secretary Raj Gomes and Pune FC Head Operations Chirag Tanna saying he has been informed by IMG-R to contact them "to set up a meeting in Mumbai of club representatives to discuss and agree on players loan/transfer issues so that both I-League 2013-2014 and the proposed new tournament can be conducted smoothly".

In response to that, the club representatives under the umbrella of IPFCA in a meeting in Mumbai on Tuesday, had proposed an interaction with IMG-Reliance. Six representatives of IPFCA were named to meet officials of IMG-R and the AIFF.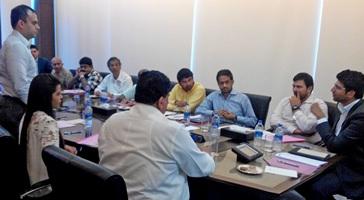 But an IMG-R source said that Das had written to Gomes and Tanna for a meeting with only the representatives of their respective two clubs and not with IPFCA representatives.

"Das had addressed the letter to Gomes and Tanna as Secretary of Salgaocar and Head Operations Pune FC respectively and they were not addressed as president and secretary of IPFCA. So, Das had asked representatives of Salgaocar and Pune FC only to meet us," the source said.

"AIFF, in its letter last week, had asked three club officials from Salgaocar, Pune FC and East Bengal to meet IMG-R and not the so called club association. The IPFCA is not recognised by AIFF and as far as I understand it is not even registered under Society Act 1980. That is the real reason why
IMG-R were advised not to attend the meeting called by this body. We are ready to meet the clubs separately but not under the umbrella of IPFCA," the source said.

"Our reasons of not attending the meeting was not talked about yesterday. The club people tried to giving off reasons but not the real one," the source added.

Gomes, however, said that the AIFF will inform a date of the meeting after executive committee meeting of the federation which is scheduled for August 1.
Image: IPFCA meeting
Photograph: Pune FC