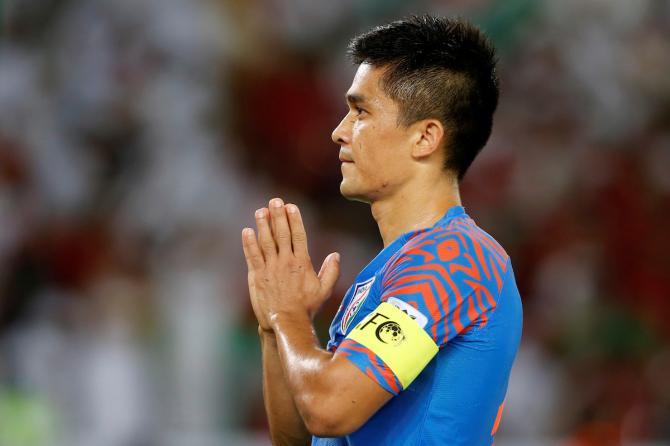 Just two years short of completing two decades of an illustrious international career, India captain Sunil Chhetri on Saturday said that he is "fossilized" and the country may not find his exact replacement but insisted that the national team has "worthy" successors.
The 38-year-old Chhetri made his international debut in 2005 and since then he has broken several records, including becoming the most capped India player (133 matches) and scoring most international goals (85) for the country -- third among active footballers in the world.
"I am fossilized. I have played for a long time, that is why you may not be able to find the exact replacement (of me) but there are many players (in the team) who will do well, if not better than me," Chhetri said when asked if the country has got his replacement.
"You might not see a direct successor of me right now. I am not in the age bracket as the other senior players (in national team)," he said during a virtual interaction ahead of the four-team Intercontinental Cup which India is hosting in Bhubaneswar from June 9-18.
He took names of five players -- Gurpreet Singh Sandhu, Sandesh Jhingan, Amrinder Singh, Rahul and Rowlin Borges -- as potential leaders after him.
"(They are) different type of leaders, all of them doing well, are potentially captains of their clubs.
"You may not find probably the similarity between the kind of person or player I am to them, but they are definitely worthy leaders. All the five names can take charge."
Asked how he kept himself fit for so long, Chhetri said, "Keeping physically fit is the easiest part. Telling your mind that you have to gear up and do it everyday is the difficult one -- not to eat when you don't have to eat, train hard, sleep early, drink a lot of water."
After the Intercontinental Cup, India will also host the SAFF Championships in Bengaluru (June 21 to July 4). The national team is also expected to play in the Kings Cup in Thailand and Merdeka Cup in Malaysia later in the year. All these will give the team a good number of matches ahead of the all-important Asian Cup in Doha in January 2024.
Chhetri said it would be better if head coach Igor Stimac identifies 11 or 14 players as soon as possible and give them more game time together ahead of the Asian Cup.
"In my opinion, slowly and steadily we have to move towards having the same 11 or 14 players. As soon as he (Stimac) realises (identifies) this is the 11 or 14, it is better for the team. This is my opinion and the coach might be having a different view.
"The more number of games these 11 or 14 players play from now on till the Asian Cup, the better for the understanding of the team. As soon as the national team realises and fixes its first 11 or 14, small things like understanding, left shoulder or right shoulder, who is going to mark in set pieces, who and what strengths and apply these on the pitch is important."
Chhetri felt India's group in the Asian Cup this time -- with Australia, Uzbekistan and Syria -- looks tougher than the earlier edition in 2019.
"It seems a little more difficult than we had the last time when we met Thailand, UAE and Bahrain (in 2019).
"Going forward, giving a huge target to myself and the team would not be ideal. Right now, we are trying to think about becoming as tough an opponent as possible.
"A lot of underdogs have shown that like Morocco did (in the World Cup) that if you are a good unit you can make it difficult for other teams to play against you. That is our first and prime target."
On the question of permitting players of Indian origin in the national team, Chhetri said "it's a mixed bag".
"A lot of teams we play against do that. I have a mixed opinion about it. When we decide on inviting or allowing players of Indian origin to play for India, if the best ones are allowed, it always improves the team.
"But, it is a quick fix for a shorter target. In the longer run, we have to make sure that we keep finding home-grown talent. We can make a balance of both."
The Intercontinental Cup will have Lebanon, Vanuatu and Mongolia as the other teams.
"I think only a few of us in the team have played against Lebanon and that has been a long time. We have not played against Vanuatu and Mongolia. We don't know the exact quality of these sides, we have video here and there."
The All India Football Federation (AIFF) has said that the national team would have played 20-25 matches by the time the Asian Cup ends.
"More number of games we play the better for us, more number of games we play against better opponents, even better for us. The more number of games we play against identical teams with Syria, Australia is welcome.
"Playing Lebanon and Kuwait (invited for SAFF Championships) may give you a kind of understanding how Syria plays. On the whole, we will have a decent amount of game before the Asian Cup. That is a good thing."
On the speculation regarding the length of the national camp before the Asian Cup, he said, "That (two weeks of preparation) is what I have heard. If we get three weeks that would be optimum and ideal."