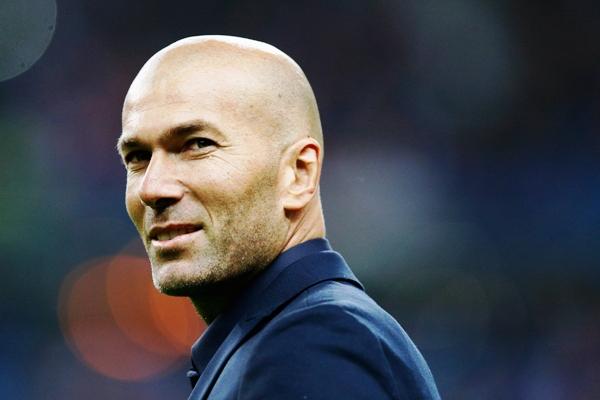 IMAGE: Zinedine Zidane walks on the field prior to a friendly match. Photograph: Dean Mouhtaropoulos/Getty Images
Zinedine Zidane's appointment as Real Madrid coach in place of Rafa Benitez has handed the club's former France great his chance to follow up a stellar career on the pitch with management success at the highest level.
Benitez, experienced but unpopular, was abruptly dismissed on Monday less than halfway through the season after an indifferent run of results left the club trailing leaders Atletico Madrid and second-placed Barcelona in La Liga.
Fan hero Zidane, an elegant figure in stark contrast to his frumpy predecessor, has been promoted from his job as coach of the B team, who play in the third tier of Spanish football.
It will be the 43-year-old French World Cup winner's first top-flight management role.
The pressure to deliver at a club that expects a regular stream of major silverware will be huge and it remains to be seen whether the decision by club president Florentino Perez to discard Benitez and hand the reins to the relatively green Zidane will pay off.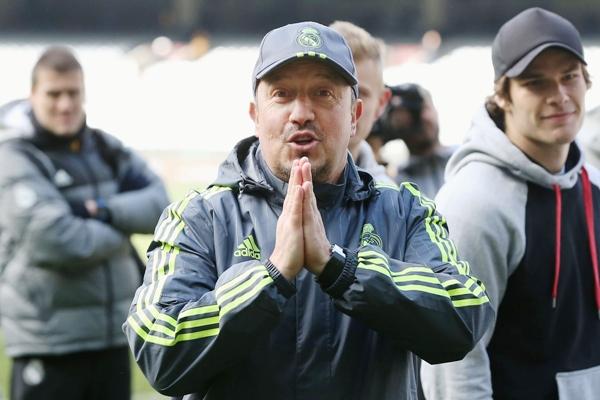 IMAGE: Former Real Madrid manager Rafa Benitez reacts. Photograph: Michael Dodge/Getty Images
Benitez, 55, replaced Carlo Ancelotti at the end of last season after the Italian failed to deliver any of the three main titles in 2014-15, marking the Spaniard's return to the club where he began his coaching career in the youth ranks.
However it quickly became clear that his reputation as a detail-obsessed and excessively defensive tactician, whether deserved or not, did not sit well with the Real fans.
He failed to consistently deliver the entertaining, attacking football they demand and persistent reports in local media that he did not get on with key figures in the dressing room did not help his cause.
Benitez also appears to have been blamed for Real's expulsion from the King's Cup for fielding an ineligible player.
When Real were hammered 4-0 at home by arch rivals Barca in La Liga at the end of November it was the beginning of the end and Benitez has been roundly whistled at the Bernabeu in recent months, when fans have also called for Perez to step down.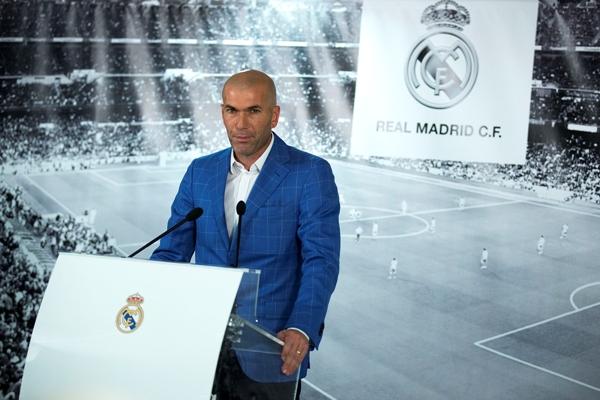 IMAGE: Zinedine Zidane gives a speech to the media after being announced as new Real Madrid head coach. Photograph: Gonzalo Arroyo Moreno/Getty Images
Zidane joined Real from Juventus in August 2001 and helped the club win their ninth European title with a stunning volley against Bayer Leverkusen in the 2002 Champions League final.
A 1998 World Cup and 2000 European Championship winner with France, he is regarded as one of the most skilful and stylish midfielders to play the game.
His career ended in ignominy in the 2006 World Cup final in Berlin when he was sent off for butting Italy defender Marco Materazzi in the chest.
Sharply-dressed and softly spoken, he commands both the devotion of supporters and huge respect from the players, something Benitez has struggled with during his coaching career in Spain, England and Italy.
Zidane's first game in charge will be Saturday's La Liga game at home to seventh-placed Deportivo La Coruna, when he is assured of a huge ovation from the adoring supporters.
Real have been drawn to play AS Roma in Europe's elite club competition, with the first leg in the Italian capital on Feb. 17.
"It's an important day for me," Zidane told reporters on Monday after Perez announced his appointment, without specifying the length of his contract. "I am emotional, more than when I signed as a player."