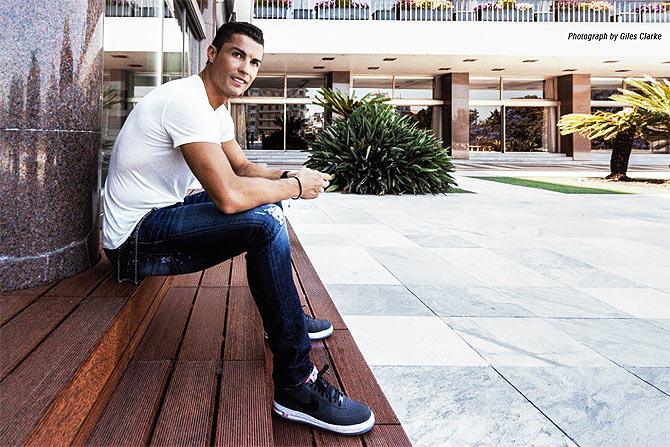 IMAGE: Real Madrid and Portugal footballing great Cristiano Ronaldo poses for a picture. Photograph: Cristiano Ronaldo/Twitter
Real Madrid and Portugal record goal-scorer Cristiano Ronaldo is certain in his mind that he is the best footballer in the world.
Ronaldo is tired of comparisons with Lionel Messi and appreciates that some people must dislike his personality or the ways he sees football.
Speaking ahead of the release of his personal portrait film Ronaldo, the FIFA World Player of the Year told Reuters TV that he is "not a fake person."
"I have my style, he has his style, his own style," he said of Messi, his great personal rival.
"We have to respect that people compare all the time.
And it is normal, we are compared since we are babies, I don't mean me and Messi but all the persons in school. Who is more clever, who is more fast, it's normal, it's part of the life.
"It does not surprise me any more but some times it makes me tired because it's always same thing and they still repeat and repeat, one year, another year, every year."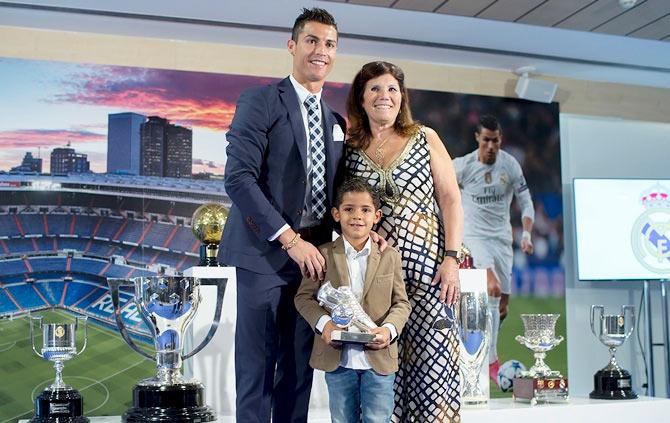 IMAGE: Cristiano Ronaldo poses for a picture with his trophy as all-time top scorer of Real Madrid CF with his son Cristiano Ronald JR and his mother Maria Dolores dos Santos at Honour box-seat of Santiago Bernabeu Stadium on October 2. Photograph: Gonzalo Arroyo Moreno/Getty Images
Critics say the Portugal forward's celebrations sometimes have an air of arrogance about them.
Ronaldo is never shy to show his rippling muscles or make defiant gestures after scoring. He startled the audience at this year's World Player of the Year award by bellowing "Sim" (yes) into the microphone after he was announced as the winner.
Asked why people may dislike him, Ronaldo said: "Maybe the way I am, my personality, the way I see football. I'm not a fake person. It's normal, it's part of the business. No one can control that,"
Ronaldo's film, due to be released on November 9, depicts the striker as a family man and shows how he lives on the pitch and inside his luxury house in the neighbourhood of La Finca in the outskirts of Madrid.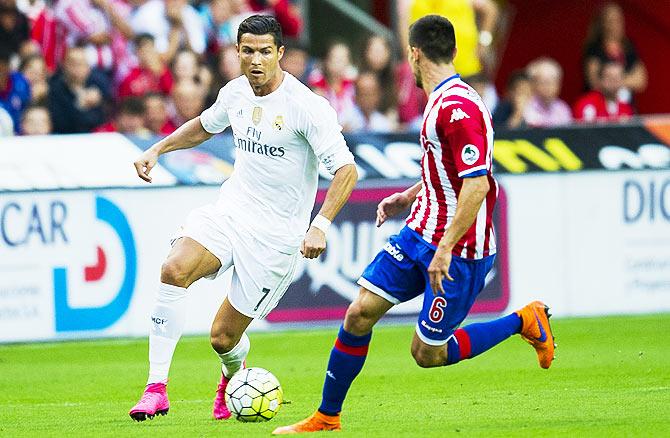 IMAGE: Real Madrid's Cristiano Ronaldo duels for the ball with Real Sporting de Gijon's Sergio Alvarez during a La Liga match. Photograph: Juan Manuel Serrano Arce/Getty Images
In an interview with the BBC, Ronaldo, who is Champions League's top scorer with 82 goals and who recently surpassed Raul's Real Madrid's goal record, described himself as "unbelievable on the pitch."
"I don't need to say 'I'm in the history of football, I'm a legend'. The numbers say everything," he said.
"I have to say to be in my shoes is not easy. But I'm not complaining. I just want to say that. I feel happy. All this happens because of a reason. The reason is I'm unbelievable inside the pitch."
"This is why the people have so much interest on me. So it's as simple as that. I'm good, I'm happy, I'm motivated all the time. I'm very professional and I want to carry on like that."