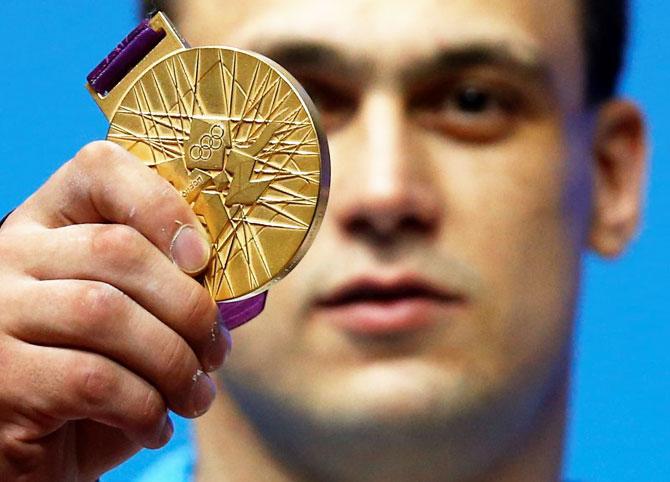 Kazak weightlifter Ilya Ilyin has been stripped of the gold medals he won at the Beijing and London Olympic Games after failing doping tests in re-analysis of samples, the International Olympic Committee (IOC) said on Friday.
Ilyin, who won the 94 kilo category at both Games, tested positive for the banned substance stanozolol in 2008 and turinabol and stanozolol in 2012, the IOC said.
Aksana Miankova of Belarus was stripped of the gold medal she won at in the women's hammer throw in Beijing after testing positive for turinabol and oxandrolone in re-tests.
Miankova was also disqualified from the same event at the London Games where she finished seventh.
Her compatriot Natallia Mikhnevich was stripped of the silver medal from the women's shot put in Beijing after testing positive for methandienone and stanozolol.
Image: Kazakhstan's Ilya Ilyin poses with his gold medal of the men's 94Kg weightlifting competition at the ExCel venue at the London 2012 Olympic Games August 4, 2012
Photograph: Dominic Ebenbichler/Reuters
Source:
© Copyright 2019 Reuters Limited. All rights reserved. Republication or redistribution of Reuters content, including by framing or similar means, is expressly prohibited without the prior written consent of Reuters. Reuters shall not be liable for any errors or delays in the content, or for any actions taken in reliance thereon.