'I mean illegal coaching sounds like he's done something criminal. It's, like, come on.'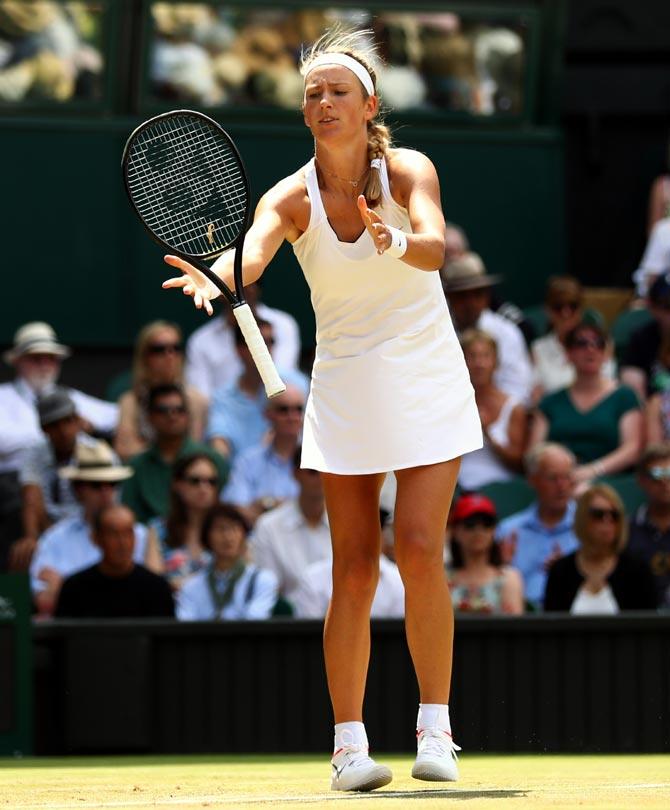 IMAGE: Victoria Azarenka reacts during her third round match. Photograph: Michael Steele/Getty Images
Victoria Azarenka was anything but amused when Kim Clijsters accused her of benefiting from "illegal coaching" from her players' box during her nail-biting victory over Britain's Heather Watson in the Wimbledon third round on Friday.

Clijsters, commentating on the match for the BBC, made the observation after spotting some gestures made by Azarenka's coach Michael Joyce during the 3-6, 6-1, 6-4 victory.

An indignant Azarenka laughed sarcastically before declaring: "I honestly don't know what people are talking about, because I'm one of the players who rarely looks at the box. If that was coaching, I guess I missed it.

"I just feel that it's sometimes an unfair comment because we see a lot of players -- I'm not going to name who -- having conversations with their boxes," added the Belarussian who is on a comeback trail after giving birth to her son Leo last December.

"So if my coach did something or did not, obviously I missed it, which is too bad.

"I mean illegal coaching sounds like he's done something criminal. It's, like, come on."

Watson did not notice anything untoward during the two-hour thriller but both she and Azarenka agreed that the WTA Tour should do away with the policy of allowing on-court coaching on the women's circuit.

Unlike the Grand Slams tournaments or the men's ATP Tour, WTA tournaments allow players to request their coach to come on court during a match for a limited number of times if they feel they need some guidance.

"It's weird because we are allowed to have coaching in WTA (events) and not here. I don't really care so much," said Azarenka, who will next take on Romanian second seed Simona Halep.

"Even on the WTA events I rarely call my coach. I still feel you should figure it out yourself."

Watson shared that sentiment.

"I actually would prefer that we didn't have the coaching on court rule. I think it's better if we figure it out ourselves, plus the men don't have it. I don't know why we should," said the 102nd ranked Briton.

While she could have done without all the chatter about illegal coaching, Azarenka admitted she is getting rather impatient to hear her son - who is named after her star sign - speak for the first time.

"My son is teething right now, and he's a little bit fussy at the moment. It's a little bit tough," said Azarenka, who is bidding to become the first mother to win Wimbledon since Australian Evonne Goolagong in 1980.

"All those moments, all those stages, I really enjoy. I can't wait to hear him talk for the first time. It still doesn't really register in my mind quite yet, but I'm really looking forward to it."