In yet another controversy ahead of the Commonwealth Games in Delhi, a group of Indian cyclists has alleged that the selection trial for the event was not transparent and some worthy riders were ignored.
Their allegations come close on the heels of India's Australian coach Graham Seers statement that there was "no criteria" for the CWG team selection.
However, the Cycling Federation of India (CFI) claimed the allegations were baseless.
Senior national champion Dayalaram Jat and veteran Thane rider Rajendra Soni and Pune's Prasad Khairnar alleged that there was no transparency in the Cycling Federation of India's selection procedure.
Hitting out at the CFI, Dayalaram claimed that he was victimised when he was in peak form and an inexperienced Paramjit Singh was chosen.
"I kept finishing among the top three during the trials but a stomach bug ruled me out of the trial in Patiala on August 16. The chief coach (Chayan Chowdhury) told me not to worry as my timing was better then the rest. But my name was eventually omitted from the list," Dayalaram said from Bikaner.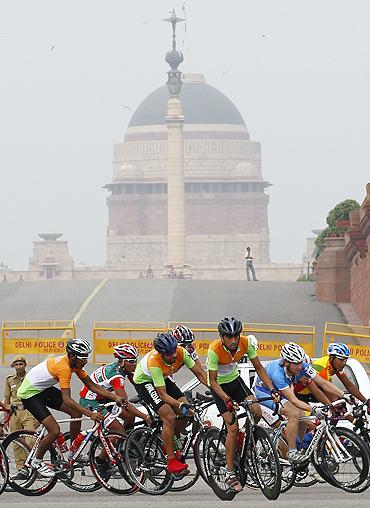 "Paramjit, who was picked ahead of me, never even participated in any national competition. I have 47 medals to my credit at various levels in nationals. I was not allowed to give a second trial and discarded on basis of a conspiracy," Dayalaram, reigning champion in the senior national 4km team pursuit, said.
Incidentally, it was the Aussie coach who spoke in favour of Dayalaram's selection after he was not picked.
"Graham sir knows how good I am. At the selection committee meeting, he did not sign after seeing that my name was omitted. But later, the CFI officials convinced him," Dayalaram alleged.
The selection trials were held in Patiala on August 16 for road cycling and on August 21-22 for track in New Delhi.
Thane's Soni, who has a hat-trick of gold medals at the national level, said he can better the timing set by any chosen member of the Indian CWG side.
Soni alleged he and his two wards -- junior national medallist Manender Singh and Varun Kansara -- went to Patiala to participate in the trials but the camp officials denied entry to the three saying it was not an open trial.
"We left Mumbai on August 11 for the trials in Patiala. There we were asked to train for the first few days. Later, CFI assistant secretary VN Singh behaved rudely and even asked us to prove that we are cyclists," Soni said.
"On any given day, I can clock 51-52 minutes whereas the CWG members have 55-56 min timing in the 40km road time trial. I can challenge them. I can beat the Indian team timing otherwise I would gift my brand new Rs 4.5 lakh cycle to the CWG," the 39-year-old said.
Such has been the frustration that Pune's Khairnar, a former national gold medallist, is now pursuing higher education, giving up his pet sport.
"Cycling was my passion... I have cycles worth Rs three lakh which I bought personally. Now I am at a total loss after being overlooked by the selectors who are biased. I am now taking coaching for banking and civil services," Khairnar said from Pune.
Khairnar had written to CFI inquiring about trials but without any positive response.
When contacted CFI assistant secretary V N Singh said, "We had three trials since 2008 and we had informed all the state units about it. Everybody has been given an equal opportunity. They (the cyclists) have missed the bus and now crying about it."
Asked about Dayalaram, he said: "We cannot take previous timings into consideration. He is no Sachin Tendulkar. The Aussie coach favoured his selection but if we had picked him, others would have approached the court. So finally, Seers gave his nod."
Terming the allegations "false", Indian coach in-charge, Chayan Chowdhury said, "We had a series of open trials in last two years. We had a core group of 55 who have been pruned to 27.
"The selected ones are not related to us. About Dayalaram, he was unfit during trials, though he had good a timing. We cannot hold a separate trial just for one rider."
Forty-eight medals are up for grabs in 14 track events, (eight for men and six for women) and two road events (mass start and time trial).
After a gap of 32 years, Indians are competing in cycling but the hosts have only a slim chance of medals with strong contenders such as Australia and England in the fray.