'I asked the coach for an explanation. An explanation can be just two minutes long. It's not complicated ... But I am still at the coach's disposal. The coach knows this'
'I have the feeling that my name is being manipulated for reasons that have nothing to do with football'
'He's really got to stop making things up. His continued lying is driving me mad. It all came from him this sex-tape business. All he had to say was the truth about what really happened'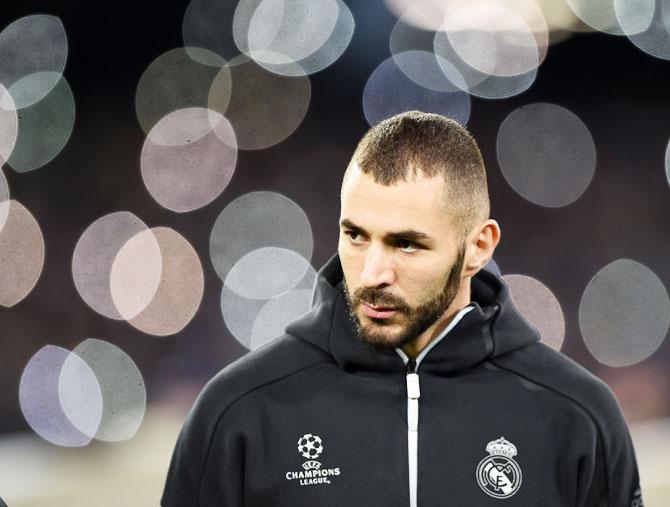 IMAGE: Out-of-favour France striker Karim Benzema says 'If the coach tells me to my face that it is only because of football, fine, I'll continue to work'. Photograph: Francesco Pecoraro/Getty Images
Real Madrid striker Karim Benzema has not given up hope of a return to the French national team despite being frozen out by coach Didier Deschamps in the wake of a sextape scandal 18 months ago.
Benzema was suspended indefinitely in December 2015 after being charged with conspiracy to blackmail teammate Mathieu Valbuena over a sex-tape, but French federation president Noel Le Graet said last October Deschamps was free to call him up again.
The 29-year-old, who has not been picked since a 4-0 win over Armenia in October 2015, said he had still not received an explanation from Deschamps as to why he continues to ignore him.
"Others say I can be called up, not him. If the coach tells me to my face that it is only because of football, fine, I'll continue to work," Benzema told French sports daily L'Equipe on Wednesday.
"If there is another reason, he just had to tell it to my face and I'm done with him.
"I asked the coach for an explanation. An explanation can be just two minutes long. It's not complicated ... But I am still at the coach's disposal. The coach knows this."
France do not seem to have missed Benzema, impressing at Euro 2016 with Antoine Griezmann and Dimitri Payet shining up front. The hosts lost to Portugal after extra time in the final.
However, Benzema said he was being left out for non-sporting reasons.
"A lot of people (in France) don't want me to succeed," he said.
"I have the feeling that my name is being manipulated for reasons that have nothing to do with football."
IMAGE: France's national soccer team players Mathieu Valbuena (front) and Karim Benzema. Photograph: Charles Platiau/Reuters
The 29-year-old Benzema, who is in his eighth season at Real Madrid added: "I'd be delighted to play in blue again. I'd always play for France with the same enthusiasm."
He also lashed out at his former international teammate Mathieu Valbuena on Tuesday, laying the blame for the fallout of a sex tape scandal squarely on the shoulders of the alleged victim.
Both men missed the Euro 2016 tournament on home soil after an investigation was launched into alleged blackmail in a sex-tape scandal which is likely to go to court in France later this year.
Investigators suspect Benzema of acting as an intermediary between the presumed blackmailers, including one of his childhood friends, and Lyon midfielder Valbuena.
But in the interview to L'Equipe, Benzema went as far as accusing Valbuena of lying just two days ahead of France naming their squad for upcoming 2018 World Cup qualifiers.
"He called me scum, said I'd threatened him, made up all kinds of stuff," said Benzema, who remains in international exile with his last France appearance in October 2015.
"He's dragged me through the dirt and sullied my family name," he said.
"He's got to stop this nonsense.
"He's really got to stop making things up. His continued lying is driving me mad. It all came from him this sex-tape business. All he had to say was the truth about what really happened."