'We are a fairytale story, a nation of 350,000 people on this big stage is quite something, and we hear it from fans all over the world.'
Iceland's president Gudni Thorlacius Johannesson said that he wants even more soccer fans from around the world to join 'Team Iceland' and share the joy as his tiny nation makes its World Cup debut in Russia.
The smallest country, by population, ever to qualify for the finals, Iceland take on the might of two-time winners Argentina in their opening game on Saturday, and Johannesson hopes fans around the world, especially those whose own teams missed out, will cheer for them.
"We made it to the World Cup and we're really happy about that, but we didn't quite anticipate how many fans we would gain all over the world. But in sports in general everyone loves the underdog," he told Reuters in a telephone interview.
"We are a fairytale story, a nation of 350,000 people on this big stage is quite something, and we hear it from fans all over the world," he added.
The tiny nation are hoping to maximise the exposure offered by one of the world's biggest sporting events to attract both tourism and investment to the island, and some big countries have already adopted his team for the tournament.
"In Italy they made a poll and the Italians (who lost a playoff to Sweden) are getting to grips with the fact that they are not there, and people are just adopting Iceland as their new 'Azzurri'," the president explained.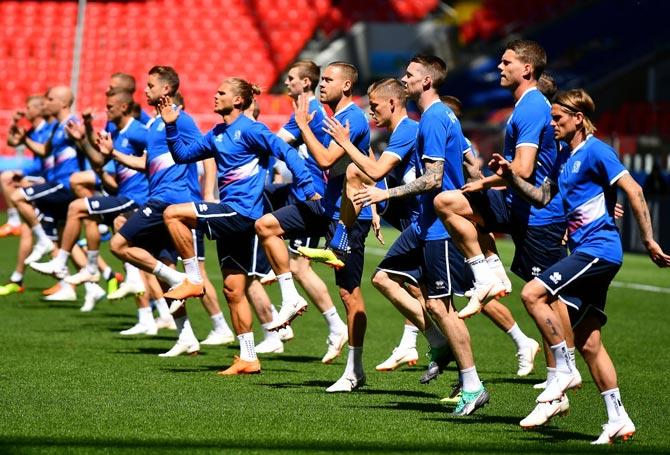 Johannesson has fond memories of Iceland's international breakthrough at the Euro 2016 finals in France, as their success at the group stage coincided with his victory in the presidential election that year.
He was elected on his birthday, June 26, and immediately travelled to France to support his country as they secured a stunning victory over England to make the quarter-finals, where they eventually lost to hosts France.
Iceland narrowly missed out on qualification for the 2014 World Cup in Brazil, but their Euro qualification two years later and their success in making it to Russia indicates a successful approach to the game.
"We have excellent coaches with good education, and as much as we can to make sport accessible to everyone, regardless of family income or social status," he said.
"If you love football or any other sport as a kid, it should be manageable to go to your local club and play. The emphasis at youth level is on participation and equality, and afterwards you can see if there's a new (Lionel) Messi or (Cristiano) Ronaldo in the group."
Despite his status as head of state, the 49-year-old says he still enjoys a regular kickabout with some friends when he has the time, and he says the greatest asset of the national team is their spirit.
"It's hard to single anyone out, but I really do admire our unity - it makes each individual stronger. Argentina has way better players than us, but we gain strength through our unity," he said.
Drawn in a tough group with Argentina, Croatia and Nigeria, they will need every advantage they can get if they are to make it through to the knockout stages.
"Whatever happens at the World Cup, we will be proud of our players, because they will have played as a team and given all they have, and that is all we can ask for. I think we'll be number two in the group," Johannesson said.
"And if not, we'll still have had a wonderful tournament, if the dream comes true - but in a way the dream has already come true, and everything after that is a bonus."