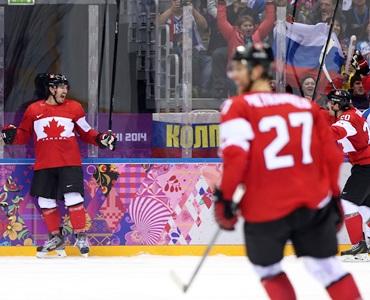 Canada, the United States and Finland all earned byes to the quarter-finals of the men's ice hockey tournament at the Sochi Games on Sunday while hosts Russia were forced into a do-or-die qualification game.
The Canadian and US teams advanced by winning their respective groups in the preliminary round while Finland squeaked in as the best second-placed team of the three groups. Sweden secured their quarter-final spot on Friday.
Canada and Finland, tied atop Group B entering the final game of the preliminary round, went toe-to-toe in a defensive battle that needed overtime, with Canada triumphing 2-1 on a Drew Doughty goal.
With the win, the defending gold medallists avoided a possible quarter-final clash with Russia, and will instead play the winner of Latvia versus Switzerland qualification game.
"That was unbelievable. I don't know what's going on. I don't usually score goals like that. Just glad I'm helping my team out and scoring some big goals," Doughty told reporters.
"We needed this win today."
The lowest eight seeds in the 12-team tournament will play a qualification playoff on Tuesday to determine Wednesday's four quarter-final matchups.
Russia's 1-0 shootout win over Slovakia on Sunday followed a regulation win and an overtime loss, leaving them two points shy of the Americans in Group A and fifth overall.
But rather than panic about having to play an extra game, the Russians were taking a positive approach, no doubt aware that Canada also had to go through the qualification round en route to their 2010 gold medal.
"In principle, it makes no difference," said Russia's Alex Ovechkin. "Each team is now in the peak of its form. Of course, we'd want to play one match less, but this way we'll stay in good form."
A day after falling in a shootout to the undefeated US team, the Russians were forced to go the distance again, this time prevailing after Alexander Radulov and Ilya Kovalchuk made the most of their shootout chances.
Russia, looking to improve on their sixth-place finish at the last Olympics, will play winless Norway while the top four teams rest and practice ahead of Wednesday's quarter-finals.
"Playing is better than training," said Kovalchuk. "We'll go out and focus. Now we can't lose, all the games could bring elimination."
The Americans wasted little time securing top spot in their group as Phil Kessel scored 63 seconds into a 5-1 rout of a Slovenian team that beat Slovakia on Saturday for the biggest win in their hockey history.
Kessel, the tournament's leading scorer with seven points, went on to complete his hat-trick just past the midway mark of the game for the 2010 silver medallists.
"We have played three games in four days and have done a lot of travelling to get here," said U.S. forward Patrick Kane. "We have got a couple of days off now and that'll give us ample time to get ready for the quarter-finals."
By finishing second overall after the preliminary round, the United States will play the winner of the qualification game between the CzechRepublic and Slovakia.
Austria grabbed some confidence heading into their do-or-die qualification game against Slovenia by earning their first victory in Sochi, a 3-1 win over winless Norway.
Michael Grabner, the second-leading scorer in Sochi with six points, had two goals and an assist in the victory.
"We really needed this win here, and it's big for our team," Grabner, who has five goals in three games, told reporters.
"We've gotten better and better over the last games, and we knew we needed this win. So it was nice to come out today strong and get the lead, and not give it up again."
Sweden, the top seed after the preliminary round, will play the winner of Slovenia versus Austria in the quarters.
Image: Drew Doughty, left, of Canada celebrates after scoring the game winning goal in overtime against Finland.
Photograph: Bruce Bennett/Getty Images