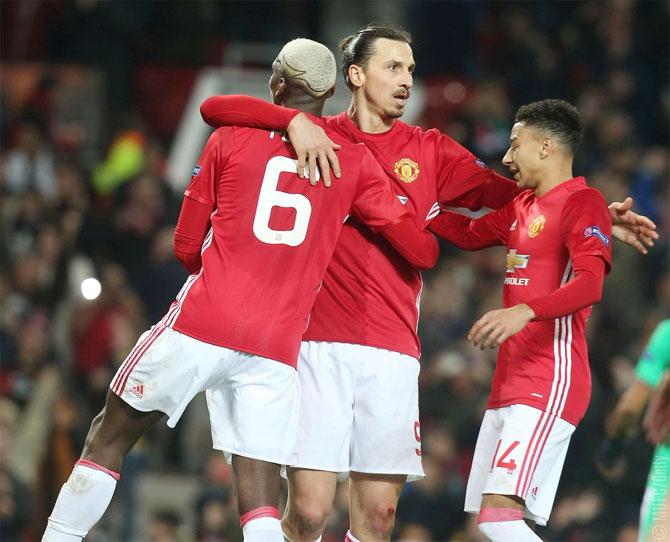 IMAGE: Manchester United's Zlatan Ibrahimovic celebrates scoring a goal with teammates. Photograph: Manchester United/Twitter
Manchester United's Zlatan Ibrahimovic, Paul Pogba and Marcos Rojo are in contention to face Newcastle United in the Premier League on Saturday after recovering from their injuries, manager Jose Mourinho has said.
Striker Ibrahimovic and defender Rojo are back training with the first team after suffering serious knee ligament injuries last season while midfielder Pogba has shaken off a hamstring problem that has kept him out of the side since September.
"The players that stayed here recovering from injuries, even the ones that are recovering from big injuries, they are ready to play," Mourinho told a news conference on Friday.
United appeared to cope well without Ibrahimovic and Rojo at the start of the season as they raced to the top of the league table before being overtaken by neighbours Manchester City, but Pogba's injury upset the rhythm of the 20-times champions.
Mourinho suggested that his team struggled to maintain fluency up front without the Frenchman -- losing twice and drawing once in the league -- after he pulled up injured against Basel in their opening Champions League game of the season.
"You can clearly see Manchester United this season before Paul's injury and after Paul's injury," Mourinho said.
"There are qualities in our football, there are qualities that influence our approach in matches with Pogba and without Pogba -- it's as simple as that."
Mourinho hailed Ibrahimovic's fighting spirit as he returns from a serious knee injury at the age of 36 and urged fans to be patient with the Swede, who like Rojo, has not featured since picking up the injury in the Europa League clash against Anderlecht in April.
"You cannot expect him to be ready to play 90 minutes or play consecutive matches. He needs time to be back to his level, his fitness, his confidence and his sharpness. From the clinical point of view, for him to be ready is fantastic."
Rojo was in the squad for their last league game and turned out for the under-23 side on Wednesday.
United have 23 points from 11 games, eight points behind leadersCity, while Newcastle are 11th with 14 points.
Mourinho's side are unbeaten in the last 22 league games at Old Trafford, winning the previous six in a row without conceding a goal.