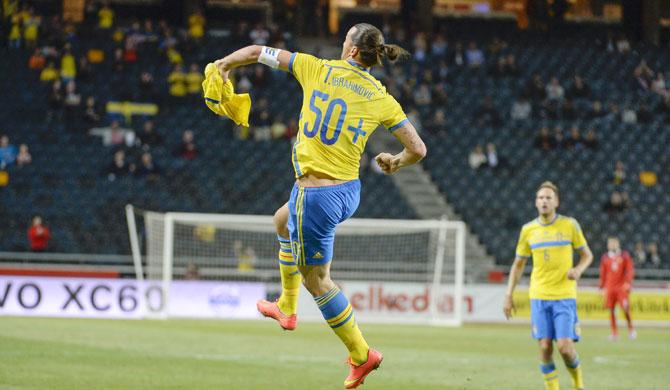 Zlatan Ibrahimovic celebrates his 50th goal for Sweden during their international friendly against Estonia at the Friends Arena in Stockholm. Photograph: Jessica Gow/Reuters/TT News Agency
Captain Zlatan Ibrahimovic struck twice in a 2-0 friendly win over Estonia on Thursday to become Sweden's all-time leading scorer with 50 goals.
The Paris St Germain striker netted a thumping left-foot volley from a corner after three minutes before surpassing Sven Rydell's tally of 49 goals, which had stood since 1932, thanks to a clever effort with his heel in the 24th minute.
Ibrahimovic, who swept home Seb Larsson's cross for his second goal, was making his 99th appearance for Sweden.
The 32-year-old, who had been doubtful for the match because of a throat problem, was given a rapturous ovation by a 15,421 crowd in the Friends Arena when he left the field just after the hour mark.
"That it was with a back-heel was probably a little lucky but it was the only way I could score," a beaming Ibrahimovic told reporters.
Asked which of the 50 goals was his favourite, Ibrahimovic chose his stunning scissors-kick from 30 metres against England in a friendly in November 2012.
"The most beautiful was against England, no one's going to beat that, but all goals are important," he said.
Ibrahimovic credited Russia coach Fabio Capello with turning him from a player with potential into a top marksman during their time together at Juventus.
"When I met Capello that's when I became a goal-scorer. Before that I played to play well, then I realised that goals are important," he added.