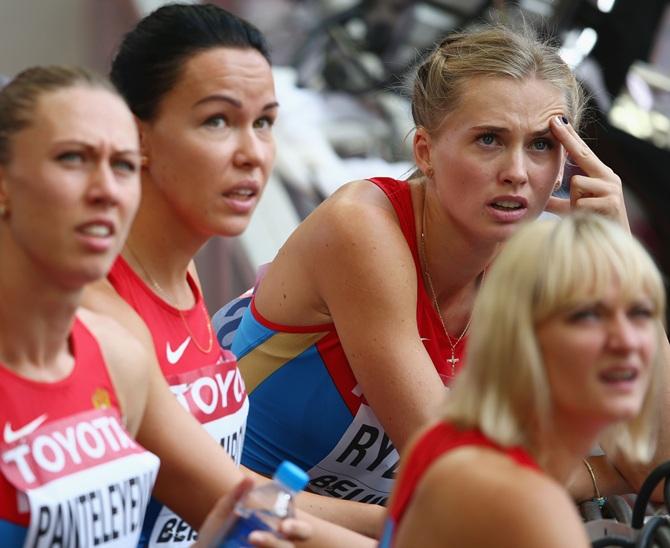 IMAGE: Ksenyia Ryzhova of Russia, second right, looks on with teammates after competing in the Women's 4x100 metres relay. Photograph: Michael Steele/Getty Images.
World athletics' governing body decided on Friday to maintain its doping ban on all Russian athletes, Sky News reported, quoting unnamed sources, leaving the country's hopes of competing in the Rio Olympics dependent on Olympic chiefs giving special dispensation at a meeting next week.
The Council of the International Association of Athletics Federations (IAAF) was meeting in Vienna to decide whether to lift the ban after hearing from a task force that significant doping problems still existed in Russia. The suspension was first imposed in November and extended in March.
A spokeswoman for Russia's athletics federation said she could not confirm the reports that the ban had been upheld.
Russian delegate Mikhail Butov was still waiting to hear the outcome of the IAAF Council meeting, she said.
The initial ban came after a report by an independent commission of the World Anti-Doping Agency (WADA) revealed widespread state-sponsored doping.
A task force led by Norwegian Rune Andersen was set up to monitor progress in reforming Russia's anti-doping programme, and in March reported that there was "significant work to do".
On Wednesday, WADA released another damning report on the doping situation in Russia, one of the world's sporting super-powers, who were second behind the United States in the athletics medal table at the 2012 Olympics.
That report revealed 52 new failed tests and stories of extraordinary attempts to avoid, obstruct or intimidate drug testers, suggesting that attempts to change the culture of doping in Russia had failed.
The IAAF Council was due to hear from Andersen again on Friday, and from Russian representatives.
The federation had scheduled the vote for June so that, if the ban were to be lifted, Russian athletes would have a reasonable chance to register Olympic qualifying standards before the July 11 cut-off.
International Olympic Committee (IOC) President Thomas Bach was asked this month if the IOC, holding its own Olympic Summit on June 21, would be prepared to overrule an IAAF ban and allow Russian athletes to go to Rio. He replied: "I cannot speculate."
"This meeting on the 21st will be to protect the clean athletes and ensure a level playing field for all the athletes participating in Rio," he said.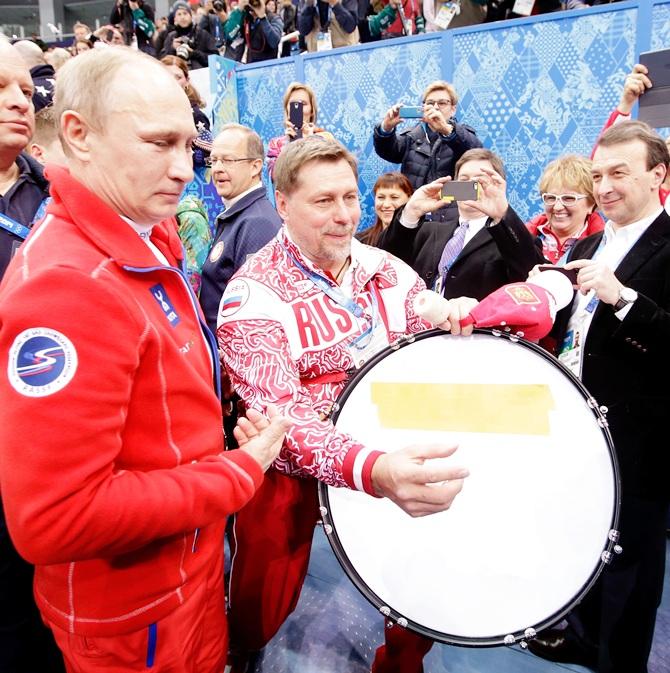 IMAGE: Russian President Vladimir Putin with athletes and fans. Photograph: Darren Cummings/Pool/Getty Images.
Russian President Vladimir Putin said on Friday there should be no collective punishment for Russian athletes and that doping should not be politicised or used to push an anti-Russian agenda.
And Kremlin spokesman Dmitry Peskov said Russia was ready to take legal steps to prevent its athletes being banned en masse.
"Obviously, everything possible needed to defend the rights of our athletes and the Olympic team is being done and will be done at a legal level," he told reporters.
Russia also revealed an open letter sent to the IAAF by Sports Minister Vitaly Mutko saying that Russia had met all the conditions asked of it, including overhauling its disgraced athletics association and introducing additional testing.
"Clean athletes who have dedicated years of their lives to training and who never sought to gain unfair advantage through doping should not be punished for the past actions of other individuals," Mutko wrote.
"Additionally, Russia's athletes must not be singled out as the only ones to be punished for a problem that is widely acknowledged to go far beyond our country's borders."
Russian sports minister says IAAF decision was expected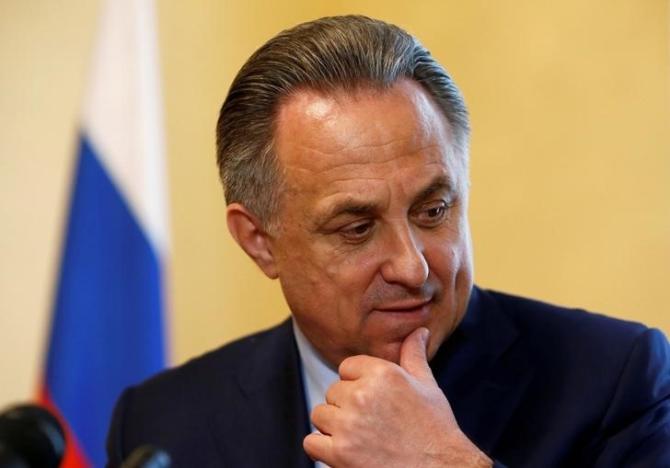 IMAGE: Russian Sports Minister Vitaly Mutko reacts during an interview in Moscow. Photograph: Sergei Karpukhin/Files/Reuters.
Russian Sports Minister Vitaly Mutko said on Friday a decision by the IAAF to uphold Russian athletic's suspension from international competition was expected, TASS news agency reported.
Mutko said Russia would definitely react to the decision.