'For everybody's sake, it is for the international federation to create ways of level-playing field for its competitors'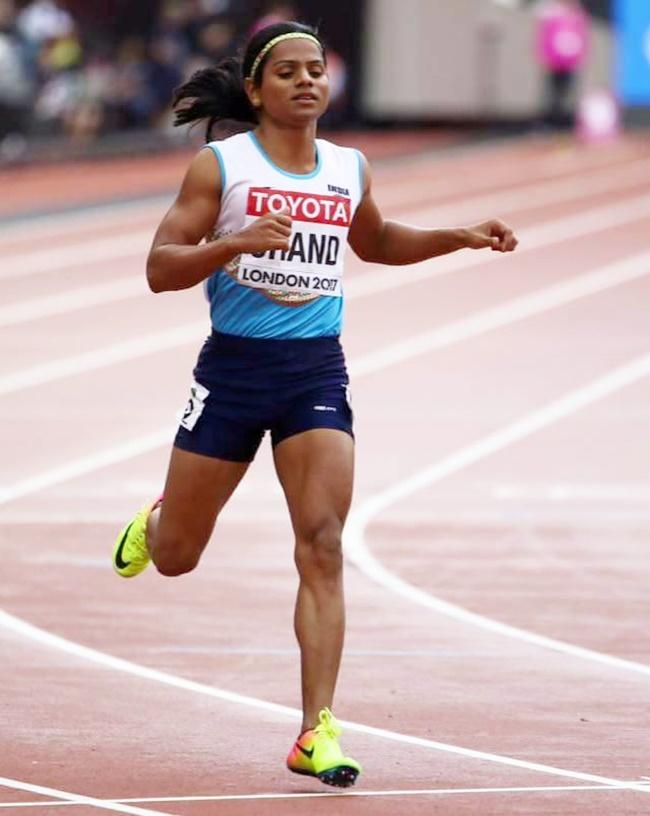 IMAGE: Dutee Chand challenged the International Association of Athletics Federations' Hyperandrogenism Policy.. Photograph Courtesy: Dutee Chand/Facebook
The International Association of Athletics Federations (IAAF) chief Sebastian Coe empathises with the plight of Indian sprinter Dutee Chand, whose career has been hit by the controversial 'gender testing' issue, but insists it needs to create a "level-playing field" for all athletes.
A hearing at the Court of Arbitration for Sports in Lausanne, Switzerland, is likely to come next month in the ongoing appeal proceedings after Dutee challenged the International Association of Athletics Federations' Hyperandrogenism Policy.
The policy bars female athletes with high levels of naturally producing testosterone from competing on the ground that they have an 'unfair advantage' over their peers.
When Coe was told about the sensitivity of the case in India with many social activists supporting Dutee in her fight, he said, "I can understand it, we are human beings."
Asked if there would be a finality on the issue once the CAS passes its order in the coming months, Coe said, "I think it is ultimately with the CAS. It is a court arbitration.
"For everybody's sake, it is for the international federation to create ways of level-playing field for its competitors and this is an issue where we need systems and understandings in place which is clear to everybody," Coe said.
He agreed that a decision by CAS, whatever it may be, could bring clarity to the issue.
Dutee was banned by the Athletics Federation of India in 2014 under this Hyperandrogenism Policy, but she challenged it at the CAS.
In July 2015, the CAS overturned the ban while also suspending Hyperandrogenism Policy for two years. The world's top sports tribunal asked the IAAF to provide conclusive evidence within two years.
As the two-year period ended in July this year, the IAAF has gone back to the CAS and has recently decided to submit fresh evidence.
'It is good time for India to embrace athletics'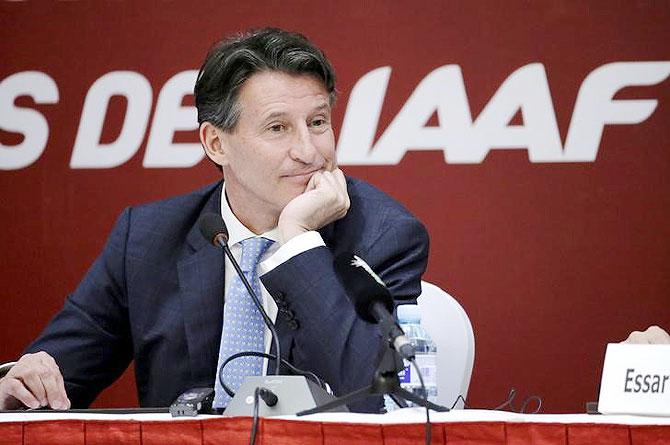 IMAGE: President of International Association of Athletics Federations Sebastian Coe. Photograph: Jason Lee/Reuters
Coe, whose mother was born to a Punjabi father, said in the near future India should get to host some big one-day meets, though he did not name the events.
"If we have good events in India that will be an attraction, young people will join athletics. I remember being in India during the 2010 Commonwealth Games and athletics attracted full house crowd the whole week.
"We are not the only sport fighting in India for bigger space. The English Premier League and F1 are also very popular there. Our competition in India is not with Olympic sport but in large part with non Olympic sport. So we need to make sure that we are there."
He was impressed by the turnout in Bhubaneswar during the Asian Athletics Championships last month.
"I was pleased to see large crowd coming at the stadium. I was pleased to speak to commercial organisations. It is good time for India to embrace athletics," said Coe, a double Olympic gold medallist in 1500m.
"I hope in the near future, India can have one-day meetings. Athletics have a presence in big cities in the lives of young people in India. If we are able to attract these young people, we can get sponsors," said the IAAF chief.
Coe talked about the establishment of a High Performance Centre with help from IAAF in Bhubaneswar, for which a Memorandum of Understanding was signed during the Asian Championships.
"The state of Odisha is going to have a High Performance Centre and we have agreed to help them in their coaching needs. We will make some of our coaches available to help them shape their coach education.
"We have level 1 to 5 in our coach education programme and we have to make sure that they work at local level. It is not that the IAAF will own a training centre. In those centres where the relationship between the member federation and the political leadership is very good, we can help them with skills that may not be currently available there in those centres," he said.
"There is no point in having these programmes if we are not helping the member federation or the country or the region to be self sufficient. We want generations of Indian coaches to come up to coach the athletes."
Coe also touched upon the issue of top Asian athletes skipping the continental meet to prepare for the World Championships (the most recent being the Bhubaneswar event) and said the global body was ready to help find a solution.
"Yes, the IAAF can play a role. First we need to coordinate the calendar, make sure that the area championships and ideally the national championships are a part of the diary and they are not standalone but at least the athletes are able to prepare for their presence in the those (area) championships and it does not clash with Diamond League etc.
"Secondly, we need to look at our qualification, the eligibility and qualification of the World Championships. May be we need to factor into that (World Championships) a presence in the area championships. We have to make sure that our area championships are worthy and good for the athletes to be a part of."
Why Asia is very important market for IAAF
He said Asia is a very important market for the IAAF.
"If you look at the world population, 60 per cent of world population is in Asia. Then 60 percent of world population who are under the age 18 are in Asia. Those are two very big assets. Asian economy is very strong and we need to make sure that our sport is very exciting to young people because there are a lot of young people in Asia.
"And if we can deliver great athletics in Asia, then we will also find good sponsors and partners in Asia. So, for me, Asia is very very important."