'I would look at Saina and Sindhu challenging the rest of the world, and both of them playing the final against each other'
Pullela Gopichand, India's chief badminton coach, shares his views on the country's leading female players with Laxmi Negi/Rediff.com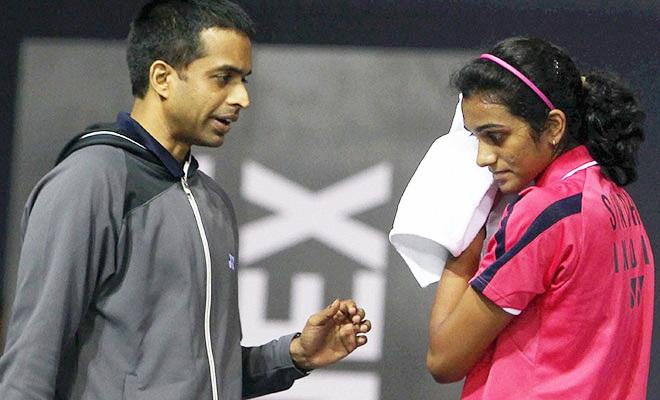 Pullela Gopichand with PV Sindhu. Photograph: PTI
The Saina Nehwal–P V Sindhu rivalry is still unfolding, and Pullela Gopichand, the mentor of India's best-known female shuttlers, continues to play it cool.
In 2014, when Nehwal, a former world No 2 and Olympic bronze medallist, suddenly decided to seek the coaching capabilities of former India star Vimal Kumar he refused to react. Then, when Nehwal did not want to train at the Gopichand badminton academy alongside the fast-improving Sindhu, a bronze medallist at the World Badminton Championships, he again he chose to not to comment.
However, at the launch 'Beyond The Finish Line #Gamechangers', an initiative to recognise, reinforce and reward individuals who have made a positive impact on society using the medium of sport, the former All-England champion and India's chief badminton coach did open up when Laxmi Negi/Rediff.com sought his views on the shuttlers.
Media attention will be more on P V Sindhu this year. How will she face up to the challenge?
The attention has always been on her. She always had this pressure to perform. But media focus is something new to her. The spotlight is on her; people recognise her in a different way. She is a fantastic player and always working hard. She will surely try to live up to the challenge.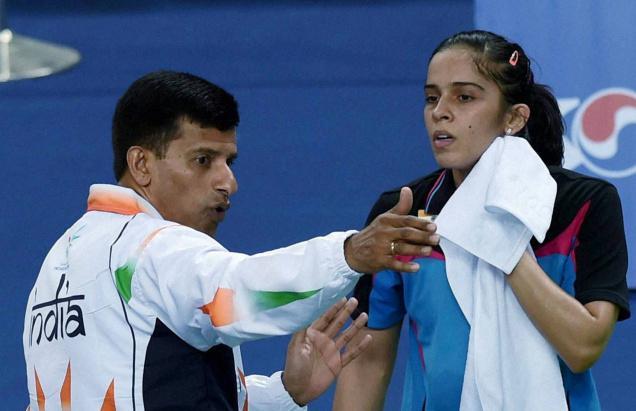 Saina Nehwal with Vimal Kumar. Photograph: PTI
How long will it take for Sindhu to be better than Nehwal?
Well, I think I would look at Saina and Sindhu as team India and both of them challenging the rest of the world. Hopefully we will have both of them playing the final against each other.
Do you want our badminton players to go for it or take it easy as qualification for the 2016 Rio Olympics nears?
We don't have an option because our Olympic qualifying set-up is such that our players need to play a lot of tournaments to ensure that their qualification happens fundamentally very well within the prescribed ranking system. In singles, you need to be in the top 16 to have your two slots made available and that is what is going to be a challenge for the players.
The players will have a chance until May 2016 and, therefore, they need to try and win as many tournaments as possible and get to a good ranking.
Should there be guidelines on participation in tournaments?
It is a challenge which we have, because the top players need to play certain mandatory tournaments, such as 'premier, super series', and the tournaments which they play for rankings. And we need to do it judiciously so that the fitness of the players is not lost and we have good performances from them throughout.
Is it the best time for our male shuttlers?
In the last few years they have grown better and better, so I am hoping that the next year would be better than 2014. We have seen good performances but we haven't seen great consistency. That is what we need to work on.