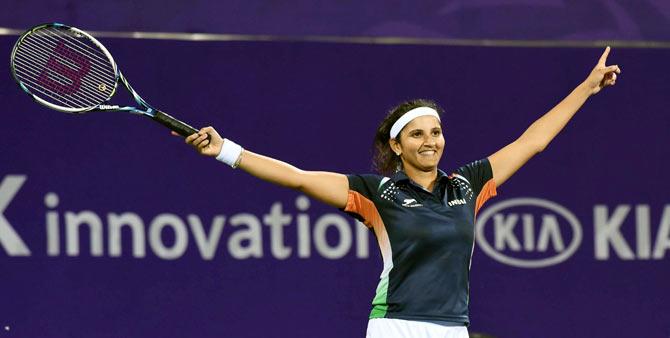 India's Sania Mirza celebrates after winning the gold medal in the mixed doubles event at the Asian Games. Photograph: PTI Photos
Indian tennis legend Vijay Amritraj launches his Champions League tennis tournament. Harish Kotian reports.
Sania Mirza recently added a mixed doubles gold from the Asian Games to her three Grand Slam titles in the same category, and is ranked world No. 7 in doubles. However, Indian tennis legend Vijay Amritraj says he would have loved to see her do well in singles and fulfil her true potential.
"I think she had one good year of singles and I would really personally have liked her to continue play singles. She was not only talented but she also had the aggressive attitude. You have a couple of bad years here and there, you do have injuries. I like people to play singles; that is where your excellence shows," he said in Mumbai, at the launch of the Champions League tennis tournament.
"Doubles is fantastic, but people when they start the game they don't start doubles; they want to excel in singles. I would have loved to see Sania do it. But I think she has brought an incredible amount of inspiration to sports lovers in the country, not just tennis, not just women, but everyone," he added.
The Amritraj-backed Champions Tennis League named its six franchises and drafted the players for each team in Mumbai on Wednesday.
Bangalore, Chandigarh, Mumbai, Chennai, Delhi and Pune are the six franchises which will play 13 matches over ten days from November 17 to 26.
The teams will be structured into two groups, each having three teams, where all play each other in a home-and-away format. The teams with the highest number of games won in their respective groups will play each other in the grand final and win Rs 1 crore. The runner-up will get Rs 50 lakh.
Each tie will have five matches of one set each, featuring Legends, International Men, International Women, Indian Men and Men's doubles.
Asked why they opted for the mini format of matches, comprising of just one set, with no advantage points and tie-breakers at 5-5, Amitraj said it had to be shortened to keep television viewers interested.
"It would have been too long and also television has to be curtailed. We are going to carry this in the other parts of the world so we are going to give them an opportunity to carry a two-and-half hour window of these matches. That is why we also took out the tie-breaker at 5-5 and the no Ad games.
"This is a fairly similar format to what I played in the 1970s. I used to play the similar format in the US a lot and it did amazingly well with full houses, with around 15000 people," he said.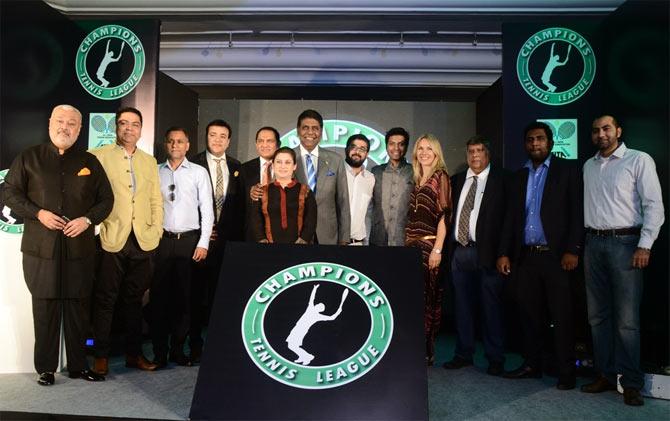 Vijay Amitraj (centre) with the team owners at the launch of Champions Tennis League.
One of the most talking points at the launch was former India cricket captain Mohammad Azharuddin coming onboard as co-owner of the Chandigarh franchise, which managed to snap up Spain's world No. 5, David Ferrer, the highest-ranked men's singles player in the tournament.
They also got hold of former British No. 1 Greg Rusdeski for the Legends' category, India's No. 1 singles player Somdev Devvarman and world No. 22 Garbine Muguruuza in the women's section.
Another high-profile signing was former world No. 1 Martina Hingis, who was given a wild card to play in the women's singles.
Hingis, who won five Grand Slams singles titles, went to the Chennai team, which also bagged Mark Philippoussis, Mikhail Youzhny and Jeevan Nedunchezhiyan.
World No. 6 Agnieszka Radwanska of Poland is the highest-ranked player among the women. She was taken by the Pune franchise, which also signed up Australian tennis legend Pat Cash, Germany's Philipp Kohlschreiber and Saketh Myneni, who recently won the mixed doubles at the Asian Games with Sania Mirza.
Former world No. 1 Venus Williams of the US joined the Bangalore team, which has Feliciano Lopez of Spain, Sweden's Thomas Enqvist and Ramakumar Ramanathan.
Delhi has Jelena Jankovic of Serbia as their top signing along with Kevin Anderson, Juan Carlos Ferrero and Sanam Singh.
The Mumbai franchise had no representative at the draft and got the remaining players, which includes Spain's world No. 22 Tommy Robredo, Alize Cornet of France, Sriram Balaji and Sergi Bruguera.
Amritraj, 60, says he is looking at increasing the number of teams to eight in the coming years with a lot of franchises from various states showing interest in joining the league.
"Ideally, I would like to have eight teams. I think that would be a nice optimum number to have because you have four in one group and four in the other and eight cities will get to see it. There are some who are interested, I think Ahmedabad or Kolkata or Jaipur or Hyderabad could be a choice," he said.
The former India singles ace beat two of the best players of his era, John McEnroe and Jimmy Connors, and reached a career-high ranking of No. 16 in the singles in 1980.
Asked why India is not producing world class singles players any more, he replied: "I think the bottomline is that it is physical. The game has got physical today and if you look at the guys coming in the CTL they are all huge and big hitters of the game. The days of the Michael Chang are over; they can be wonderful coaches.
"What has been extremely impressive has been Kei Nishikori's performance and what he has done with the size he is. It needs even more work, even more commitment, and try to develop the kind of physicality that tennis needs today."
Amritraj believes India have a good chance of winning an Olympic medal in the next edition of the Games in Rio in 2016. He tipped Leander Paes and Rohan Bopanna to excel at the mega event in two years' time.
"In doubles we always have a good chance. Getting an entry into the Olympics Games is based on representation more than just ranking. So it is not like Wimbledon where everybody gets in based on their ranking. So, at the Olympics, you are likely to get a few easy matches to get into the semi-finals or quarter-finals and then you play a couple of good matches and end up with a medal.
It is absolutely possible for India to win a medal because Leander plays good doubles, Rohan