IMAGE: India's Sakshi Malik pins down Aisuluu Tynybekova of Kyrgyzstan in the 58kg freestyle bronze medal play-off at the Rio Olympics. Photograph: Ruben Sprich/Reuters
It's a sport that is synonymous with power for most, but India's Rio Olympics bronze medallist wrestler Sakshi Malik says her achievements on the mat are not just because of brawn but also brain.
The 24-year-old from Haryana became the toast of the nation after winning a historic bronze in the women's freestyle 58kg category at the just-concluded Games in Rio de Janeiro.
"Coach says my forte is power but I think I won because of my technique. I did not win because of my power but because of my technique," said Sakshi, after being felicitated by Air India, which announced free business class travel for her.
"Indians (usually) win because of their power; other countries are more aggressive in the first three minutes but Indians perform well throughout the six minutes," she added.
Recalling her experience at the Rio Games, Sakshi said it was tense.
"The Rio experience was very tense. I had to lose weight daily. We were there for 15 days, didn't know what will happen since entire India will be watching.
"I was 100 percent sure that the Russian wrestler will reach the final and I knew that whatever happens I will get a medal," she said.
"After winning got a chance to see the village, went to the mall, which was nice," she added.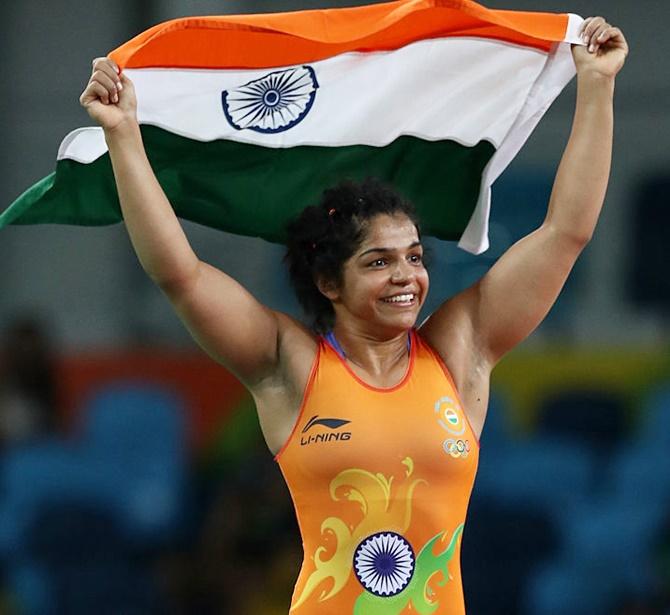 IMAGE: Sakshi Malik celebrates after defeating Kyrgyzstan's Aisuluu Tynybekova in the women's freestyle 58 kg bronze medal match at the Rio Olympics. Photograph: Lars Baron/Getty Images
Sakshi revealed that the significance of the moment did not register until she reached back home.
"It took a lot of time for me to realize what had happened. When I came back to the airport in Delhi it was then that I realised that I have done good work."
The Rohtak girl spoke about her preparation for each competition, the restrictions she enforces on her.
"We practice in several areas like power training, weight training, speed training and mat work. Practice for all tournaments is the same, but the focus differs from opponent to opponent. There are no restrictions from my family's side, but, yes, I have to keep control on diet, as you have to shed 4-5 kilos before every competition."
She said everything else is secondary -- whether it's marriage or being appointed as Wrestling Director of Rohtak University.
"I have left marriage for the family members to think about. Right now my aim is the Asian Games and the Commonwealth Games. Till I wrestle I won't be doing anything. (on being appointed Wrestling Director of Rohtak University)."
"When you see good players like Sushil Kumar and Yogeshwar Dutt, that is motivation enough. How they train, what lifestyle they maintain. They have performed so well at such high level for India... that motivates me.
"I will start working when I get away from wrestling. I'm also in the Railways; they don't ask me to do anything, just focus on the game and my pay check arrives every month," she added.
For Sakshi, women's power did not start with this Olympics but is on the rise for the past couple of years.
"When I had started there were only 4-5 girls but after the performance of the girls winning a lot of medals -- Delhi Commonwealth Games, Asian Games -- a lot of girls are being motivated to join wrestling; sometimes there is no place to practice."
Talking about Air India's gesture, she said, "I want to thank everyone. I feel very special that everyone wants to meet me and give so much love. I would like to thank Air India for giving me free travel as I love flying."