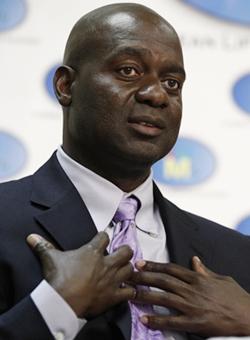 Disgraced former sprinter Ben Johnson, who had his 100m gold and world record at the 1988 Olympics stripped after testing positive for steroids, has claimed a book due in September will provide new evidence that he was a victim of sabotage.
Johnson also claimed he had been wronged by the Olympic and athletics authorities, despite conceding that he had knowingly taken the banned substance in the lead-up to the Seoul Games.
"It's been 22 years that I tested positive in 1988, and it has come to pass that I was sabotaged, put it that way," Johnson told reporters on Thursday ahead of a symposium in Harlem on sports in Jamaica.
Canadian Johnson said his autobiography "Seoul to Soul" would reveal new information about his case that had come to light four years ago.
"There's more coming out, there's more that I could say, but I can't elaborate too much ... I can't say too much right now, because I've been advised by my manager that I can't say too much about the book," the 48-year-old added, wearing a dark suit, purple shirt and tie.
Asked why he was bringing the information to light now, Johnson said: "To show the world that I wasn't the only one who was doing what they're doing because of a level playing field."
Johnson said his coach Charlie Francis, who died earlier this month after a five-year battle with cancer, had approached athletics authorities about his concerns about doping among East German athletes.
"My coach Charlie Francis, who just passed away last week, back in the early '80s he spoke to the IAAF and said 'listen, these East German people are doping and if my athletes are running clean we have to play a level field.
"They don't listen to him, they turned him back, so he said that he didn't have a choice. What he done for me, didn't make me run faster. It just got me to train a little harder so I can recover.
"I just get a little bit bitter from how I was treated by the IOC (International Olympics Commission) and the IAAF (International Association of Athletics Federations).
"I made some mistakes too, in my time, but my coach and I decided that if other East Germans are doing what they're doing that a level playing field hasn't been set."
Johnson insisted the banned anabolic steroids had not given him any advantage. "It doesn't make you run faster or do anything else," he said.
Johnson, appearing with former Jamaican Olympians at the Schomburg Center on Malcolm X Boulevard, said he planned to donate some proceeds from his book to Jamaica's track and field association to help kids in his native hometown of Falmouth.
"I have lots of information that the world hasn't known," added Johnson, who lives in Toronto. "I was wrongfully convicted and singled out. I want to share this to the world."
Former Canadian sprinter Ben Johnson listens to a question during a news conference held before a sports symposium in New York.
Photograph: Reuters