Uzbek Bektemir Melikuziev stands on his way of an unprecedented boxing gold medal
'If I am able to defeat him, I will return home with a gold'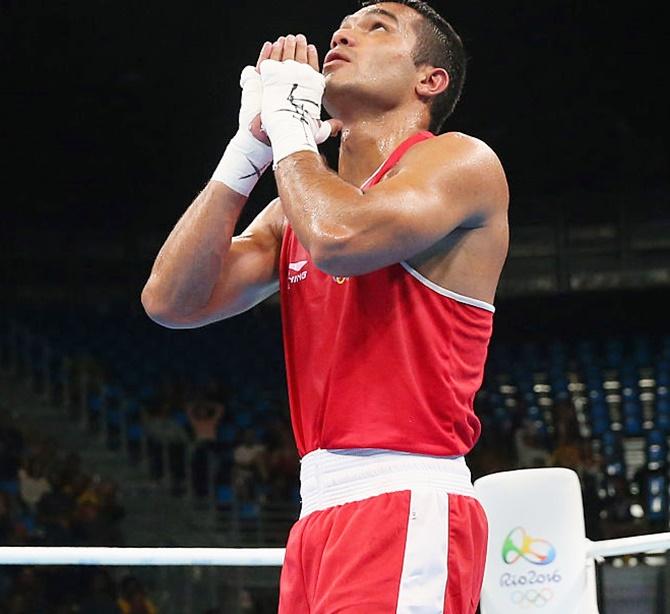 IMAGE: I will return empty-handed or the gold medal, says India's Vikas Krishan. Photograph: Alex Livesey/Getty Images .
Just one win away from winning an Olympic medal after a comprehensive victory over his opponent in his pre-quarterfinal bout, Indian boxer Vikas Krishan says he wants nothing less than a gold in the Rio Games.
Vikas Krishan storms into quarter-finals
Vikas stormed into the quarter-finals with a one-sided 3-0 win by unanimous decision against Onder Sipal of Turkey in the men's 75kg middleweight bout, and he now feels that Uzbek Bektemir Melikuziev, who is four years junior to him, stands on his way of an unprecedented boxing gold medal.
"He (Melikuziev) is the toughest in the group. Mark my words, if I am able to defeat him, I will return home with a gold. I won't take a silver or bronze. I will return empty-handed or the gold medal. Gold is assured if I get past him," the 24-year-old Indian said after his pre-quarterfinal fight at the Riocentro Pavillion 6.
A former Youth Olympics and Youth World champion in 2014 and 2015 Doha World Championship silver medallist, Melikuziev had beaten Vikas at Asian Championship in Thailand last year.
"He's a bit powerful and a bit heavier in weight. But he does not have a height advantage. He has the power and stamina, he is young," Vikas said.
Vikas, however, said his form was way better than it was last year and he's confident of getting past the Uzbek at the biggest stage.
"I was not in form then (at Asian Championships), while he was at his peak. I've picked my rhythm now."
Vikas said he and his personal coach Jagdeep Hooda would relax and strategise only on the eve of their bout which is at 7pm local time August 15.
"I will just relax for two nights and on the eve of the bout will think of my strategy. I just want to remain tension free and enjoy with my friends. My friend has come and personal coach is here, we make fun. The idea is to stay tension free and approach the next bout with a free and fresh mind. I've two days enjoy," he said.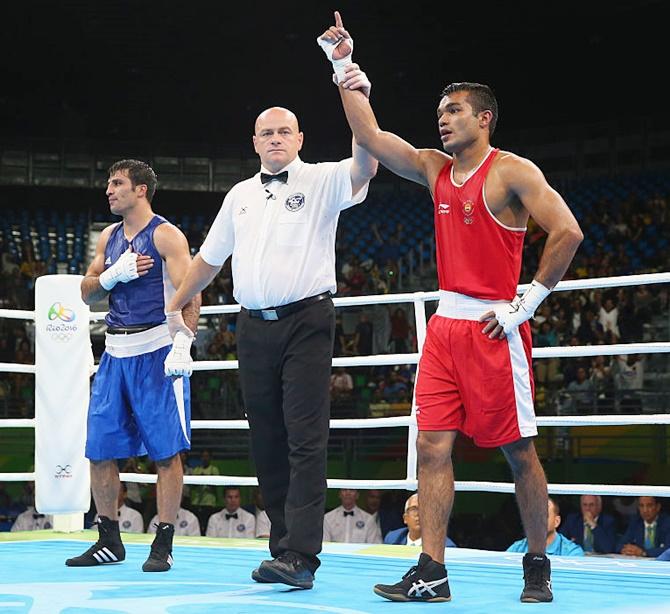 IMAGE: India's Vikas Krishan celebrates his victory over Onder Sipal of Turkey in the men's middleweight (75kg) bout on Day 7 of the 2016 Rio Olympics. Photograph: Alex Livesey/Getty Images .
On his bout against Sipal, Vikas said the Turkish was shaken after getting hit on his forehead.
"However, I was not convinced in the second round, so wanted to do well with some clear two-three punches in the final round. I had two left hooks.
"Overall, I'm very satisfied, this win was better than the last one (American Charles Conwell). I had defeated the same guy in the 2011 Baku World Championships," he said.
Vikas rued about the jersey controversy and said media painted a wrong picture back home.
"It's very sad and disappointing. They're (media) saying we would be 'banned' because we did not have the country code ('IND') written on our back. It's totally wrong. Officials told me you can write anytime you want. So we put it, and it's the end of the matter. If we write then you point fingers and if we don't then you also point fingers, it's unfair."