Sporting Clube de Goa took the winds out of McDowell Mohun Bagan's sails with a fascinating 2-1 win in a 15th round I-League encounter at the Nehru Stadium, Fatorda, Goa on Thursday.
Click here for Rediff Realtime News!
Keita Boubacar and Ogba Kalu scored for Sporting Clube while Rakesh Masih scored the lone goal for Mohun Bagan.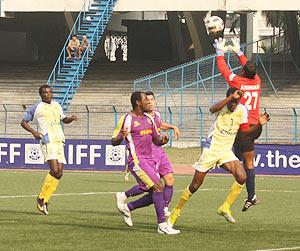 Sporting Clube were completely in command in the first session but could not translate their superiority into goals. The first escape for Mohun Bagan came in the fifth minute itself when Sudan striker James Moga took everyone by surprise with a sudden long ranger that Bagan goalkeeper Sangram Mukherjee somehow managed to parry away.
Sangram again came to his sides rescue a couple of minutes later as he narrowed the angle and stopped Anthony D'Souza's fierce volley. There was no respite for Bagan and Sangram as Sporting Clube continued with their build-ups but like Rowlin Borges dramatized, many of their attacks lacked direction.
Bagan played second fiddle to Sporting clube for the entire first session and had no attempts on goal.
In the second session, Sporting Clube continued from where they had left but, just like the opening session, there was no breakthrough. The hosts, finally, tasted success in the 65th minute when Keita Boubacar rose high above the Bagan defence to nod Anthony's corner-kick into the goal.
It required Rakesh Masih's booming right-footer to break Sporting clube's resolve and bring the visitors back into the match.
Both teams seemed to have convinced themselves that a draw was a likely result, not Sporting substitute Ogba Kalu. The Nigerian midfielder came off the bench to head home Anthony's corner in the 80th minute as Sporting Clube celebrated a stunning win over a team who had slayed mighty Churchill Brothers at the same venue just four days earlier.
Keita Boubacar was adjudged the Man-of-the-match.
Prayag United edge out Chirag Kerala
Riding on the solitary goal by Kayne Vincent, Prayag United defeated Chirag United Kerala 1-0 at the Salt Lake Stadium, Kolkata.
The only goal of the match was scored by Kayne Vincent in the 14th minute.
The win takes Prayag United to 25 points from 15 matches while Chirag United Kerala now have the pressure on them to move towards safety with only 10 rounds of matches left.
Keeping the pressure on the visitors by Prayag forwards, Kayne who was playing just behind Joshimar opened the score for the Kolkata outfit in the 14th minute.
Chirag United Kerala need to get their act together if they are to stay in the I-League next season, while Prayag will be looking consolidate their position by winning their future round matches.
Man of the match was awarded to Prayag's Kayne Vincent.